Ingredient Deep Dive: Cellulite Busting Wheat Protein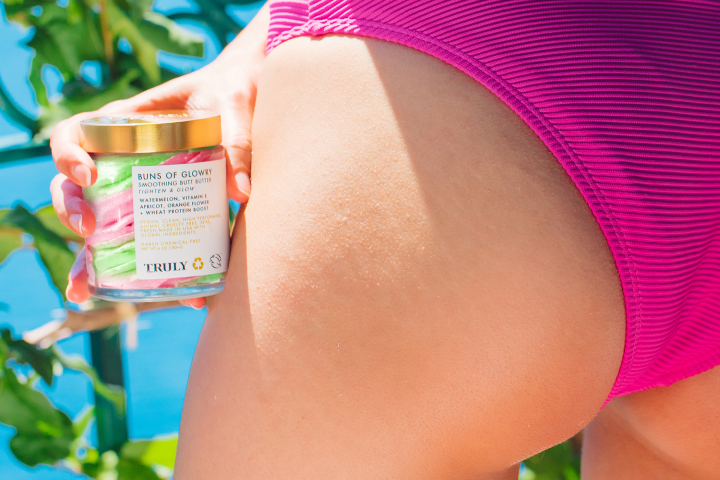 Women of all sizes and shapes have cellulite. It's totally normal! And there's absolutely nothing to be ashamed about. However, if you're not loving your dimpled bum, tum, or thighs, there are cellulite treatments for achieving a smoother look.
In fact, one ingredient comes to mind when it comes to minimizing the appearance of cellulite. Wheat protein. It's in our Buns of Glowry line, and it's extremely effective at plumping skin from within. 
Here's everything you need to know about wheat protein in skincare, and how it can bust your dimply skin.
What is Wheat Protein in Skincare?
Wheat protein is a ceramide-loaded skincare ingredient that can attract and hold onto moisture, helping to plump skin from within.
When wheat protein enters the skin, it inserts it with lipids and amino acids that plump up the skin as they attract moisture. In addition to filling out hollowness and fine lines, it provides the skin with a healthy source of hydration.
Compared to the likes of gold-tier actives like vitamin C, retinol (vitamin A), and collagen, wheat protein isn't that famous. While it makes an appearance in firming lotions and anti-aging serums, people generally don't talk about it enough. And yet, it's one of the best ingredients around for diminishing dimples.
Is Wheat Protein an Effective Cellulite Treatment?
Wheat protein plays an important role in water-retention function and barrier function in the outer layer of the skin. It prevents trans-epidermal water loss from occurring too quickly by holding onto water in the skin.
Since cellulite can appear much worse in a dehydrated state, due to it causing skin to become thinner and weaker, adequate hydration is crucial for make cellulite appear less visible. What's more, wheat protein can decrease free radicals in the skin that destroy collagen and elasticity -- those responsible for keeping skin firm, plump, and supple.
In addition, wheat protein holds skin cells firmly together in the upper skin layer, keeping fluid in the skin while protecting it from allergens and external aggressors.
Ultimately, wheat protein is an effective skincare ingredient for making skin look smoother and less dimpled. That's why our products are packed with it!
Wheat Protein Skincare Products
Want to get in on wheat protein's skin-smoothing action? Scroll down to hear about our wheat protein infused skincare products.
Buns of Glowry Smoothing Butt Polish
According to dermatologists, gentle exfoliation can be effective at promoting cellulite reduction. In addition to buffing away dead skin cells from the surface of the skin, exfoliating helps boost blood flow and circulation. This can help reduce inflammation, strengthen your connective tissue, and reveal healthy, glowing skin.
Buns Of Glowry Tighten & Glow Smoothing Butt Polish relies on three key ingredients -- wheat protein, watermelon extract, and vitamin E! Wheat protein's film-forming properties help boost skin's firmness, while reducing the appearance of cellulite. Amino-rich watermelon extract hydrates, plumps, and brightens for a bum that glows. It can also help fade discoloration. And vitamin E protects skin from external aggressors while optimizing overall skin health.
For best results, use when showering or bathing. Let it sit on the skin for 2-3 minutes before rinsing with lukewarm water.
Buns of Glowry Smoothing Butt Serum
This post-shower booty serum utilizes citrus-based methoxylated flavones to boost circulation, facilitate tissue drainage, and fill in dimpled skin. Use this, and your peach will be smoother and firmer than ever.
The formula relies on several powerful cellulite-busting ingredients: wheat protein, bitter orange, watermelon, vitamin E, and apricot. Bitter orange preps the skin for deep moisturization and facilitates tissue drainage while watermelon rejuvenates and vitamin E protects. Wheat protein plumps skin while apricot fights free radicals and protects against cell deterioration. 
This flash-absorbing skin detox formula is ideal for everyday use to leave your skin soft, smooth, and hydrated.
For best results, use after showering or bathing, and apply to damp skin in order for it to absorb properly.
Buns of Glowry Smoothing Butt Butter
Keeping your skin moisturized may not actively treat cellulite, but it will make it look a lot less noticeable. Nourish your skin in our resurfacing, hydrating cellulite cream -- aka, Buns of Glowry Butter.
Formulated with skin firming wheat protein, hydrating shea butter, and antioxidant-packed watermelon, this luxurious velvety cream will intensely hydrate and plump your skin -- leaving it happy, healthy, and glowing!
For best results, use after showering or bathing to seal in moisture. Let it dry fully before getting dressed.
What Else Can You Do to Get Rid of Cellulite
In addition to seeking out wheat protein loaded skincare products, try these tips for reducing the appearance of cellulite.
Physical Activity
Anything from cardio to body weight training can help tone muscles and tighten up your skin so that cellulite looks less obvious. 
One of the biggest misconceptions about cellulite is that it only affects people who are overweight. Cellulite is a structural issue, so weight loss or weight gain doesn't make much of a difference. Maintain a healthy weight, stay active, and tone up, and you should see an improvement.
Eat Your Fruits and Veggies
What you put inside matters just as much. Start upping your intake of vitamins and fiber, incorporating foods like apples, broccoli, grapefruit, and flaxseeds. If you're not getting enough vitamins, consider taking a supplement. Avoid eating too many carbs!
Try a DIY Coffee Scrub Home Remedy
Caffeine is supposed to be really effective at deleting cellulite and making stretch marks less noticeable. Combine a heap of coffee grounds with a spoon of coconut oil and a few drops of your fave essential oil. Apply to the skin in circular motions for an exfoliating, cellulite-fading treatment. 
In addition to removing the buildup of dead skin cells and oil, it will also wake up your complexion and leave you glowing.
If you're unhappy with your dimples, speak to a dermatology professional for in-office treatment options. Laser treatment, radiofrequency, and dermal fillers are all available options to fade out cellulite, slow down its formation, and promote firmer, smoother skin.
Share
---