Lavender Extract, an Undiscovered Acne Treatment?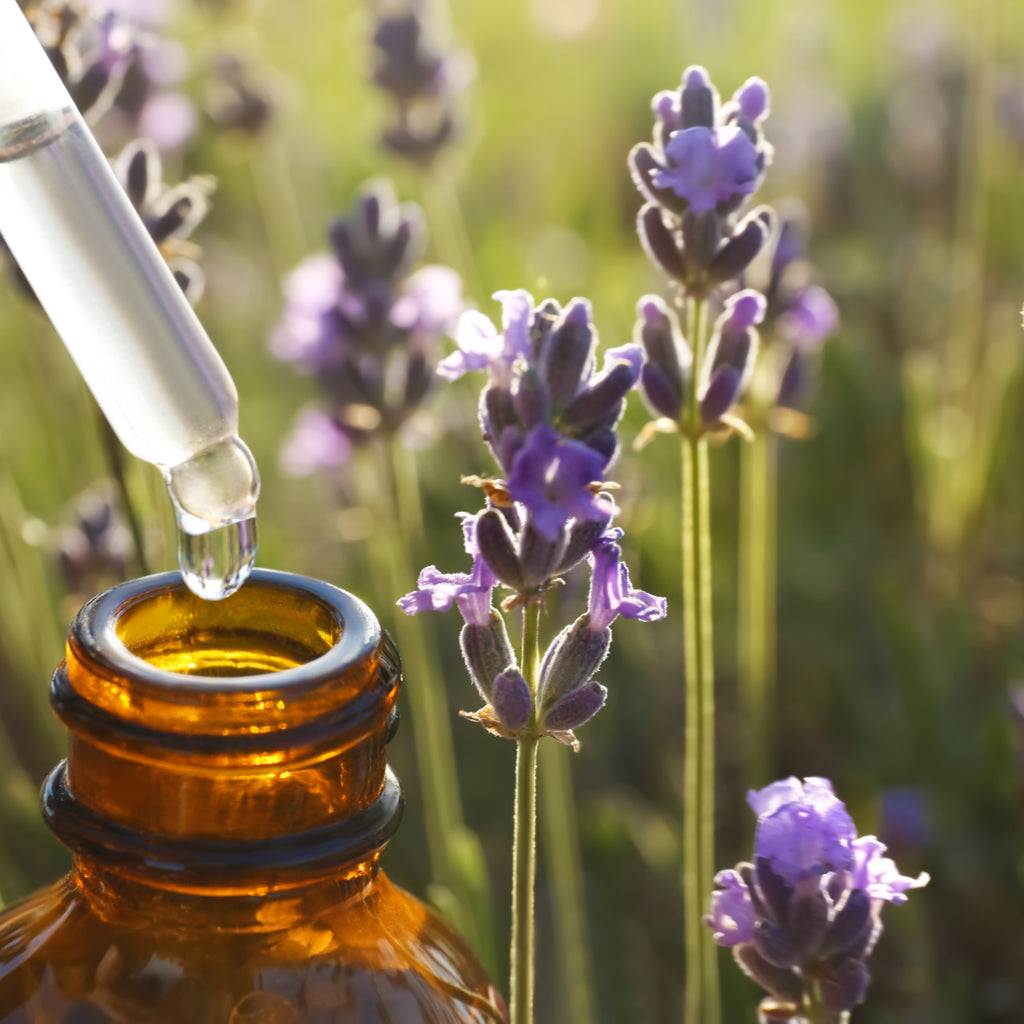 Famed in the world of aromatherapy, lavender is the go-to staple when it comes to instant calming and sleep stimulating effects. But lavender isn't only good for sending you to sleep. Turns out, it's also something of a skin care hero.
Lavender flower extract has been used as far back as 2,500 ago in the Mediterranean, Middle East, India, and in Ancient Roman bathing practices. The purpose of lavender extract? To keep bacteria away and serve as an antiseptic on wounds.
Its healing powers were initially discovered by French chemist René-Maurice Gattefossé in 1910, when he discovered how well his skin healed after burning his hand in a vat of lavender oil. Since then, lavender oil has been used as a tool for promoting skin recovery, in addition to serving as a relaxant for the nervous system.
There are so many benefits of lavender flower extract for the skin. Let's shed more light on what it is and what it can do.
WHAT IS LAVENDER FLOWER EXTRACT?
Derived from steaming the stalks and flowers of the lavender plant, lavender flower extract (Lavandula Angustifolia) is an antibacterial and aromatherapeutic oil - and one of the most popular essential oils.
There are two main types of lavender extract which are used in topical skincare: Lavender Flower Extract and Lavender Oil. Both come from the actual flower, but lavender oil is often more concentrated and stronger in both scent and medicinal properties.
We already know how lavender essential oil can soothe away stress, anxiety, insomnia, depression, and a number of other ailments. What we don't know, or at least not extensively, is how lavender benefits the skin.
Thanks to its remarkable anti-inflammatory, antioxidant, and antibacterial properties, lavender oil extract can boost blood circulation, protect the skin's natural barrier, and balance its pH levels.
FDA approved and Truly approved, you should definitely add this one to your wish list.
BENEFITS OF LAVENDER EXTRACT FOR SKIN 
Acne
Lavandula officinalis is a natural antibacterial agent with sebum balancing abilities, which makes it a great treatment for acne. Unlike a lot of acne treatments, lavender extract is a gentle, non-drying formula that clears skin without causing irritation. Its anti-inflammatory properties also play a role in reducing the severity of angry breakouts and preventing post-pimple scarring. Look for lavender extract in cleansers for a natural, non-irritating acne treatment.
Anti-Aging
Free radicals are mainly responsible for fine lines and wrinkles. Fortunately, lavender extract is packed with antioxidants, which help protect you from the skin-aging free radicals. To reap its benefits, apply 2-3 drops of the essential oil as a moisturizer 1-2 times per day. Alternatively, look for a lotion or toner that contains organic lavender extract.
Sunburn
Loaded with anti-inflammatory properties, lavender oil offers potent pain-relieving and numbing effects, while its beta-caryophyllene content also acts as a natural anti-inflammatory.
So if you left the house without sunscreen on and now you're paying the price with a big, red painful burn, dab on some lavender oil mixed with water for instant soothing effects.
Eczema
Eczema, loosely translated, is dry, itchy, and scaly skin. It can appear mild or chronic and in some cases can be extremely uncomfortable. Due to lavender's antifungal and anti inflammatory properties, it can help keep eczema under control. You can also use certified organic lavender extract to treat psoriasis, another chronic inflammatory skin condition.
And if you have any redness or general irritation, lavender can also help in toning it down. Whether you apply it directly to affected areas or look for it as an ingredient in a lotion, lavender flower extract is an amazing skin care product for soothing, calming, and de-stressing.
Wounds
If you have a burn, scrape, or another wound, lavender extract may speed up the wound-healing process. According to a 2016 study, lavender oil effectively promotes the healing of skin tissue and can quickly heal scars.
As a wound treatment, apply 3-4 drops of lavender mixed with a few drops of coconut oil on to the wounds with a cotton ball. Make sure you let it stay on a while so it can work its healing powers. If you have a wound that's already healed, lavender flower extract can reduce scarring too.
IS LAVENDER EXTRACT WORTH THE INVESTMENT
Lavender flower extract can treat a number of skin complaints. So it's definitely worth the investment. Best of all, it's completely inexpensive so it's not an expensive investment at all - but certainly a valuable one.
You can apply it to your skin with or without a carrier oil to create a lotion. If you're using it as a regular lotion, apply it like one - with your fingers in circular motions. If you're putting it on a wound, on the other hand, it's best to apply using a cotton ball which is cleaner than your fingers and a lot less likely to cause an infection.
Overall, we definitely recommend finding a home in your bathroom cabinet for lavender flower extract. It's the universal skin care product all households need.
SHOP LAVENDER FLOWER EXTRACT SKINCARE
Golden Leaf Resurface & Brighten Face Mask
Sometimes, there isn't a specific problem with your skin. It just looks ... unremarkable.
Here's why your skin's looking that way. It's because you're not showing it enough love.
Truly's Golden Leaf Resurface & Brighten CBD-infused Face Mask is exactly what you need to fall back in love with your complexion. Being the AHA and CBD power combination mask that it is, your skin will be looking brighter, happier, and dewier in next to no time.
Made to resurface and brighten dull skin, this lightweight vegan face mask delivers high-performing ingredients such as lavender extract, CBD, and glycolic acid quicker and deeper into the skin. The results? Clearer, brighter, even skin.
How to Use
Apply a generous layer of the face mask on clean skin. Leave on for 10 minutes, then rinse with cool water. You can also use it as a cool treatment by refrigerating the product before using. Or, for an intensive treatment, leave it on overnight. For best results, use two to three times a week.
Get your Golden Leaf Resurfacing Mask for only $35.
Share
---