Lavender Oil, the Lullaby that Soothes Your Skin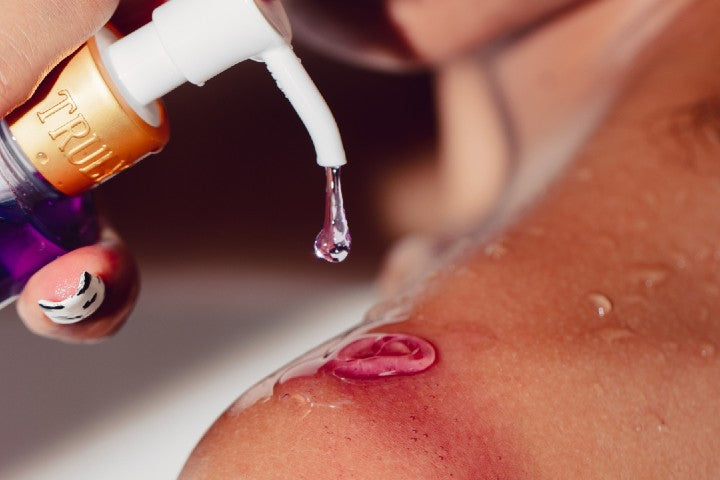 Lavender oil may be associated with getting a restful night's sleep, but this essential oil is much more than just a fragrance. According to board-certified dermatologists, lavender is an excellent skincare ingredient with a myriad of benefits.
Before we reveal the powers of this pretty purple plant, let's first get to know this essential oil a little better. You'll soon discover there's nothing sleepy about this plant.
WHAT IS LAVENDER OIL?
Lavender oil, otherwise known as Lavandula angustifolia, is a concentrated liquid made from the lavender flower. It was discovered 2,500 years ago and is native to the Mediterranean, Russia, and the Arabian Peninsula. 
"The ancient ingredient has been known to have calming properties that help with sleep, healing, and anxiety," explains aesthetician Hanna Naranjo. "Lavender oil can treat everything from bug bites and minor wounds to insomnia, stress, headaches, and is great for skin."
You'll find lavender oil in a wide range of products, such as creams, oils, mists, and moisturizers. Applying lavender oil topically provides the most benefit to the skin, according to experts. 
SKINCARE BENEFITS OF LAVENDER OIL
Essential oils have become extremely popular over the years – especially in aromatherapy. As great as lavender is at sending us to sleep at night, that's not all it is capable of. It's also an awesome ingredient for the skin, offering soothing and healing effects when applied topically. Here's the full scope on lavender oil for skin.
It Protects the Skin Against Free Radicals
Lavender oil is loaded with antioxidants that shield the skin from environmental aggressors. 
"The most common and dangerous risk factor for disease often comes from free radicals, toxins, and pollutants," board-certified dermatologist Anna Guanche, M.D. explains. "Free radicals can shut down your immune system and damage your body. Lavender oil is a natural antioxidant that may work to prevent and reverse disease."
That doesn't mean it's going to replace sunscreen anytime soon, but it's certainly a Rockstar ingredient for offering protection. 
It Heals Wounds
Research shows lavender oil may speed up the healing of minor wounds, cuts, and burns. It could even help with scarring.
Lavender oil is a great ingredient to have on hand when you find yourself with a wound. Keep a bottle of it in your beauty cabinet so you can address the problem immediately. 
It Soothes and Calms Skin
Lavender oil can soothe the skin just as effectively as it can the mind. It's largely to do with its potent anti-inflammatory properties which can ease skin flareups like eczema and psoriasis. 
Its anti-inflammatory effects are also related to lavender's anti-fungal properties. Since fungus and bacteria can result in inflammation, applying lavender oil to your skin can provide calming and soothing effects to the skin. 
It De-Stresses the Skin
Numerous studies show how effective lavender oil is at treating general anxiety, but we shouldn't overlook its abilities to lower our stress levels, either.
Have you ever noticed how your skin looks great when your mood matches up? Yet when you're feeling stressed and flustered, your skin seems to follow suit? In other words, reaping lavender oil's wellness benefits also benefits skin health.
The next time you take a shower, spray Truly's Moon Shower Adaptogen Spa Mist into your cubicle. Formulated with a blend of adaptogenic herbs like Ashwagandha, eucalyptus oil, and lavender oil, this mist promotes a calmer mind, body, and chilled out complexion. Follow up with Truly's Moon Jelly Adaptogenic Body Cleanser.
It Improves Acne
Packed with antibacterial and anti-inflammatory properties, lavender oil may be the route to clear, blemish-free skin. It can also soothe those angry little pimples that pop up in the most annoying places.
Choose Truly's Super Matcha Facial Cleanser, made with lavender oil, vitamin C, and matcha to clear out blemishes and reduce irritation. 
HOW TO USE LAVENDER OIL ON SKIN
Unlike some essential oils, you can apply lavender oil directly to the skin and you can also dilute it in a carrier oil or other substance to maximize its effects. 
If you plan on diluting it, choose a fatty oil to blend it with like jojoba, coconut or grapeseed oil. In fact, you can pretty much add lavender oil to any product but it's best to find it in gentle, non-foaming soaps and moisturizers. 
"It can be applied to any part of your body as long as the product is otherwise formulated for that body part," says Nava Greenfield, M.D. of Schweiger Dermatology Group in Brooklyn. 
Put simply, use separate face and body cleansers.
IS LAVENDER OIL SAFE TO USE?
Even though it's a natural ingredient, essential oils such as lavender are highly potent and can still result in contact allergies. So don't be blind sighted by the fact that it's natural.
"Even if you are not allergic to lavender, the immune system in the skin can develop allergies and result in dermatitis," Greenfield points out. "If you generally have sensitive skin, it is a good idea to avoid products with fragrances."
Nevertheless, lavender oil is generally well-tolerated when applied topically to the skin. To prevent any unwanted side effects, apply a small amount of the oil on a patch of skin to test for a reaction. 
Speak with your dermatologist or health provider if you want further clarity and peace of mind.
WHAT TO LOOK FOR IN LAVENDER ESSENTIAL OIL
When buying lavender oil, it's a good idea to allocate a high-quality product to ensure you get to enjoy all of its beauty benefits. 
Here are a few things to keep an eye out for:
It lists both the common and scientific name on its label.

It comes in a dark glass bottle to prevent light from entering which can negatively affect the oil's efficacy.

It has a good expiration date.
You should also know that lavender oil isn't very expensive, so don't steer clear just because of the price tag. The three factors above are the best indicators of high-quality lavender oil. 
Share
---