Makeup To Skincare Swaps to Make For a Creaseless Summer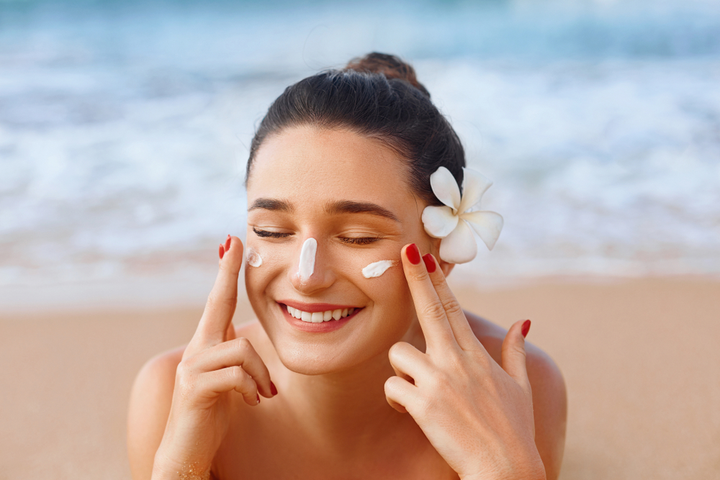 Summer is great and all, but not so much for your makeup.
Foundation, mascara, lip gloss...it just doesn't seem to stick or look good for long with the sweltering heat literally melting it off your skin. If you're tired of your beauty products creasing, cracking, or sweating off in the hot weather, perhaps you should consider switching to skincare products instead.
Summer beauty 2021 is all about multitasking beauty products. We've figured out that you really don't need makeup to look gorgeous and glowing this season! All you need are a few high-performing, multi-use skincare essentials to get the summer glow you seek.
Swap: Lipstick 
For: Lip Tint Mixed w/ GLOAT Lip Oil
You swipe on your lipstick and then your gloss. Moments after stepping outside, your lips start feeling sticky and lose their original hue and gloss. You could find the nearest bathroom and reapply it so it looks fresh and slick again. But surely there must be an easier way, right?
Luckily, you don't need to rely on lipstick or gloss to get goddess-like lips. Slather on a nourishing, hydrating lip oil instead like Truly's GLOAT Big Juicy Lip Oil. Loaded with hyaluronic acid and coconut oil, this lip formula hydrates and gives your pout a beautiful, natural shimmer. It won't crack, stick, or lose it glossy finish. 
To add in a pop of color, mix your favorite lip tint with this oil to enjoy the benefits of lipstick without suffering the summer aftereffects of the cosmetic.
Swap: Makeup Highlighter
For: Illuminating Face Serum
Looking for a natural sheen when those summer rays bounce off? You don't need a highlighter or bronzer to give your skin that affect. You simply need a brightening, glow-inducing face serum. It'll give you the same positive effects as those cosmetics without any of their negative summer-related side effects - think sweating, cracking, and creasing.
Save yourself (and your skin!) the stress by investing in Truly's Blueberry Kush CBD Face Oil. It's made with a blend of blueberries, vegan collagen, and AHA/BHAs which work together to hydrate, plump, and brighten your complexion. 
Swap: Dewy Foundation
For: Face Mist
It's time to get spritzing!
That's right, face mists offer a similar affect to foundation when it comes to making your skin look extra dewy. You can apply it anytime of day - whenever you feel your skin getting dry or needing a pick-me-up. 
The trouble with wearing foundation in the summer is it's easy to sweat the product off on a hot day. Not only that, the heat makes foundation crack and crease - not a good look. To prevent those from happening to you, swap your foundation out for a refreshing face mist instead. 
Forget tinted moisturizer and choose Truly's Volcanic Rosewater Mist. It's formulated with rosewater, aloe, and vitamin C to wake up your skin, brighten skin tone, and deliver a natural glow. Keep a bottle of it on your desk whenever your skin feels dry and needs a little hydration boost. 
Besides making your skin glow, mists can actually enhance the efficacy of other skincare products, allowing them to sink into the skin better.
Swap: Full Coverage Foundation 
For: Cleanser & Moisturizer 
Want to know what's way better than full-coverage foundation? Clear, healthy skin. You really can't beat naturally beautiful skin. It beats makeup for sure! So how can you achieve a complexion that doesn't rely on makeup for clarified, glowing skin?
You'll need a skin type specific skincare routine. Don't worry, it's not as complicated as it sounds.
Got acne? Try Truly's CBD Jelly Baby Bundle which features an anti-blemish facial wash, toner, facial serum, body cleanser, and body mask. Formulated with salicylic acid, glycolic acid, and retinol, these products balance sebum, keep breakouts at bay, and ensure a smooth, radiant complexion.
Got aging skin? Choose Truly's Vegan Collagen Bundle instead which is designed to target everything from fine lines to wrinkles, dark spots and sagging.
Swap: Concealer
For: Under Eye Serum
If you're prone to puffy eyes, you probably cover them up with concealer but that can easily look cakey if you're not careful. We get that, we really do, but you actually don't need this makeup product or any form of makeup to fade dark circles and puffiness under your eyes.
Puffiness and dark circles make your eyeshadow and eyeliner look a lot less dramatic and attractive. That's why we recommend trying Truly's Eye Candy Anti-Puff Eye Cream to bring down your dark circles and puffiness asap.
This creamy lotion works best when used as part of your daily skincare regimen. 
Always Follow Up With Sunscreen
We know it sounds boring. You've heard it a dozen times before, right? Wear your sunscreen! Go for SPF 30, SPF 50, or above to keep your skin protected while you're outdoors and prevent premature aging.
Look for a sunscreen that's oil free and contains zinc if you have blemish-prone skin. Be sure to wear it daily to keep your skin healthy and shielded from harmful environmental aggressors. 
ARE THERE ANY MAKEUP PRODUCTS THAT DON'T CRACK OR CREASE IN SUMMER?
There are a few products you can use that won't differ too much in their effectiveness or appearance during the warmer months. Those products include bb cream, lip balm, matte lipstick, cc cream, waterproof mascara, and pigment mixed with facial oil.
Ask your local makeup artist for advice. While there are tons of brands to choose from like Maybelline New York, NYX, Clinique, and Urban Decay, we still recommend asking your makeup artist for their professional opinion. 
You really don't need makeup to get your summer glow this season. All you need are a few multitasking skincare products that hydrate and enrich your skin for hours of no-stick, no-crease beauty. 
Speak to your dermatologist if you're in need of medicine to treat your acne. In the meantime, start experimenting with natural beauty. You'll soon realize you really don't need all those cosmetics. You just need a few basic essentials to keep your skin looking and feeling fab!
Share
---