Peppermint Oil: Meet Your Skin's New Minty BFF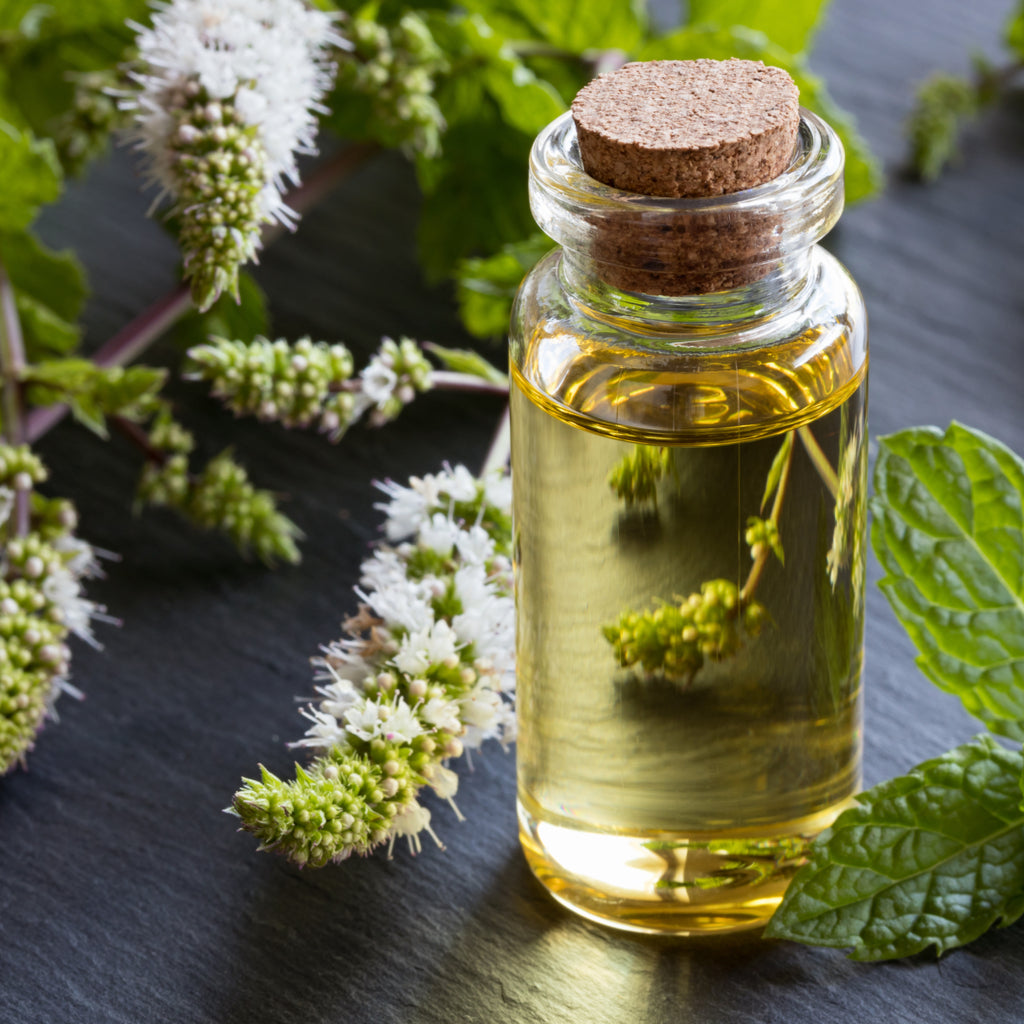 Besides smelling amazing, peppermint oil is a fabulous skin care ingredient with a host of benefits. In fact, peppermint oil may be one of the most versatile essential oils out there. Whether used in aromatherapy, as a treatment for heartburn, or for banishing acne, peppermint oil offers a variety of benefits - both cosmetically and medicinally.
According to a review conducted by the USDA Human Nutrition Research Center, peppermint has significant antimicrobial, antibacterial, anti-inflammatory, and antiviral activities. It also serves as a strong antioxidant with anti-allergenic potential and pain-killing effects.
Want to learn more about peppermint oil uses and what it can do for the skin and hair? Let's discover more!
WHAT IS PEPPERMINT OIL?
Peppermint (mentha piperita) is an aromatic herb in the mint family, often found in North America and Europe. Extracted from the leaves of the peppermint plant, peppermint essential oil is used for a number of different reasons including easing abdominal pain, treating IBS, lessening tension headaches, and easing indigestion. But that's not all it can do. The effect of peppermint also extends to the skin. More on that in just a moment. First, we want to elaborate on the different forms of peppermint oil.
Essential oils - a concentrated form of peppermint oil used most commonly in aromatherapy as a carrier oil.
Extracts - a diluted form of the oil often used as a flavoring in foods
Dietary supplements - peppermint oil capsules can treat a variety of health complaints such as irritable bowel syndrome (IBS), bloating, muscle pain, and for pain relief. 
The main chemical components of peppermint oil are menthone and menthol. 
There are also different types of mint in the lamiales family, including water mint and spearmint. Peppermint (mentha x piperita) is one of the most common forms of the minty varieties.  
BENEFITS OF PEPPERMINT OIL
Just a few drops of peppermint ... can work magic on the skin. We already know the health benefits of peppermint essential oil. Now we want to focus on its skin care benefits, as well as its hair care benefits. So, what exactly can topical application of peppermint essential oil do for the complexion?
Eases Itchiness
A study investigated the effects of peppermint oil applied topically and how it affected chronic itching. Researchers discovered that a one percent solution of peppermint oil led to improvements in both the severity of the itch and the length of time in which the itch persisted.
Similar to lavender essential oil, a primary benefit of peppermint oil is its ability to soothe irritated skin. Dilute two to three drops of peppermint oil in one tablespoon of warm coconut oil and smooth over itchy skin.
Reduces Acne
Thanks to its potent antibacterial properties, peppermint oil is an excellent herbal medicine for acne. Best used in conjunction with eucalyptus oil, peppermint oil naturally cleanses the skin while providing antiseptic and antibacterial properties. Owing to its anti-inflammatory properties, peppermint also soothes irritation and inflammation due to acne.
Peppermint oil also contains antimicrobial properties, which may help reduce levels of acne causing bacteria on the skin, resulting in fewer breakouts.
So forget dabbing toothpaste all over your pimples. Try peppermint menthol oil instead. 
Stimulates Hair Growth
Think of peppermint leaf oil as your DIY hair growth hair mask. 
Peppermint oil is great for your hair and scalp. First, it contains a high menthol content - a powerful antiseptic agent known for removing germs and dandruff from the hair. Second, it increases dermal thickness and follicle depth. Thirdly, it also helps with itching and dryness of the scalp. So you can use it kind of like a massage oil to heal your head and stimulate hair growth.
There's even an animal study to back up its efficiency of promoting hair growth. Results showed that after topical application of peppermint essential oil for four weeks, mice displayed a significant increase in follicle number and depth. As far as results showed, peppermint oil was more effective than topical application of jojoba oil, saline, and minoxidil, a medication frequently prescribed for hair growth.
Lip Softener and Plumper
Peppermint doesn't just soften the lips, it also helps to stimulate the circulation under the lips and creates a plumping effect, making your lips appear more voluminous. 
SIDE EFFECTS OF PEPPERMINT OIL
Approved by the Food and Drug Administration (FDA), peppermint oil is a safe and effective ingredient, commonly used in the United States. 
In rare cases, topical application of peppermint oil may cause an allergic reaction in those with peppermint sensitivities. But generally speaking, it is a safe and soothing product that boasts a number of health and skin care benefits. 
SHOULD YOU TRY PEPPERMINT OIL FOR YOURSELF?
Clearly, there are a number of beauty benefits of peppermint essential oil. While most people use it as a carrier oil in aromatherapy sessions, peppermint oil isn't just for relaxing the mind. As you have seen, it can help ease everything from itchy skin to acne. It can even promote hair growth. 
So, while you might associate peppermint with aromatherapy or even mouthwash, we recommend giving it a try if you have any of the above skin complaints. 
Natural and calming, it is ideal for all skin types. 
RECOMMENDED PEPPERMINT
 

OIL

 

PRODUCT

GLOAT Lip Plumping Serum

Treat your lips to some TLC with Truly's Lip Plumping Serum. 

This luscious lip serum delivers dry, depleted lips with softening and plumping effects that will emphasize your pout, plump it up, and highlight your lip contour. Made with coconut, peppermint oil, and hyaluronic acid, this formula helps to replenish your lips' moisture levels, keeping them plumped and hydrated all day long! 

It's the kind of serum that fits perfectly inside your purse that you can use anytime your lips are feeling a little depleted and in need of some major TLC. 

Formulated with black charcoal and natural oils, this vegan blemish treatment body serum can draw out impurities from the back, chest, and shoulders while thoroughly hydrating your skin without clogging pores. 

Packed with vitamins, fatty acids, and antioxidants, it'll also promote healing and calm redness in your skin. 

You'll be in backless dresses before you know it!

How to Use:

Apply 1-2 drops of GLOAT serum onto clean lips, massage in until absorbed. Then follow up with lip oil. 

Get your GLOAT Lip Plumping Serum for just $16!
Share
---