Rosehip Seed Oil - a Duchess-Approved Skincare Saint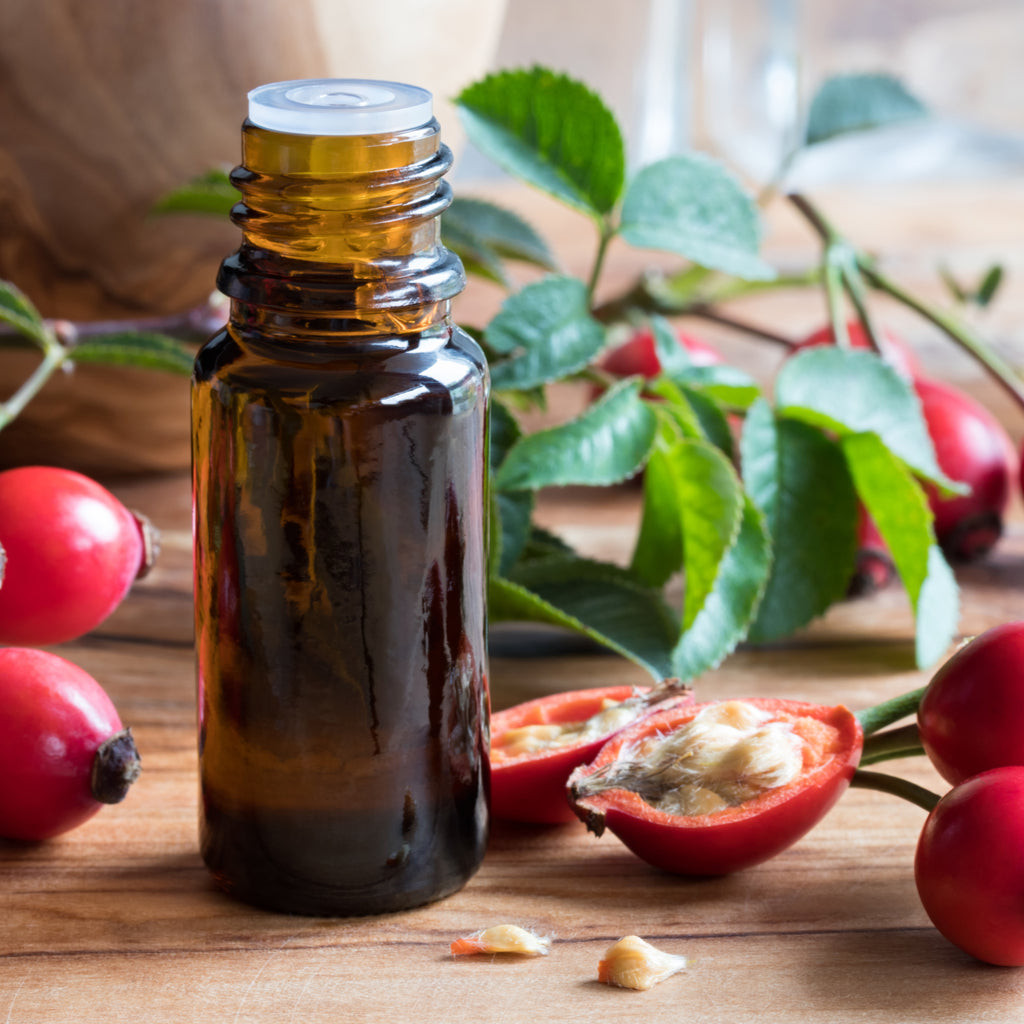 Be honest, no skincare product feels quite as luxurious as a facial oil - especially one as decadent as rosehip seed oil. Finishing off your evening skincare routine with a few drops of your favorite face oil is the simplest way to transform your nightly ritual and your complexion!
While there are many oils to choose from, nothing quite compares to rosehip seed oil.
Rich in vitamin A, vitamin C, and essential fatty acids, pure rosehip seed oil is an effective treatment for all kinds of skincare complaints ranging from visible signs of aging to acne scars to dull skin tone. No wonder Kate Middleton can't get enough of it!
Let's take a look at its full list of skin benefits and why it's worth taking a leaf out of Middleton's beauty book.
WHAT IS ROSESHIP SEED OIL?
Rosehip seed oil, also known as rosehip oil, is a pressed seed oil derived from the rosa canina rose bush, which is native to Chile. 
In the world of skincare, rosehip is a popular ingredient for its hydrating and anti-aging benefits. That's why you'll often find it in lotions and moisturizers.
This friction can push bacteria into the skin, resulting in the entry of more bacteria and dirt, which results in more breakouts.
"With high levels of essential fatty acids, especially omega-3 (linolenic acid) and omega-6 (linoleic acid), rosehip seed oil can effectively soften skin and improve skin barrier function," says cosmetic research scientist Marisa Plescia. "Although seemingly counterintuitive as an oil and sometimes thought to be not suitable for oily/breakout prone skin, rosehip seed oil can be an ideal natural oil for blemished skin."
7 WAYS ROSESHIP SEED OIL TRANSFORMS THE SKIN 
It Hydrates
Research shows that rosehip oil is a potent emollient. Its moisturizing effects are thanks to its high linoleic acid content, as well as various other essential fatty acids. Rosehip seed oil provides acute hydration, locks in moisture and is quickly absorbed by the skin. So if you struggle with dry skin, this ingredient is an excellent, natural hydrator you can count on for soft and dewy skin.
A 2015 study suggests that rosehips offer numerous anti-aging properties, including the ability to keep skin moisturized.
It Fades Fine Lines
When people think of anti-aging skincare ingredients, they tend to think of retinol, the holygrail of anti-aging potions. Turns out, rosehip oil also contains vitamin A - a vitamin that is necessary for the production of collagen.
Studies show that rosehip can also inhibit the creation of MMP-1, an enzyme that destroys collagen in the body. As a result, it can lessen the appearance of fine lines.
"Due to its small molecular structure, rosehip oil has the ability to penetrate the deep layers of the skin to stimulate collagen and reduce fine lines and wrinkles," explains New York dermatologist, Dr. Michele Green.
According to research, rosehip seed oil usage will lead to a significant improvement in crow's-feet wrinkles after just 8 weeks of use.
It Brightens
Are you after glowing skin? Erm ... who isn't? Well, rosehip seed oil is the right oil for brightening and evening out the skin. Rich in vitamin C, it's a natural skin brightener. So forget argan, coconut oil, and jojoba - rosehip oil's got your back. Vitamin C also aids in cell regeneration and boosts your overall radiance.
It Addresses Hyperpigmentation
From dark spots to pinky patches, rosehip contains vitamins E and C, and omega fatty acids 3,6, and 9, which promote skin cell turnover and improve the appearance of hyperpigmentation. So if you're sick and tired of trying to hide your blemishes under layers of foundation, it's time to give the old rose bush the benefit of the doubt.
Rosehip oil also contains lycopene and beta carotene, two ingredients with skin-lightening properties. Meanwhile, other studies indicate that rosehip oil contains melanin-reducing properties and may require further study for its effects.
It Calms Inflammation
Packed with vitamin E and anthocyanin—two ingredients that perfectly soothe irritation—rosehip seed oil can ease chronic inflammatory skin conditions such as rosacea, eczema, and psoriasis. Being the anti-inflammatory that it is, it's ideal for sensitive skin types.
Studies also suggest that unrefined rosehip seed oil can help to fade stretch marks thanks to its high content of vitamins and essential fatty acids - skincare essentials.
It Heals Acne-Prone Skin
For acne-prone skin, rosehip seed oil really is a helpful ingredient thanks to its anti-inflammatory and anti-microbial properties.
Research shows that acne-prone individuals are deficient in linoleic acid, which means that topical application of this fatty acids can reduce the size of blemishes.
It Protects Against Sun Damage
All that sun exposure does no good for your complexion. In fact, it can even lead to premature aging. Fortunately, you can prevent that from happening by investing in pure rosehip oil. Brimming with antioxidants like vitamins A, C, and E, these vitamins have been shown to target visible sun damage and even prevent photoaging.
That doesn't mean it should be used in place of sunscreen, but it does mean adding it to your skincare routine for a thoroughly happy, healthy, and vibrant complexion.
RECOMMENDED ROSEHIP SEED OIL SKINCARE PRODUCT
Purple Rain Glow Serum
Nothing quite beats that glow you get when your skin and Purple Rain meet.
Vegan, cruelty-free, and completely natural, Truly's Purple Rain Serum will revive dull complexions and replace them with glowing ones. No more pity parties in front of the mirror! You'll feel like a million dollars wearing this age-defying, skin resurfacing facial booster.
Formulated with Rosehip seed oil, a natural source of Retinoic acid, this superstar serum smooths the look of wrinkles and fine lines to give you a healthy, glowing complexion. It also contains the very magical glycolic acid to rid you of dead skin cells and reveal even, dewy, 5-star skin.
From scarring to skin discoloration, fine lines to pimples, Purple Rain Glow Serum can ease all of your skincare complaints. It's simply the best investment for your skin - and your mental wellbeing of course.
Get your Purple Rain Glow Serum for $35
Share
---