Skin Tightening Cream: The Secret to Youthful Skin?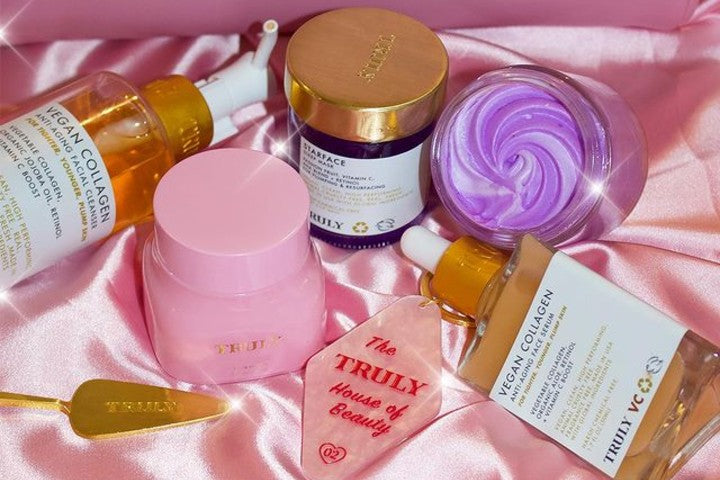 Many factors contribute to sagging skin. From the age-related loss of collagen to dehydration to UV damage, everybody's prone to aging skin. If you're not loving the idea of in-office treatments, maybe you're considering investing in a skin tightening cream? But how exactly do those kinds of skincare products work? And are they as effective as people say they are?
Right now, you have dozens of firming creams to choose from. People are obsessed with them because they're easy to add to their skincare routine. No invasive tightening procedures needed! What's not to love?!?
Below, we explore the sphere of skin firming creams so you can make the best decision based on your needs.
HOW SKIN TIGHTENING CREAMS WORK?
Skin firming creams have been around for a while now. But do you have any idea about the science behind them?
Well, they're essentially an anti-aging product that promises to tighten loose skin and deliver a firmer complexion. These anti-aging creams utilize vitamins, amino acids, and AHAs to tone and firm skin. Some of them work, others don't. What you should know is that most are temporary and only last for a few hours or more. 
You need to be careful not to buy too much into the advertising of these products. Some may promise dramatic results, but they don't contain the ingredients to support their claims. 
"Claims of 'firming' products often stretch the truth, and most don't actually contain ingredients that can really firm or tighten (lift) skin. In short, what they promise is beyond the reality of what skin care can do." says Desiree Stordahl, Senior Research and Education Manager at Paula's Choice Skincare.
However, if you choose anti-aging products that contain notable toning ingredients, they can definitely offer you some results. More on that now!
INGREDIENTS TO LOOK FOR IN A TIGHTENING CREAM OR SERUM
Instead of looking for a "firming lotion," look for the ingredients in that face cream. It'll tell you a whole lot more! Here are some ingredients to look out for in any type of anti-aging skincare product.
Retinol
Retinol, a well-known derivative of vitamin A, can address a number of skin concerns, including fine lines, wrinkles, and sagging skin. 
"[Retinol] is a vitamin that helps speed up cell turnover and increases collagen production," says board-certified dermatologist Roberta Del Campo. "It is FDA-approved for treatment and prevention of wrinkles and has decades of science backing its effectiveness."
Try it yourself: Truly's Vegan Collagen Bundle contains four retinol-loaded face and body formulas for maximum tightening effects. 
Hyaluronic Acid
Hyaluronic acid is an excellent natural moisturizer with powerful skin-restoring benefits. It works to hydrate dry skin, reduce the appearance of fine lines, and deliver smooth skin. Best of all, it's suitable for all skin types. You can use it as a neck cream, body lotion, or day cream. Either way, it's worth looking for in your moisturizer if you want to achieve your best skin.
Hyaluronic acid's moisture-binding characteristic is crucial when it comes to anti-aging. When you're young, your skin can retain water and balanced levels of moisture. As you get older, this ability slowly diminishes. As a result, you experience visible loss of firmness, plumpness, and suppleness. Hyaluronic acid is a powerful ingredient that can combat those symptoms. 
Try it yourself: Truly's Flawless Skincare Bundle, featuring a face cream, serum, and eye cream packed with hyaluronic acid for ageless skin.
Caffeine
For a quick boost of firmness, try a product formulated with caffeine. Caffeine can help stimulate blood flow in the skin, enhancing circulation and increasing tightness. It's long been used in skincare products for precisely this purpose. While you'll find it in many moisturizing products like day and night creams, you'll also often find it in eye creams. That's because caffeine is known for lightening dark circles under the eyes and decreasing puffiness in that area. 
Try it yourself: Truly's Mary Jane Glow Mask. Pumped with caffeine, this formula is guaranteed to wake up, tighten, and glow-ify your skin.
Botanical Extracts
Are you looking to smooth out cellulite and tighten the skin around your butt and thighs? There are plenty of skin toning gels and creams for you to choose from. But make sure you look for one that contains botanical extracts like bitter orange or apricot. These ingredients even out skin tone, tighten saggy skin, and fill in dips and hollows. 
Bitter orange promotes the movement of stored fats. It is a decongesting active ingredient effective at smoothing, toning, and improving the appearance of dimply skin.
Try it yourself: Truly's Anti-Cellulite Bundle.
Ginseng
Ginseng stimulates the circulation of your skin's smallest blood vessels, boosting synthesis of collagen. Besides offering anti-wrinkle effects, ginseng helps firm skin. It also protects it from free radicals and pollution that speed up signs of aging.
In addition to your face and body, you also shouldn't be forgetting your décolleté. It's an often overlooked body part - but it deserves just as much attention. The skin on your neck is also prone to sagging. To tighten it up, invest in a décolleté cream formulated with ginseng. Using this regularly, you'll soon notice a visible lift, smoothed out creases, and utter softness.
Try it yourself: Truly's Goodnight Moon Chest/Neck Sleep Mask.
SO, DO SKIN TIGHTENING CREAMS REALLY WORK?
Wondering whether you should invest your hard-earned cash into a skin tightening serum or cream? 
The truth is, skin tightening creams do work. However, you will need to use products that contain proven tightening ingredients. Plus, don't expect miracles! It's nice to imagine overnight results, but unfortunately, that's not how it works.
On that note, being consistent can really pay off over time. Applying a skin firming cream daily may not give you sculpted skin by the weekend, but you will see results in as little as two weeks. 
For more immediate results, apply a mask before using these products to boost the benefits by amping up the level of active ingredients.
Share
---