Skincare Products to Add to Your 2022 Skincare Regimen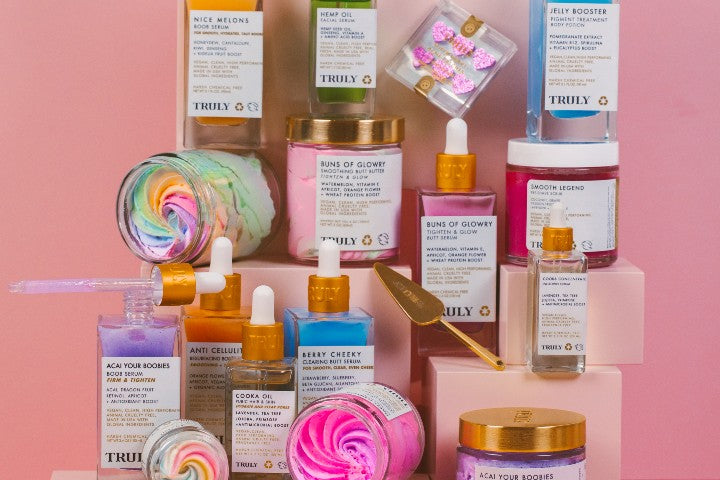 2022 is here. To reign in the new year, how about upgrading your skincare routine by incorporating a few new, high-performing skincare products designed to address your skin concerns.
Whether you're dealing with dryness, breakouts, signs of aging, or body acne, everyone could do with a little skincare regimen revamp every now and then.
Here are the products to add to your skincare regimen in 2022.
Super Matcha Facial Cleanser
So, everyone needs a good face cleanser. Cleansing is, after all, the most important step in a skincare routine. It's mostly required in the evening to wash away makeup, dirt, oil, and grime, and prevent it from clogging your pores. 
If you're noticing your current cleanser isn't doing the great job it once did, consider switching to Truly's Super Matcha Facial Cleanser.
This face wash is full of vitamin C, rose, matcha, and green tea to soothe, hydrate, and clarify skin. While it effectively cleanses the skin and helps prevent breakouts, this formulation is completely hydrating and non-irritating. It's ideal for all skin types. 
Vegan Collagen Facial Serum
Fade fine lines, wrinkles, and discoloration with this anti-aging facial serum. Vegan collagen, vitamin C, and retinol work together to boost collagen production and speed cell turnover, improving overall texture, suppleness, and firmness.  
If you're looking for a serum that does it all, we'd have to recommend this one. Since retinol is its primary ingredient and retinol is an all-star ingredient, you've got a good one in this formula. Retinol can tackle everything from fine lines and wrinkles to hyperpigmentation, rough skin texture, enlarged pores, and acne. It really is a multi-tasking skincare superstar.
Vegan Collagen Facial Serum is your one-stop skincare product for youthful, radiant skin. 
CBD Jelly Toner
Exfoliation is key in a skincare routine. It's important for sloughing away dead skin cells, unclogging pores, and enabling other beauty products to absorb more effectively. However, exfoliation must be done gently in order to prevent undesirable side effects like redness and irritation.
According to the derms, chemical exfoliation is a gentler alternative to manual exfoliation (scrubs). That's why it's worth bringing Truly's CBD Jelly Toner into your 2022 skincare regimen if you're craving smoother, softer, brighter skin.
Hemp Jelly toner gently exfoliates skin to improve clarity and texture while helping to prevent future breakouts. It's made with glycolic acid, hemp, and aloe to help calm inflammation, even out texture, and balance oil production to treat acne.
Starface Jelly Sleep Face Mask
Add a sleep face mask to your beauty regimen if you want to up your levels of glow in 2022.
Truly's Starface Jelly Sleep Mask is a two-in-one, overnight mask powered with alpha hydroxy acids (AHAs). While glycolic and lactic acid buff away dead skin, retinol plumps the skin by speeding cell turnover rate.
The fun thing about this is that there's no waiting around. At the end of your pm skincare routine, just slather this over your face and neck, and...snooze. You'll wake up with smoother, brighter, rejuvenated skin.
Blueberry Kush CBD Face Oil
Your best weapon against blue light damage? Antioxidants. Truly's Blueberry Kush Face Oil is loaded with antioxidants present in blueberries to act as a natural shield against blue light and strengthen the skin barrier.
Any dermatologist or beauty industry pro would tell you to start protecting your skin against blue light, and so you should. As good as peptides and ceramides are in the role of anti-aging, sometimes plain old antioxidants work best.
Moon Lit Shimmer Oil
It may not be a skincare essential, but Truly's Moon Lit Shimmer Oil is a great way to get a glow on the go.
This nourishing, flash-absorbing dry oil is infused with a gold shimmer to highlight all your favorite spots -- cheeks, cupid's bow, collarbone, and cleavage. Formulated with a brightening blend of chai spices, this sparkling body oil looks perfect by candlelight, camera flash, or golden hour. It's also made with witch hazel to reduce inflammation and tighten pores, and antioxidant-packed vanilla to neutralize free radicals and slow fine line formation.
Besides illuminating your complexion, it also moisturizes, offering a silky-smooth finish in seconds. Plus, it's buildable on all skin tones for a customized glow.
Cherry Jelly Body Cleanser
Dealing with breakouts on your back, chest, or butt? Try our Anti-Bacne Body Wash, which is designed to end body acne. 
Bacteria-zapping mandelic and salicylic acid join forces to dissolve dead skin, unclog pores, and zap away zits. Meanwhile, hydrating allantoin steps in to prevent the exfoliation from drying out your skin and causing excess oil production. 
Cherries and niacinamide also play their part, quelling hyperpigmentation, promoting elasticity, and reducing redness.
Cherry Jelly Body Cleanser is excellent for clearing up blackheads, whiteheads, and pustules. Plus, it's suitable for sensitive skin.
Dragon Milk Body Lotion
TikTok may be a hub for skincare trends, but often it's better to have a solid skincare regimen in place rather than trying loads of different products. 
Dragon Milk Body Lotion is a lightweight moisturizer designed to target body acne. It's made with resurfacing glycolic acid, brightening blackberry, and smoothing lactic acid which work together to unclog pores, improve skin texture, and lock in lasting moisture to diminish dry skin.
This is, without a doubt, the best beauty product out there for hydrating acne-prone skin. Just be sure to follow up with sunscreen (SPF 30 minimum) if you're using it during the daytime.
Pimple Party Pack
Got maskne or just pesky hormonal breakouts? Whether they're on the face or body, Truly's Pimple Patch Set is here to pick up the pieces and clear up your complexion.
Our biggest pimple patches yet, these stickers rely on hydrocolloid to drain and flatten active blemishes while promoting faster healing. Plus, they're big enough to stick over body blemishes.
Body breakouts can be caused by a range of things including your hair care products (like shampoo and conditioner), not showering after working out, and more. Our skincare brand got on the pimple patch bandwagon early -- and now we're here to stay.
P.S. You'll be happy to hear that all our products are cruelty-free, vegan, and eco-friendly. Your wellness is our wellness!
Share
---