Sleep With Me: Our New Nighttime Routine Bundle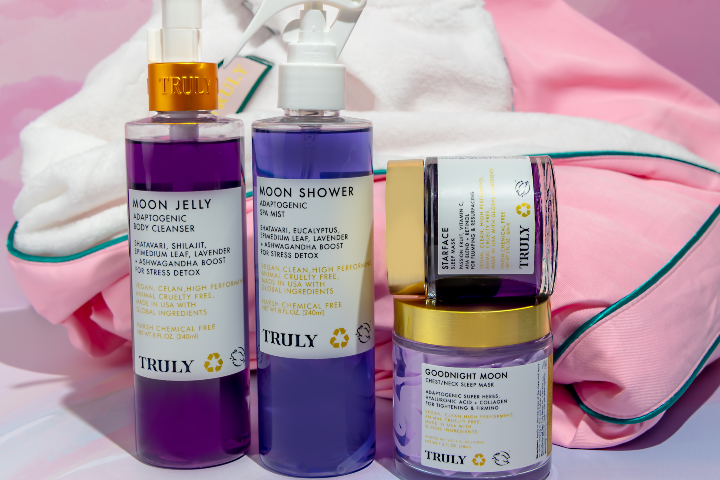 ZEN OUT with our NEW Nighttime Routine Bundle.
What better way to wind down after a long day than with our 4-step nighttime skincare routine featuring our dreamy Satin Sleep Set + a FREE Signature Luxury Robe. Everything you need for a restful and rejuvenating night of beauty sleep is right here in this bundle.
It's the ultimate bedtime routine upgrade. Here's everything you should know about this Truly newbie...
WHY YOU NEED A NIGHTTIME ROUTINE
You probably already know the importance of a good night's sleep, and how eight hours of sleep each night is essential for overall health. But what you do before you climb under the sheets can make a BIG difference to the quality of your sleep — and your skin.
If you want to wake up looking and feeling refreshed, you'll need a nighttime skincare routine that focuses on hydration, treatment, and repair. Just like you use a cleanser, serum, and moisturizer in your morning routine, you'll need to do the same in the evening — only with harder working products that take action against fine lines, wrinkles, and dryness overnight.
Throw in some luxe sleep accessories, and you're setting yourself up for a deeper, more rejuvenating sleep. IOW: better mood, more energy, better skin.
What's Included in Our Nighttime Routine Bundle
Designed with better sleep and skin in mind, here's what's included in our Nighttime Routine Bundle:
Bonne Nuit Beaute Satin Sleep Set

Goodnight Moon Chest/Neck Sleep Mask

Starface Jelly Sleep Mask

Moon Shower Adaptogen Spa Mist

Moon Jelly Adaptogenic Body Cleanser

FREE PINK ROBE
Treat yourself, your mom, or anyone into self-care. They'll fall in love with this meditative, game changing routine.
Get Younger Overnight
Did you know? Skincare products sink in the deepest when you sleep. That means you should be saving your best treatments till the evening to ensure they work their hardest — and deliver the best possible results.
The formulas in Nighttime Routine contain calming, regenerating, and hydrating active ingredients such as retinol, hyaluronic acid, ashwagandha, chamomile, shea butter, vitamin C, and AHAs.
Retinol, AHAs + vitamin C are the key anti-aging players. They work together to support collagen production, restore elasticity, and improve skin's smoothness and firmness. Hyaluronic acid and shea butter offer intense hydration to dry skin, leaving skin feeling so much softer. As for the rest, they help to quell inflammation and enable skin to recover from the day's stress.
Suitable for all skin types (yes, even sensitive skin), these products will transform your skin.
Unwind with Soothing Scents
Research shows that certain fragrances have the power to reduce stress levels and improve psychological well being. From soothing lavender to calming eucalyptus and mood-boosting grape, all four formulas in this kit will help to evoke your most positive emotions.
You don't need melatonin pills when you can just as easily unwind with the skincare products featured in this set. They all work together to put you in a dreamy, meditative state, enabling you to relax, de-stress, and dose off for the best night's sleep.
WHAT IT TARGETS
Dry, Stressed Out Skin
Hyaluronic acid and shea butter work in tandem to attract and seal in moisture, plumping out wrinkles and delivering long-lasting hydration. Skin will look and feel gradually smoother with nightly use of these hydrating formulas.
Sleep Creases
Treats and prevents fine lines and wrinkles thanks to collagen boosting retinol. A powerhouse anti-aging ingredient, retinol increases collagen and elastin output, making lines appear significantly less visible and enhancing skin's firmness.


Tension + Anxiety 
The calming powers of ashwagandha, lavender, and chamomile help to lower stress levels and promote feelings of tranquility for a deeper sleep. They can also alleviate muscle pains and anxiety, leaving you in a state of bliss.
HOW TO USE THIS EVENING ROUTINE
Get your evening dose of zen with this relaxing and rejuvenating nighttime routine.
Go to Bed With Bonne Nuit: Enjoy a wrinkle-free slumber with our luxurious satin sleep set, featuring a pink satin pillowcase, scrunchie, eye mask, and headband. Each product functions to deliver a restful night of beauty sleep without causing friction-induced wrinkles or frizz.

Pro-tip: Spray Moon Shower Mist on your Bonne Nuit Pillow Case + sheets to prep for the sweetest slumber.



Bring the Spa to Your Bathroom: In the shower or bath, lather up your body with Moon Jelly Body Cleanser while spritzing the steam with Moon Shower Mist to alleviate stress, tension, and anxiety and prep for a deep, restorative sleep.



Apply the Face Masks: After patting skin dry, apply Starface Sleep Mask to the face and neck. Once it's absorbed, apply Goodnight Moon Neck & Chest Mask. Let them sink in overnight. Do not rinse.

Pro-tip: Store Starface Sleep Mask in the fridge for an anti-inflammatory effect.
Shop Now, Get a Free Luxury Robe
Our NEW Nighttime Beauty Routine screams "go to bed with me." Yup, she's pretty irresistible. Featuring rejuvenating products formulated with powerhouse fruit extracts, seed oils, flower extracts, and actives like retinol and hyaluronic acid, it's just what you need to wake up glowing.
The kit comes with a FREE pink robe worth $250, adding even more luxury to your evening routine. Even better, you'll save BIG when buying this bundle now whilst the freebie is included. It gives the bundle a value of $372+ — but you'll only pay $122!
You can save even more by becoming a subscriber. Simply select your desired shipping frequency, and save 10% on every order! You can pause or cancel anytime.
Never struggle drifting off again. Our Nighttime Routine Bundle features four rejuvenating skincare products and a handful of sleep accessories to bring you your best skin and sleep.
Have you tried it yet? Let us know what you think!
Share
---