Spritz Your Body in this New LE Lemony Mist for Sensational Summer Skin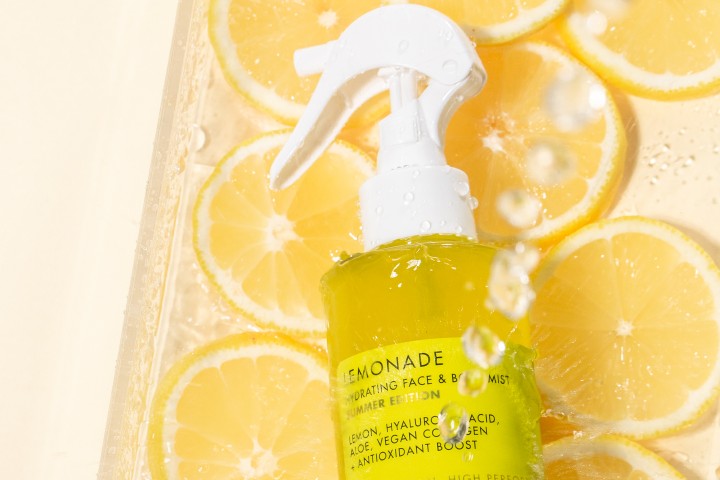 Between extreme weather and air conditioning, it's easy to end up with dry skin through the summer months.
What you need is a little hydration!
Did you know that the skin is made of 64% water? Regardless of your skin type, we all need to be using hydrating skincare products to lock in moisture and keep our summer skin glowing!
And the product to make that happen...Truly's brand new, limited edition LEMONADE!!!
Forget grapefruit, green tea, eucalyptus, and orange blossom. This season it's all about the lemons!
WHAT LEMONADE CAN DO THAT OTHER BEAUTY PRODUCTS CAN'T?
Lemonade is a hyper-hydrating face mist and body mist designed to infuse the skin with fruit extracts and antioxidants for hours-long hydration.
This facial mist is formulated with lemon, hyaluronic acid, aloe vera, and vegan collagen to get your skin feeling and looking fabulous through the season.
It's the product you need in your skincare routine RN!
Unlike many other products, this spritz uses a blend of high-performing ingredients to brighten, hydrate, and soothe your skin.
Whether you've got dry skin, sensitive skin, or oily skin - this facial spray works for all skin types.
It's Soooo Hydrating!
...thanks to its hyaluronic acid content.
"Hyaluronic acid is a sugar molecule that occurs naturally in the skin, [and] it helps to bind water to collagen, trapping it in the skin, so that skin can appear plumper, dewier, and more hydrated," says board-certified dermatologist Tsippora Shainhouse.
You'll find HA in lotions and moisturizers but facial mists are the best in the summer time for refreshing and waking up your skin. 
If you're looking for skincare spritzes, be sure to look out for formulas that contain moisture-binding ingredients like hyaluronic acid or glycerin, and other skincare boosters like rose water, lavender, peppermint, or chamomile.
"When you apply a hyaluronic acid serum to your skin, it acts like a sponge by attracting moisture to boost hydration on the surface of skin," explains Kate Bancroft, Nurse and Founder of Face the Future's CQC-regulated Advanced Skin Clinic & online shop. "The moisture that hyaluronic acid attracts comes from your external environment, so it absorbs moisture from the air around you to leave skin plump and hydrated."
WHAT LEMON DOES FOR THE SKIN
Lemons are loaded with vitamin C and citric acid, so they can help brighten your skin when used over time.
Vitamin C is a potent antioxidant for neutralizing free radicals and stimulating collagen production, meaning it can help lighten dark spots and even treat acne-prone skin by lightening acne scars. It's also an anti-inflammatory, so it's useful in repairing and healing skin.
HOW TO USE LEMONADE FACE AND BODY SPRAY
It's not a toner or a cleanser. It's a spritz. 
You can apply this formula anytime your skin feels dry, needs a pick me up, or a boost of hydration. You can also use it as a setting spray to enhance your makeup look. 
Just remember to follow up with a generous layer of sunscreen (SPF 30) to maintain a healthy and protected complexion.
Thirsty for dewy, glowing skin this summer? Pick up a spray bottle of Truly's sulfate-free, cruelty-free Lemon Spritz today! 
You don't need shea butter lotions, DIY avocado creams, or essential oils to get your skin feeling fab. You just need LEMONADE!
Share
---