The Best Body Scrub For Every Skin Type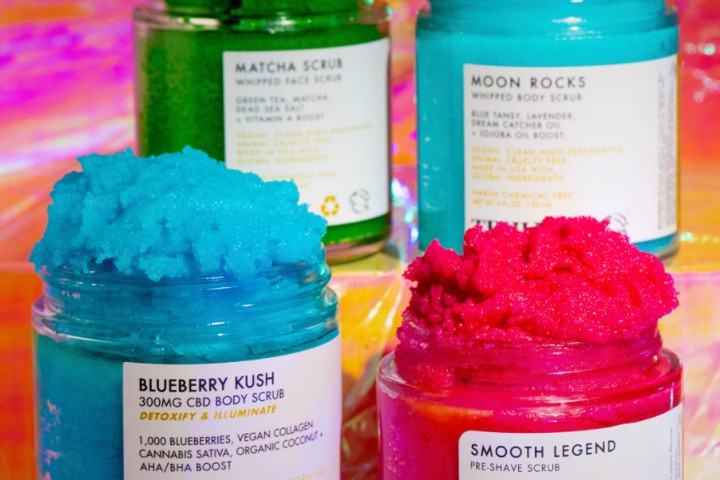 In case you never knew why exfoliation mattered, here's why:
We lose approximately 50 million skin cells a day. It's a healthy (and totally normal!) process that helps the skin regenerate and produce new ones. But for some people, that dead skin can linger, resulting in dry, dull skin -- and it can happen anywhere on your body.
By exfoliating, you buff away those dead skin cells to drive out dullness and reveal a smoother, glowing complexion. Besides that, it also allows your skin to soak up other skincare products better.
And when dermatologists advise exfoliating at least once a week, they're not just talking about your face. The skin on your body needs the occasional scrubbing session too.
Enter...the body scrub. 
Whether you've got dry skin, sensitive skin, or aging skin, we've got an exfoliating body scrub for every skin type. Take a scroll through and find your ideal scrub.
Blueberry Kush CBD Body Scrub
Targets: Acne-Prone Skin + Dull Skin
This anti-inflammatory, antioxidant, and omega-rich sugar body scrub sloughs away impurities to detox the skin and treat breakouts. At the same time, it illuminates -- transforming dull, lackluster skin into glowing skin. Oh yeah, and it can also treat keratosis pilaris. 
Why it Helps
Sugar + AHAs/BHAs, such as lactic acidand salicylic acid, stimulate new skin cells while eliminating excess sebum.
Antioxidant-packed CBD soothes inflammation and provides potent antibacterial properties, making it ideal for blemish-prone skin.
Blueberry seed oilis loaded with fatty acids to support skin's barrier function and promote a healthy, hydrated complexion.
Moon Rocks Whipped Body Scrub
Targets: Red, Irritated Skin
Sensitive skin should steer clear of chemical exfoliants and opt for soothing, nourishing formulas instead. This body scrub blends calming, natural ingredients like lavender, blue tansy, coconut oil, and jojoba oil for hydrating, skin-soothing exfoliation.
Why it Helps
Blue tansy and lavender help reduce redness and inflammation.  
Coconut oiland jojoba oil hydrate the skin, fighting dryness and leaving the skin feeling silky smooth. 
Vegan Collagen Body Polish
Targets: Aging Skin 
An extra fluffy exfoliating body polish infused with nourishing, moisturizing, skin-tightening ingredients like collagen, retinol, rose, shea butter, cocoa butter, and vitamin C.
Why it Helps
Plant-based collagen stimulates the body's natural production of collagen -- a structural protein responsible for skin strength, suppleness, and elasticity.
Loaded with vitamin C, vitamin E, and antioxidants, rose helps balance out the skin's natural oils, soothe irritation, and regenerate skin tissue.
Cocoa butter's natural fat content enables the skin to retain moisture. Packed with plant compounds, it may also improve blood flow and delay signs of aging by shielding the skin against harmful UV rays.
Retinol reduces the appearance of fine lines and wrinkles while plumping and lifting sagging skin.
Smooth Legend Pre-Shave Scrub
Targets: Dull, Dry Skin
Struggling with dryness or dullness? This lightweight sugar scrub buffs away dead skin cells, loosens hair follicles, and lathers away product buildup to reveal smooth, soft, glowing skin. In addition to brightening and hydrating your skin, you can also use this exfoliator for an ultra-close, ingrown-free shave. 
Why it Helps
Grape seed extract spurs cell turnover and collagen synthesis. Thus, it helps to maintain bouncy, healthy skin. 
Coconut oil's hydratingproperties provide intense hydration while healing razor bumps and irritation. 
Lavender boasts antimicrobial properties that work in tandem with antioxidantsto decongest hair follicles for bacteria-free, razor-bump-less skin.
An all-star emollient, passion fruit leaves the skin soft and silky to the touch due to its ability to deeply penetrate the skin with its elasticity-restoring powers. It also possesses a high concentration of essential nutrients like riboflavin, carotene, vitamin Cand vitamin A which help retain moisture and prevent fine line formation. 
Buns of Glowry Butt Polish
Targets: Cellulite
Some of the best body scrubs out there are the ones that contain natural, high-performing ingredients, and our Buns Body Exfoliator is no different. It relies on two key ingredients  --wheat protein and watermelon extract -- for its skin-firming and tightening capabilities. Thanks to amino-rich watermelon extract, this butt scrub also intensely hydrates and plumps your skin for a booty that glows. 
Why it Helps
Wheat protein contains ceramides, a type of lipid that helps to plump skin from within. As a result, it can fill in fine lines and cellulite. What's more, it provides the skin with a healthy source of long-term moisture. 
Watermelon extract fades discoloration, promotes cell regeneration, hydrates, and gently exfoliatesthe skin. 
Jojobaseeds help exfoliate away dirt, oil, and blemishes on your backside -- or basically anywhere on your body.
Matcha Scrub
Targets: Discoloration
Forget coffee scrubs and conventional salt scrubs. Opt for this one of a kind exfoliator instead. With a base of natural sugar and Dead Sea salt granules, this antioxidant-loaded green tea scrub delivers gentle exfoliation without causing micro-tears to the skin.
Why it Helps
Matcha soothes skin and brings down inflammation. As a result, it can even out your skin tone and clear blemishes. 
Glycolicacid gently dissolves layers off the skin, which helps fade fine lines and discoloration.
Aloe veraprovides calming, anti-inflammatory properties for chilled out skin.
At Truly, we have a body scrub for every skin type. Take your pick!
Wondering how to incorporate it into your skincare routine? Start by using a body wash or cleanser to remove any dirt or grime that's built up through the day. Next, apply your body scrub. Once you're done, dry off and slather your skin with a hydrating body lotion or moisturizer formulated with nourishing ingredients like sweet almond oil, apricot, macadamia, peppermint, and argan oil. 
If you've got sensitive skin, avoid using certain essential oils that may cause irritation.  
Want to pick up one of our invigorating, vegan body scrubs? You'll find them all listed on our website or over on Ulta. Happy shopping!
Share
---