The Cutest Beauty Presents for the Girl Who Loves Pink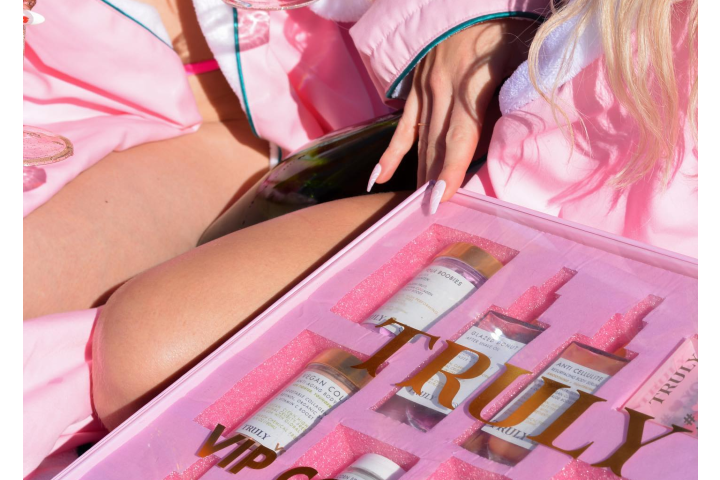 Has your best friend got a birthday coming up? Or maybe you want to get that special lady in your life something nice for Women's Day? 
If she's girly, into pink, and a self-proclaimed beauty lover, we have some excellent options for nailing that birthday gift or last-minute surprise. 
Here are some of our fave gift ideas for the girl in your life who LOVES pink.
Truly Duffle Bag
Our signature Pink Duffle is cute, elegant, and a great gift for pink-passionate ladies. 
It features a zippered main compartment and an adjustable clip-on leather strap for crossbody wear to stow all your skincare products and makeup essentials in style. Plus, it's made from vegan leather so sweethearts like your bestie can look stylish -- with peace of mind. 
Heart Face Towel
Treat your bestie to our newest heart face towel. Trust us, she'll be smitten. Made with a soft n' gentle terry cloth design, this wash cloth is ideal for wicking away moisture and cleansing away makeup without irritating the skin. 
Gift it alone or add it to a gift basket for the cutest, coolest beauty gift ever. 
Skincare Travel Pouch
A luxury pink gift to keep all her grooming essentials organized. It's spacious with lots of room for lip gloss, hand cream, and all her other beauty products. It's also water resistant vegan leather, and features a double zipper enclosure. In other words, it's the perfect gift for babes who love pink -- and personal care. 
Bonne Nuit Beaute Satin Sleep Set
Give her the gift of a good night's sleep with our Satin Sleep Set. Featuring one standard size pillowcase to fight hair frizz and breakage, an eye mask for a restful sleep, and a cute scrunchie and headband to keep hair out of your face! This vegan set is your frizz- and crease-free solution to a smooth and stress-free morning. 
It's one of the best gifts for women who prioritize self-care. And if you often hear them complaining about waking up with unruly strands, this may just be the most perfect gift for her.
VIP Collection 2.0 Gift Set
The newest version of our VIP Bundle just returned, and it's better than ever. This limited edition VIP Gift Box features 11 full size bestsellers and a FREE full-length luxury robe with hood so she can scrub, shave, treat & moisturize looking and feeling like a total queen. 
Included: Acai Your Boobies Polish, Vegan Collagen Body Polish, Vegan Collagen Facial Serum, Unicorn Fruit Whipped Body Lotion, Smooth Legend Pre-Shave Scrub, Anti-Cellulite Serum, Glazed Donut Shave Oil, 24k Gold Black Soap Impurity Cleanser, Heart Pimple Patches, Purple Rain Facial Oil, GLOAT Luscious Lip Balm, Mini Gold Spoon, Gold Ice Cream Scoop and FREE pink robe. 
Firming, acne-fighting, hydrating, anti-aging, vegan, and cruelty-free, this unique gift set is guaranteed to leave her smiling.
Mary Jane Glow Mask
She's pretty, pink, and here to illuminate complexions. Mary Jane Glow Face Mask is an exfoliating mask made with retinol, caffeine, hemp, and glycolic acid to to firm and brighten while replenishing essential hydration. 
Whether it's a birthday or Christmas gift, she's guaranteed to love this exfoliating face mask. Plus, it'll make her fave matte foundation glide on for a seamless finish.
GLOAT Luscious Lip Butter
Valentine's day gifts, holiday gifts and birthday gifts don't have to be expensive for her to appreciate it. Even this little stocking stuffer is bound to please.
GLOAT Lip Butter is a minty lip plumping balm infused with nourishing oils and hyaluronic acid to soften lip lines and lock in moisture for pillowy soft, juiced up lips all day long. It's a purse and makeup bag essential!
Heartbreaker Lip Plumping Mask
She shimmers, she sparkles...it's our Glitter Lip Plumping Mask, aka Heartbreaker Lip Mask. Forget fillers and procedures! Our lip plumping mask is made with nourishing ceramides, soothing aloe, and stimulating peppermint to smooth, plump, and soothe her pout.
Besides working like a charm, this mask is fun to use and super pretty. If your BFF loves sparkly, glittery things, she'll love this pink and girly lip plumping formula.
Super Fierce Pre-Shave Serum 
You don't typically find shaving products in beauty gift guides. But honestly, it's something well worth considering. After all, what woman doesn't want a smoother, more enjoyable shave? 
If she's a millennial who loves pink, she may also be nostalgic for the Powerpuff Girls. We sure are! 
Treat her to this PPG-inspired Super Fierce Pre-Shave Serum to make her shave days smoother and sexier. It's formulated with moisturizing marula oil and anti-inflammatory squalene to help hydrate, soften hair follicles, and secure a super smooth razor glide sans razor bumps and burns. 
Unicorn Fruit Eau De Parfum
Truly's first signature fragrance, Unicorn Fruit Eau de Parfum has a fruity and feminine base of candy floss, vanilla, and sandalwood with light top notes of citrus, white floral and black currant for a captivatingly sweet scent. Introduce her to this one of a kind fragrance.
Mini Unicorn Kit
Our bestselling Unicorn Fruit line - fun-sized. This bundle features a body butter, lip balm, a conditioning hair mask, and two gold spoons for scooping. It's the perfect opportunity to give her a tasty of Truly specials. Let her try something different in the new year -- she may just LOVE it.
Pink Fuzzy Bag
Store everything from your eyeshadow palette to your makeup brushes, your nail polish to your under-eye masks. And of course the essentials like your purse, phone, and credit card! 
Truly's Pink Fuzzy Bag is a cute and stylish way to transport your essentials. Plus, it feels super cozy! 
Get this for the girl in your life who lives for pink stuff. It's also perfect for those am or pm runs to Sephora. Let her shop in style!
Not found what you're looking? You'll have plenty more on the Truly store.
Share
---