The Most Luxurious Products for an At-Home Spa Experience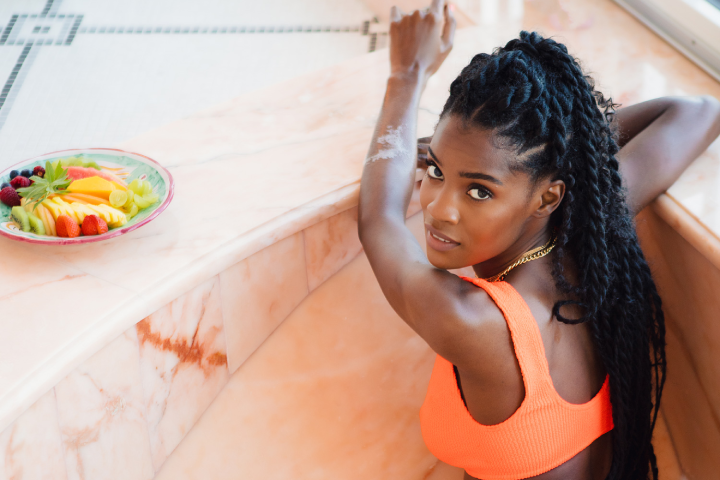 Bring the spa experience straight to your bathroom!
As much as we'd all like to have spa days on a weekly rotation, not everyone can afford or find the time to fit them into a busy schedule. But that doesn't mean you need to miss out on the mood-lifting, skin-improving benefits the spa brings. You can create a DIY spa day right from your own bathroom with a few luxe products guaranteed to perk up your day — and your complexion.
Whether you work from home or commute daily to an office, you deserve some pampering. Turn to these spa-like beauty products to enjoy the ultimate home spa experience.
Mary Jane Glow Face Mask
Home spa days wouldn't be the same without a luscious face mask. It's a great way to soothe, de-stress, and rejuvenate your skin while pampering yourself with body skincare products.
Truly's Mary Jane Glow Mask is an exfoliating and hydrating treatment to help buff away dead skin cells and product buildup while reducing redness and inflammation, and leaving skin instantly smoother and brighter. Formulated with vitamin A to speed up cell turnover, hemp to soothe irritation, and antioxidants to firm and brighten your complexion. It also contains glycolic acid to sweep away oil, dirt, and dead skin, and reduce the appearance of fine lines and wrinkles.
Apply a generous coat on clean skin, leave it on for 10-15 minutes, and rinse with cool water.
Moon Bath Essentials
Now that you're temporarily finished working on your face, it's time to move into your shower or tub.
Set the mood by spritzing a little Moon Shower Spa Mist into your shower, and wash away impurities, muscle pain, and daily stress with Moon Shower Body Cleanser. These calming formulas soothe the skin and mind, reduce redness and inflammation, and promote relaxation thanks to a blend of adaptogenic herbs such as ashwagandha, lavender, and eucalyptus.
Truly's Moon Bath Essentials Bundle is your go-to shower companion for a stress-melting rinse. It takes self-care to a whole new level. Think aromatherapy in a bottle — well, two.
Mary Jane Bubble Bath
Prefer drawing a bath? Instead of bath salts, bath bombs, bath oils, and epsom salts, reach for Truly's Mary Jane Hemp Bubble Bath to help you wind down after a hard day.
Infused with calming CBD, age-reversing retinol, and antioxidant-rich caffeine, this formula soothes, moisturizes, and brightens for an extra dewy, extra chill complexion. Plus, it can help relieve any acne-related irritation.
If you're looking to achieve a luxury spa treatment right in your own bathroom, be sure to slide down into these CBD-infused suds.
Moon Rocks Whipped Body Scrub
To finish your home spa treatment feeling smooth and revived, don't forget to exfoliate away dead skin and dirt with an invigorating body scrub.
Truly's Moon Rocks Scrub contains a blend of nourishing botanicals to upgrade your beauty routine, and give you that gleaming, spa-like skin you seek. Featuring moisturizing coconut oil, brightening lavender, and protective vitamin E, this formula helps to buff, detox, and brighten dry, dull skin.
It's gentle on all skin types — including sensitive skin and dry skin.
Massage a scoop of scrub on body while bathing or showering, working in gentle circles to buff. Let it sit for a minute or two for extra hydration before rinsing with cool water.
Unicorn Fruit Whipped Body Butter
Now that you're soothed and freshly scrubbed, pat your skin dry and immediately slather on a rich and luxurious body lotion like Truly's Unicorn Fruit Whipped Body Butter.
Made with shea butter, aloe vera, matcha, rose, and vegan collagen, this body cream deeply conditions the skin while minimizing irritation and leaving skin candy-scented. It also works to smooth, plump, and firm skin all over.
Apply a generous layer all over your body. Make it part of your daily skincare routine for best results.
Blueberry Kush Hemp Body Oil
Seal everything in with this antioxidant-packed glowing body oil.
Truly's Blueberry Kush Hemp Body Oil is formulated with AHA + BHA, 300mg of hemp, vegetable collagen and a ton of blueberries to fight inflammation, protect against blue light, boost collagen production, and brighten the complexion.
Apply it all over your skin — paying extra attention to those dry patches. You can also use it on your nails and cuticles if you're doing an at home manicure or pedicure.
Purple Rain Glow Serum
Back to the home facial side of things, after rinsing off your mask, apply a thin layer of Truly's Purple Rain Glow Serum to your face and neck.
Powered by anti-aging retinol, resurfacing glycolic acid, and brightening antioxidants, this serum targets visible signs of aging to give you a healthy, glowing complexion without leaving any grease.
If retinol is too strong for your skin, you can also opt for a vitamin C serum for brightening effects.
Flower Child Face Cream
Complete your home spa session with a moisturizing blanket of Truly's Flower Child Face Cream. It contains hemp and hyaluronic acid to deeply hydrate and nourish skin while warding off irritation and blemishes. It'll leave your skin instantly smoother, dewier, and plumper.
How to Create the Perfect Home Spa Experience
When it comes to making a spa at home, consider what relaxes you and the kind of treatments you like. You can set the mood with a scented candle or diffuse some of your favorite essential oils, like peppermint, chamomile, or lavender. In terms of treatments, you have plenty to choose from including the products above as well as eye masks, sheet masks, hair masks, and soothing body washes, to name a few.
Any beauty treatment that relaxes you and feels luxurious can be a home spa.
You can choose any time or any day to enjoy your DIY spa at home. However, it's best to choose a day when you have more time like over the weekend. Alternatively, indulge in some well-deserved pampering after a stressful day at work. You'll sleep like a baby!
Remember to tag us on Instagram with your Truly-inspired at-home spa snaps!
Share
---