Top Truly Skin Care Products 2022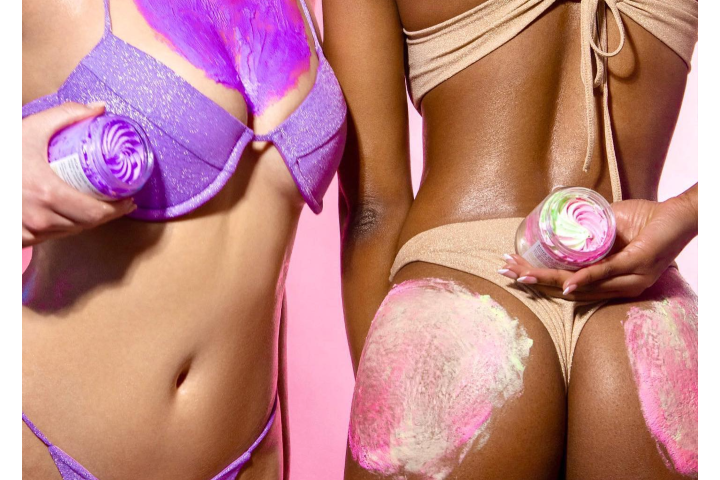 Between the pandemic and the chilly, dry weather, there's no better time to focus on self-care. 
We've rounded up Truly's top skincare products in 2022, so you can get first hands on the favorites flying off our shelves.
You may just want to add these to your skincare routine...
No Troubles Bubbles Shave Cream
Our limited edition, Bubbles-inspired shave cream is the only shave cream you'll need for super soft skin!
Antioxidant-packed blueberry, hydrating hyaluronic acid, and soothing blue tansy are swirled to perfection in this moisture-rich, lightweight cream to secure the silkiest and sweetest shave. No need to worry about razor burn or ingrown hairs! Thanks to marula oil's high concentration of essential fatty acids, this formula can reduce redness, clear congested pores, and calm inflammation. 
What's Up, Buttercup? Shave Butter
The toughest beauty product we offer. What's Up, Buttercup? may look sweet on the outside, but this little skincare savior will banish body blemishes, dryness, and irritation for good. 
Avocado, kiwi, and niacinamide work together to reduce and prevent post-shave redness, dryness, and irritation while replenishing lost moisture, regulating oil, and strengthening the skin's ceramide barrier, in turn warding off ingrowns, dryness, and acne.
Super Fierce Pre-Shave Serum
Prep your skin for a super smooth shave with this Super Fierce Pre-Shave Serum. It's formulated with ultra-nourishing marula oil and anti-inflammatory squalene to help hydrate, soften hair, and secure an effortless razor glide. 
The formula also contains vitamin C-rich watermelon and strawberries to protect against UV damage, brighten skin, and reduce the appearance of dark spots and hyperpigmentation.
The PowerPuff Girls Razor
This Super Shaver Razor saves the day for last-minute shaves. You won't have to worry about bumps, burns, redness, and ingrowns 'cos our PowerPuff Girls Razor is perfect for a super fast shave, even on the go. 
Pimple Power Pack
Just popped a pimple? Let Bubbles, Blossom, or Buttercup save the day! 
Our limited edition PowerPuff Girl acne patches are super-charged with hydrocolloid to drain zits of gunk and grime while protecting from pesky picking. Take your pick of Bubbles, Blossom, or Buttercup patches to patch up and heal your pimple. Did we mention you can use them either on your face or body? Breakouts don't stand a chance with these baddies. 
Moon Lit Shimmer Oil
Make your skin extra dewy and radiant in the new year with this nourishing, instantly absorbing sparkling dry body oil. Infused with champagne gold shimmer, this formula offers a radiant glow on the go. Made with a brightening blend of chai spices and witch hazel to reduce inflammation and shrink pores, you can apply this anywhere you're looking for a glow boost.
It also contains antioxidant-rich vanilla which neutralizes free radicals to reverse skin damage and prevent fine line formation. 
Best of all, Moon Lit Shimmer Oil highlighter is buildable on all skin tones for a customizable glow. Whether you're seeking a subtle, sun-kissed glow or a disco ball level of dazzle, this body shimmer oil works for all. Plus, it just melts into skin. No stickiness whatsoever! 
Boobie Bundle
This 3-piece set features a polish, serum, and butter designed especially for the cleavage area. It's clinically proven to lift, smooth, and firm your boobs in just 4 weeks of daily use.
And the magical ingredients responsible for making that all happen? That would have to be retinol, acai, and dragon fruit. 
Retinol stimulates collagen and elastin production, which has a direct impact on firmness of skin. Antioxidant-packed acai berry increases the skin's moisture retention to help slow skin-aging. And dragon fruit improves skin tone while preventing breakouts on the chest.
Booty Bundle
Another bestseller that's proven to work in 4 weeks, Booty Bundle features a polish, serum, and butter designed to brighten, tighten, and moisturize your buns.
Its two key ingredients -- wheat protein and watermelon extract --will intensely hydrate and plump your skin, while minimizing the appearance of fine lines and cellulite. The end result? A firm derriere that glows!  
At present, bum-related products just aren't that popular in the beauty industry. Truly Beauty is revolutionizing butt skincare for all skin types! And we're one of the few beauty brands making it happen!
Unicorn Fruit Whipped Body Butter
Famous on TikTok and other social media platforms, Unicorn Fruit Body Butter went viral for a reason.
This candy-scented, multi-colored body moisturizer is hand whipped and packed with a blend of natural, skin-repairing ingredients such as acai, shea butter, aloe, matcha, vegan collagen and rose. 
It helps create a strong and healthy skin barrier while firming, smoothing, and plumping out the top layer of skin. From dry skin to sensitive skin, this formula works for all. It's guaranteed to optimize skin health while offering anti-aging benefits such as smoothing out fine lines and wrinkles.
Plus, it's a multipurpose product that can be used as an eye cream, cuticle softener, lip balm, or hair mask.
Vegan Collagen Bundle
Our number #1 anti-aging skincare is the first of its kind vegan collagen line including vitamin C serum, face mask, facial cleanser and body cream. 
People love it because it's loaded with powerhouse ingredients like retinol, vegan collagen, vitamin C, and coconut. 
Just make sure you load up on the SPF as retinol makes the skin more sensitive to the sun. Sunscreen should always be the final step in your routine.
CBD Jelly Baby Bundle
See the back of your blemishes for good! 
Whether they're on your face, booty, or back, CBD Jelly Bundle is the missing solution for your skin's needs including face wash, facial serum, body mask, body cleanser, and an exfoliating toner.
Using gold-tier ingredients like AHAs (glycolic acid) BHAs (salicylic acid), and retinoids, these products slough away dead skin cells and dirt to clarify pores and prevent future breakouts from forming.
If you have a skin condition, speak to your dermatologist before trying new products. 
You can shop Truly products on the official Truly website, and on Amazon, Sephora, and Ulta. 
Share
---