Who Can Stay Hush About Blueberry Kush?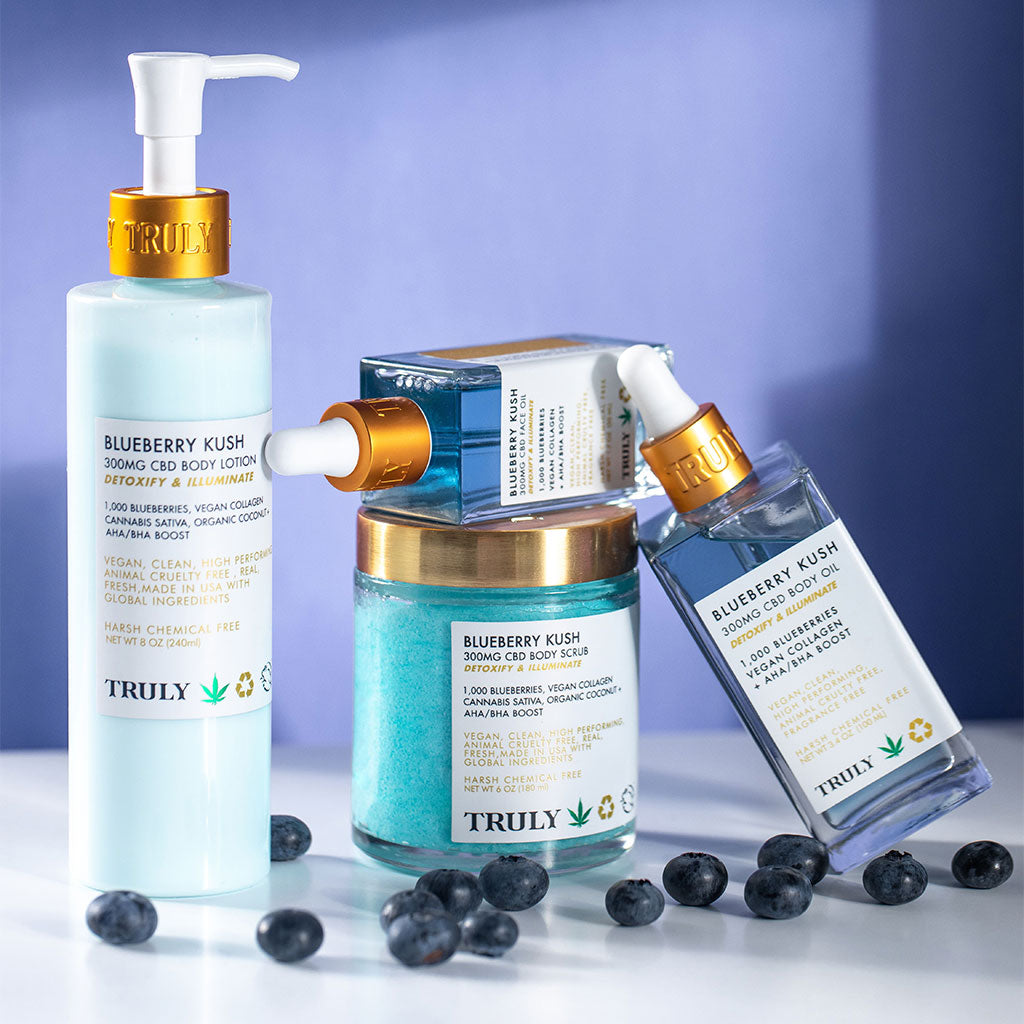 Blueberries aren't just great as a topping over porridge, granola, or a fruit salad. They're also extremely beneficial when applied topically to your skin.
See, blueberries are rich in vitamins C and E, which help remove dead skin cells and stimulate new ones to promote brighter skin. Plus, blueberries have a naturally high anthocyanin content, a type of flavonoid with powerful antioxidant effects.
Research shows that topical products containing anthocyanins can help in the treatment of premature aging thanks to their antioxidant properties.
Here are just a few benefits of blueberries for the skin:
Even out complexion
Plump up your skin
Prevent Wrinkles
Brighten Skin
DETOXIFY AND ILLUMINATE YOUR SKIN WITH TRULY'S BLUEBERRY KUSH COLLECTION
Each bottle of Blueberry Kush contains the oil of 1,000 blueberries, vegan collagen, AHAs, and BHAs.
This antioxidant rich formula serves as a natural shield against blue light, while nourishing the skin with its high fatty acid composition to support the skin barrier's function. This results in protected, hydrated, and positively luminated skin.
Let's take a look at the full collection.
Moisturizer has a hard time penetrating unpolished skin. That's why we urge you to make body exfoliation a regular part of your shower routine. One to two times per week is enough to remove dead surface cells and create the ideal foundation for your lotion to really sink in and work its magic.
Apply a generous amount to your body and massage in well. For best results, use 1-2 times per week and follow up with Blueberry Kush oil and body lotion.
Your body requires just as much attention as your face … if you want it to stay looking hot and healthy that is.
Slathering the oil of a thousand blueberries over your body is definitely a good start in protecting, hydrating, and nourishing your skin.
Ideally, use it straight after a shower when your skin is still slightly damp to maximize its absorption.
Blueberry Kush CBD Body Lotion
To lock in the moisture from the blueberry-enriched oil, follow up with this CBD body lotion for ultimate skin silkiness.
CBD oil offers the perfect balance of nutrients and substances to nourish and hydrate the skin. Have any dry or rough patches? Cracks around your ankles or elbows? CBD's anti-inflammatory and healing effects will clear them right up.
Enough about your body. Now it's time to focus on your face.
Blueberries are naturally rich in an antioxidant called anthocyanin which stimulates new collagen formation. It also prevents skin cell-damaging free radicals produced by pollution and sun exposure from causing skin aging.
According to Rachel Nazarian, M.D. of Schweiger Dermatology Group in NYC "Blueberries also contain a healthy dose of vitamin A, which stimulates the creation of more collagen and elastin."
Why does that matter? Because collagen and elastin are the foundations of youthful skin. The more of it you have, the firmer, plumper, and tighter your complexion will be.
Share
---