Truly Ambassador of the Month: Chloe Baldino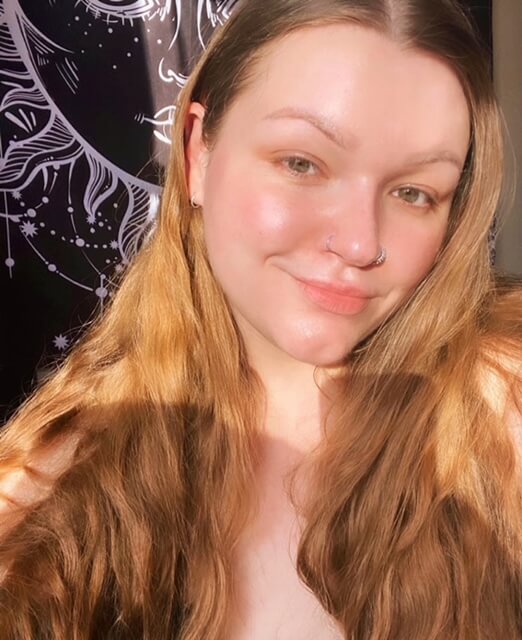 As part of our Truly ambassador series, we'll be featuring some of our most active ambassadors of the month. This month, we're featuring Chloe Baldino, a passionate Truly advocate with a whole lot of skincare science knowledge!

Ahead, she shares her fave Truly products, why she loves the brand, and all her best tips for being a Truly Beauty ambassador.
Why did you choose Truly?
I initially stumbled upon Truly when searching for something that could help with scarring from a bad car accident. Now, I keep my Truly stash fully stocked because I have been studying skin chemistry and formulation for several years.
I saw incredible results when I started cherry-picking ingredients in my facial skincare and was interested in implementing targeted actives within my body care routine as well.
As a college student and someone who has struggled with psoriasis, rosacea, hormonal breakouts, and so on, I am always on the hunt for affordable and effective products that leave my sensitive skin glowing. Also, I'm a sucker for aesthetics and a sensorial experience, so I love the vibrant colors, gorgeous scents, and fun textures that one will find in Truly Beauty.
What's your favorite thing about being a Truly ambassador?
My favorite thing about being a Truly ambassador is the ability to educate and assist others in addressing their skin concerns.
Throughout my life, I have dealt with mental health and body image issues, so it is also very important to me that I can encourage the use of self-love and self-care rituals for women, people of color, queer, trans, non-binary, and non-gender-conforming individuals.
I fully believe that everybody is beautiful and deserves to be nourished and worshipped, no matter the size or shape. In addition to that, I love having the opportunity to occasionally test and review new releases before they launch!
I'm currently in school for creative writing and film, so it's a super fun way to put my artistic skills to work and generate some excitement around new products.
If you had to choose 3 of your fav Truly products, what would they be and why?
It is tremendously difficult to narrow it down, but my ride-or-die Truly items are the Blueberry Kush Body Lotion, Glazed Donut After Shave Oil, and Unicorn Fruit Deodorant. I keep multiple backups of these!
The Blueberry Kush Lotion is a stunning formula and my psoriasis-prone skin absolutely loves the chemical exfoliants in it. Plus, it smells just like a blueberry muffin!
Glazed Donut is seriously the yummiest scent ever, and my skin slurps it down like nobody's business. I love to use it after shaving or when I need a little extra hydration, but it's also a great additive to the Blueberry Kush lotion...amps up the pastry note and gives me extra moisturizing benefits without having to use a ton of product (this works great with body butter too!).
Lastly, I adore the Unicorn Fruit Deodorant. My psoriasis patch is located underneath my left arm, and this is the only deodorant I've found that doesn't make it itch and sting like crazy. In fact, this deodorant is the reason my armpits are super smooth and even-toned now.
Not gonna lie, I'm also LOVING the new Glazed Donut Facial Serum and Moisturizer. Other runner-ups are Cherry Jelly Body Cleanser, Coco Cloud Shave Butter, Moon Rocks Body Scrub, Mary Jane Bubble Bath, Pineapple Haze Balm, and the Dulce De Leches line!
Would you be able to share a few juicy tips for increasing your influence as a Truly ambassador?
I'm no gatekeeper, so I love to share tips and exchange ideas! The majority of my Truly sales come from TikTok and from friends who have reached out for help with skin and body care.
I have my apprehensions about social media and like to keep my Instagram page dedicated to my life, writing, and art (though I am a skincare junkie so I do post about products every so often!), so I created a TikTok specifically for Truly and I curate videos based on the content I would personally like to see.
For example, my most viewed video is one I made showcasing the various routines that can be created with one of the VIP sets. My second most popular one is about the best Truly scent combinations. The third one is all about Truly's facial serums and what you should use based on your skin type.
If there's one thing I've learned over the past few years, it's that the average consumer has a really hard time deciphering gimmicky marketing, greenwashed labels, misinformation, etc. Think about how overwhelmed one may be when first stepping into the world of Truly, and try to answer the questions that may come from a beginner in your content.
Aside from that, my best advice is to study how ingredients work in skincare science so you can be a hub for knowledge. I believe we are the most successful when operating with a kind heart and good intentions...this is the main reason people feel comfortable coming to me for help!
Join Our Ambassador Program
Come join a community of beauty lovers and earn money spreading the Truly Beauty love! As an ambassador, you can enjoy discounts on all Truly products, fun FREEBIES, great commissions, and access to exclusive happenings. Plus, you'll be partnering with one of Gen Z's fave skincare brands! 
Share
---