How to Get Silky Smooth Legs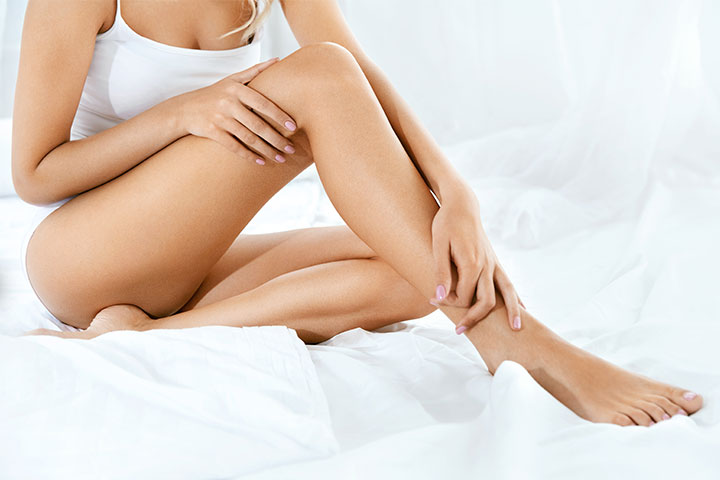 Stubble, ingrowns, and dryness are the main obstacles between you and silky-smooth legs. Luckily, you can deal with these issues with the right pin pampering routine. We might be heading towards winter, but that doesn't mean we can't make the most of the last few weeks to show off our legs in cute dresses, minis, and shorts.
The problem with legs is that they have almost no oil or sweat glands. Translated: zero natural moisture. The skin on your legs is also more prone to skin cell build up, as cell turnover is extremely low. That's why your legs need major attention all year round to keep them looking fabulous. Read on to find out how to make your legs smooth and silky.
Exfoliate
Most people skip this step in favor of moisturization. If you're one of them, you are neglecting a very important body care step that's proven to transform your legs.
For flawless legs, proper exfoliation is an excellent way to boost circulation and remove dead skin cells. As a result, it can reduce the appearance of cellulite and give your gams a gorgeous glow.
While exfoliation is essential in promoting smooth legs, avoid over-exfoliation which occurs when skin becomes dehydrated. One to two times per week is plenty to keep your legs looking perfect. Detoxify your legs with Truly's Blueberry Kush CBD Body Scrub. Massage a handful of it into wet skin in circular motions. Leave it to soak into your skin for 1-2 minutes, then rinse with warm water.
Invest in a Quality Razor
You could be shaving your legs wrong without even realizing. And it could be the cause of ingrown hairs, irritation, and stubble. Once you know how to shave your legs correctly, you'll notice a huge transformation in the way your legs look and feel.
So here we go. Always start with a clean, sharp razor for best results. It will give you the closest, cleanest shave and won't result in any irritation. Dull blades, on the other hand, lead to nicks and cuts so avoid them at all times.
Shave Correctly
You'll also want to start with wet legs, as "Letting your skin sit in a wet, warm environment allows for your skin and hair to soften," says Whitney Bowe, M.D., a dermatologist in New York City. Then apply a generous amount of shaving cream to your legs. "Shaving cream is so important because it helps to soften hairs, making it easier to remove them close to the skin's surface," says dermatologist Jennifer Chwalek, MD.  
Conditioning your skin prior to shaving will soften the hair follicle, leaving your legs less prone to irritation when the razor glides across your skin. So stop shaving with soap and invest in a gentle, hydrating shaving cream.
Spread a dollop of Truly's Coco Cloud Whipped Luxury Shave Butter into a thin, even layer over your legs. Beginning at your ankle, carefully shave upward always against the director of hair growth to deliver a closer shave. For an even closer shave, repeat the shaving process and rinse with water.
Moisturize
Finish up with a rich and nourishing body lotion to hydrate your legs. Moisturizing your legs will help prevent dryness and those little red bumps that can sometimes pop up after shaving. Plus, it will make your legs look extra smooth and silky. To reap the most benefits from your moisturizer, apply directly after showering/shaving.
"The skin on our legs is more susceptible to becoming dry, rough, and cracked [than the rest of our bodies]," says Dr. Chwalek, who recommends applying a body cream enriched with shea butter or lanolin while the skin is still damp to lock in moisture.
Immerse your legs in Truly's Coco Rose Fudge Whipped Body Butter, a nourishing blend of shea butter, coconut, and collagen that delivers a brighter, smoother, glowing appearance.
Apply SPF
Finish up with a high SPF sunscreen to keep your legs protection while outdoors. It may not immediately provide smoothness and brightness, but it will prevent skin damage on your legs. And in the long term, that will result in youthful, glowing legs.
Unless you perform your leg-pampering session in the evenings before you go to bed, you should always end the session with SPF. Your legs, just like your face, are prone to aging when exposed to UV rays, which is why you must protect them whenever you leave the house.
After getting dressed, apply a hydrating body sunscreen all over exposed skin for ultimate protection from UV rays and other environmental aggressors.
Other Tips for Maintaining Ultra Smooth Legs
There are numerous ways to keep your legs looking gorgeous from the inside out. While we strongly advise following the routine above, there are some additional ways you can keep your legs looking and feeling fantastic.
Dry brushing
It's basically another form of exfoliation, but it's a great way to increase circulation, boost lymphatic drainage, and reduce cellulite. For best results, apply gentle pressure and brush up towards the heart. Pay close attention to the back of your thighs where cellulite tends to occur.
H20
Drinking plenty of water has a huge impact on the appearance of your skin. When you're dehydrated, your skin will be the first organ to show it. To keep your skin healthy, stay hydrated at all times. It'll make your skin feel and look smooth and dewy.
Oil
After shaving your legs, hydrate with a nourishing oil like coconut or jojoba to restore the skin's moisture and strengthen the barrier. Not everybody likes the feel of oil on their skin, which is why regular body cream is the more popular option. However, if you regularly deal with dryness, a natural oil is your best option for locking in water and keeping those legs of yours silky-smooth.
Whether it's the summer or the winter, smooth, bright legs always make you look and feel amazing. With just a few basic skincare products, you can attain those silky-smooth legs you dream about.
Share
---