Truly's Mini Bar: Order Up Our Bestsellers Made Bitesize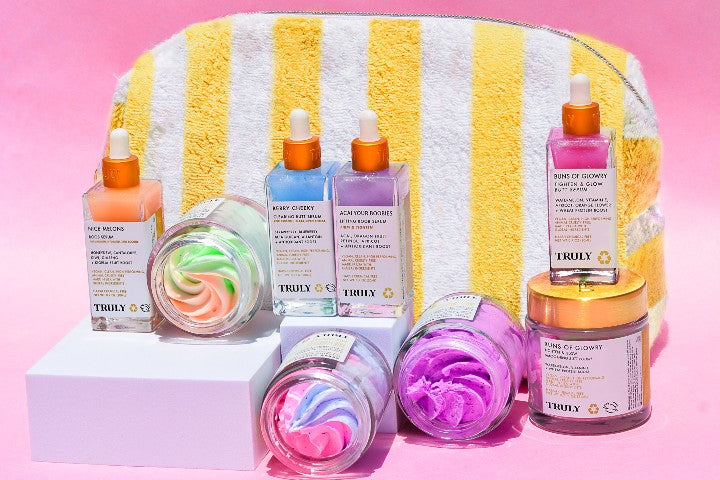 Ready to raid our Mini Bar? Truly's Mini Bar serves up a limited edition collection of bestsellers — made bitesize. Whether you're a regular jetsetter or just someone eager to get a taste of Truly Beauty specials, the Mini Bar is the perfect place to start. Pull up a chair, order up, and get a taste of Truly's new and cult-favorite skincare products in travel-friendly + budget-friendly sizes.
Everyone is welcome at the Mini Bar. Here's what you'll find there...
WHAT IS THE TRULY MINI BAR?
The Truly Mini Bar is our limited edition offer of hand-picked bestsellers and new arrivals in .7 fl oz. All of our minis are under 3.4 ounces or 100 millilitres, so you can pack them in your carry on and enjoy staying glowing on the go.
At the Mini Bar, you can choose from a selection of Truly favorites to travel with, try, or gift to friends. From skincare to bodycare and haircare, everything you need for all-over smoothness and glow is available on the menu here. Since everything is travel-size, it'll make your adventures so much lighter, easier, and extra glam!
WHAT YOU'LL FIND AT TRULY'S MINI BAR
Here's what our Mini Bar has to offer...
Mini Acai Your Boobies Butter
A moisturizing boob treatment formulated with acai and retinol to brighten, hydrate, firm, and fade the appearance of stretch marks. It's been a TikTok favorite since it was first released.
Mini Acai Your Boobies Polish
A resurfacing exfoliant designed especially for the boobs. This formula of acai and retinol clears away blemishes, minimizes stretch marks, illuminates skin, and offers tightening effects by enhancing natural collagen production.
Mini Buns of Glowry Glow & Tighten Butt Serum
A firming butt serum enriched with watermelon and wheat protein to diminish cellulite, stretch marks, and sagging. This high performing potion will leave your butt smoother, brighter, and tighter.
Mini Nice Melons Boob Butter
A fruity body lotion designed for the boobs with powerful tightening effects. Honey, cantaloupe, and kigelia fruit lend their hydrating and firming effects to quickly perk up your pair while leaving them smelling sweet and fruity.
Mini Unicorn Fruit Whipped Body Butter
The cult-favorite body lotion that's amassed millions of hearts on TikTok! Unicorn Fruit Body Butter is a fluffy, multicolored formula of shea butter, acai, and vegan collagen to deeply hydrate, soothe, and plump skin all over. It also doubles up as a lip balm, shave butter, deodorant, and hair mask.
Mini Nice Melons Boob Serum
A lightweight serum that tightens, brightens, and firms the chest while softening stretch marks. It's made with the most high end ingredients to perk up your pair.
Mini Unicorn Locks Repair Hair Mask
A strand strengthening formula made up of coconut oil and keratin amino acids to replenish lost moisture, repair damaged hair, and restore your smoothest, silkiest locks. You can use this formula as a conditioner, hair mask, or leave-in treatment.
Mini Acai Your Boobies Serum
Another bestselling, TikTok loved beauty product, Acai Your Boobies Serum is a silky formula of acai, dragon fruit, and retinol to provide visible lift to your bust while fading the appearance of stretch marks, blemishes, and discoloration.
Mini Buns of Glowry Smoothing Butt Polish
A retexturizing booty scrub made with vitamin E, watermelon, and orange flower. Together, these ingredients help to hydrate skin and stimulate blood flow for brighter, smoother-looking skin. You can also use this body scrub on other areas of your body if you've ran out while on your travels.
Mini Berry Cheeky Clearing Butt Butter
A buttne-busting formula of berries, beta glucan, and allantoin. Mini Berry Cheeky Butter brightens, smooths, and clears for your best looking backside. Plus, it smells heavenly!
IS EVERYTHING AT THE MINI BAR CRUELTY-FREE?
Yes, every product available at the Truly Mini Bar is 100% vegan and cruelty-free. In fact, that goes for all of our products. From our miniatures to our full-size cleansers and face masks, all of Truly's products are vegan and cruelty-free.
HOW TO GET THE MOST OUT OF THE TRULY MINI BAR
The Truly Mini Bar is a great place to just hang...while doing some window shopping — and actual shopping of course!
If you're a frequent traveller who loves staying on top of their beauty routine, pick up a handful of Truly miniatures and keep them with you on your travels for on the go pampering. Since they're all 100 ml, you won't have to worry about anything getting thrown away at the airport. You can stow them in your carry on with peace of mind!
Never tried Truly products before? Or perhaps your budget doesn't stretch? Now's your chance to eat your heart out and stash those products you've been dying to try in your shopping cart. All our miniatures are affordable and perfect for tasting Truly's bestsellers.
The Mini Bar is also pretty awesome if you're hunting for presents. Got a beauty loving bestie? Or a mom who deserves a little more self-care? Here's your chance to treat all your fave ladies to one or more of Truly's bestsellers.
Shop the Truly Minibar, Get a FREE Bag
Whether you travel often, want to get a taste of Truly, or you're simply looking for gift ideas, look no further than the Mini Bar. All products featured here come in travel-friendly, budget-friendly sizes of 100 ml or under. For a limited time only, we're giving away a FREE BAG when you shop $75 worth of Truly minis!
HEAD OVER TO THE MINIBAR TODAY
Share
---