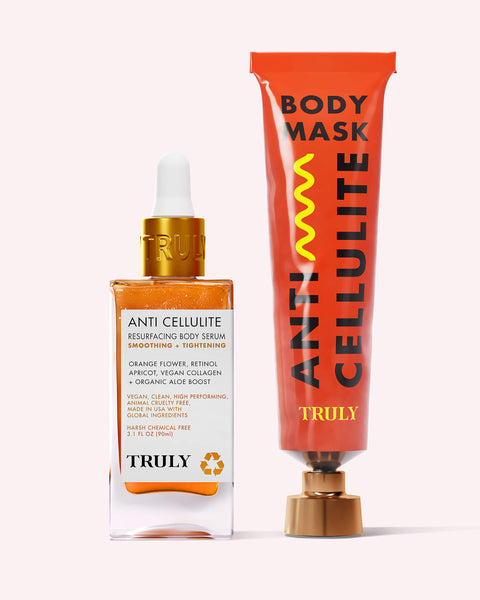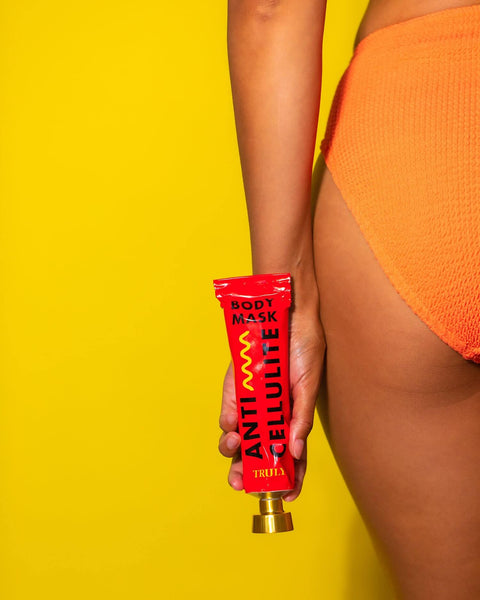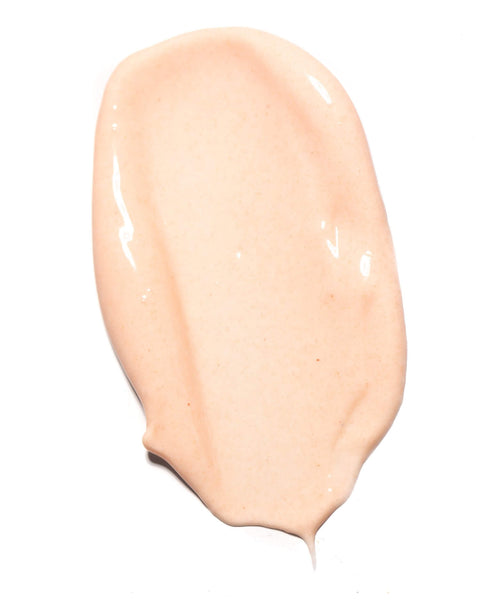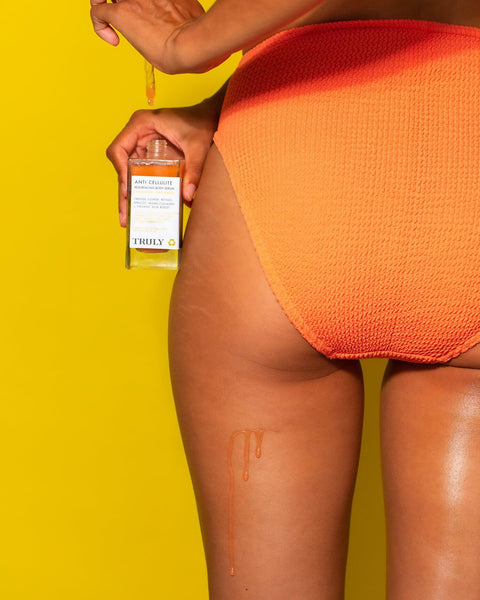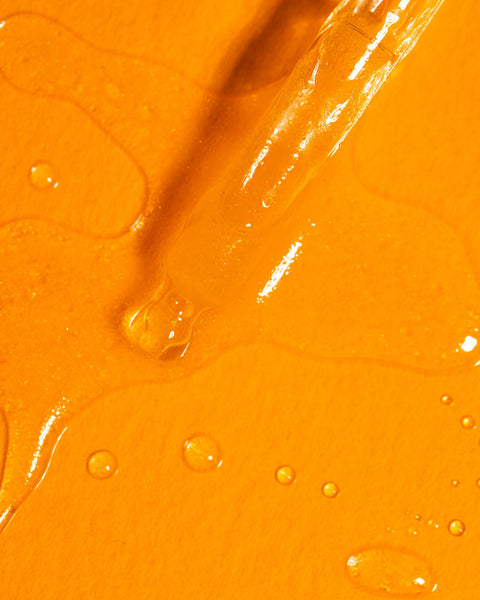 Anti-Cellulite Routine
>Good to Know:
Resurfacing
Brightening
Hydrating
Cellulite-Fighting
A 2-step cellulite treatment for your smoothest thighs and butt.
Our citrusy, cellulite-targeting mask and serum duo is packed with a blend of multi-functional flavonoids and .2% retinol to protect epidermal permeability, mobilize stored fats and gently fight inflammation – manifesting smoother, plumper skin.
What You'll Get:
🧡 Anti-Cellulite Serum
🧡 Anti-Cellulite Mask
WHY IT'S SPECIAL
Retinol is an effective active ingredient for reducing the appearance of cellulite by smoothing and refining skin's texture while blurring out dimples.
Vitamin C found in bitter orange is a potent antioxidant that works to neutralize free radicals, boost skin's natural regeneration process and help the body repair damaged skin cells.
Our Anti Cellulite Serum is formulated with 1% of potent Vitamin E (or tocopherol), a deeply moisturizing ingredient that massively aids in strengthening skin barrier function and is naturally occurring in the body.
What Makes this Bundle SO Good?
This dimple-diminishing duo contains only the best cellulite-targeting ingredients, including retinol, bitter orange, and vitamin E. While retinol increases cell proliferation to thicken and plump out the dermis, bitter orange contains vitamin C to boost skin's natural regeneration process, and vitamin E aids in strengthening skin barrier function. Each ingredient works hand in hand to blur, brighten, and deliver your smoothest skin.
Essential Ingredients:
Bitter Orange 🍊
Retinol 🔥
Bundle Full Ingredients:
Anti-Cellulite Serum
Anti-Cellulite Mask
How to Use
Anti-Cellulite Serum: Apply several drops onto clean, dry skin and gently massage in until fully absorbed.
Anti-Cellulite Mask: Apply to cellulite-present areas (e.g. butt and thighs). Leave on. Do not rinse.
What it Targets
Hydrates
Vitamin E and coconut oil deeply moisturize and soften skin.
Brightens
Resurfacing retinol boosts skin's radiance.
Minimizes the Appearance of Cellulite
All actives work together to leave skin looking smooth, toned, and less dimply.
Subscribe & Save 10%
Cellulite can't be treated overnight. With consistent use of these products, however, those dimples on your butt and thighs will gradually fade. Subscribe now, and we'll deliver this bundle straight to your door each month so you never run out again!
No commitment. Save 10% on every order. Pause or cancel anytime!
Stay updated on our HOTTEST deals, captivating content, and more!