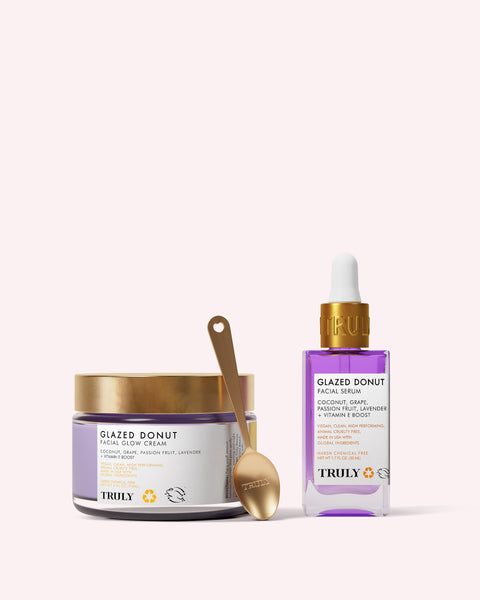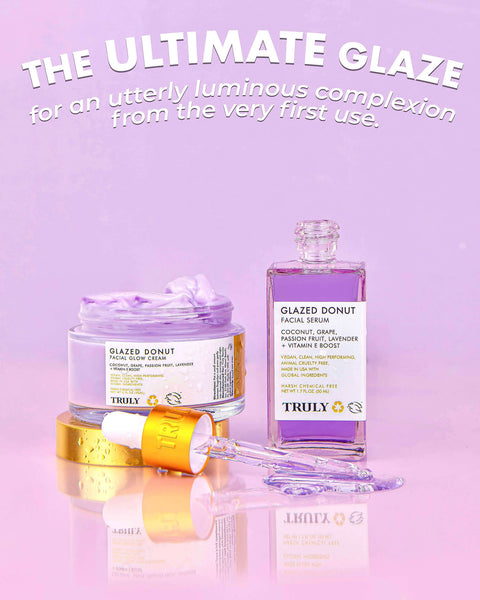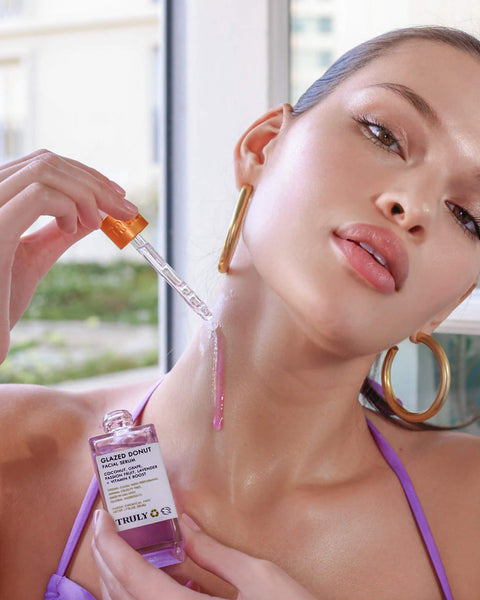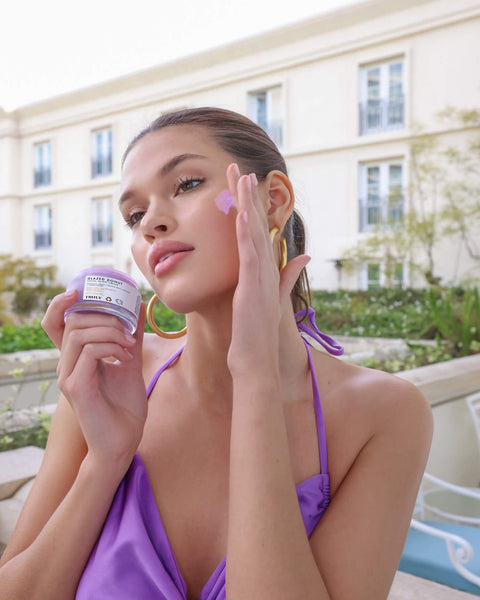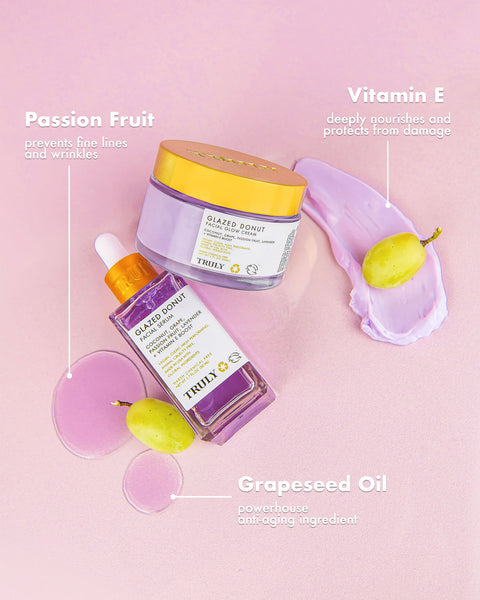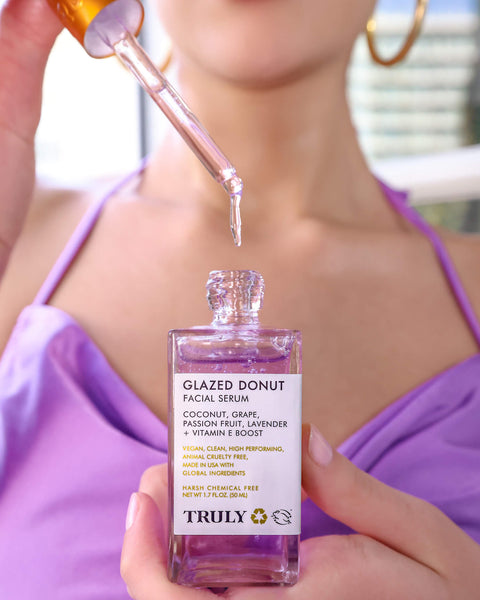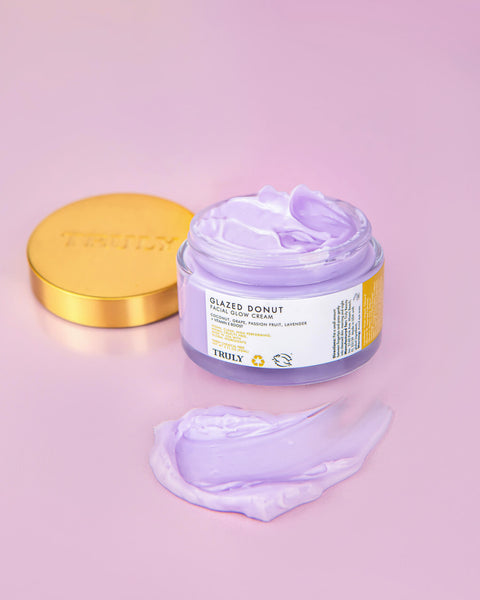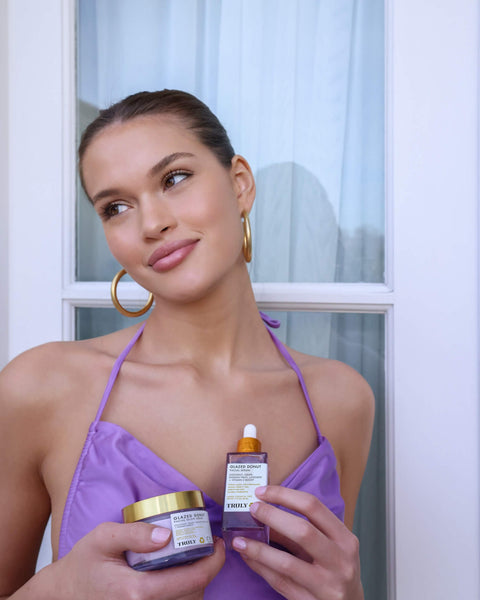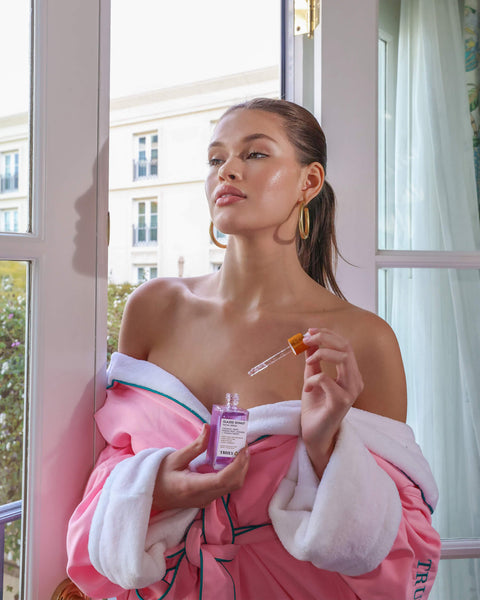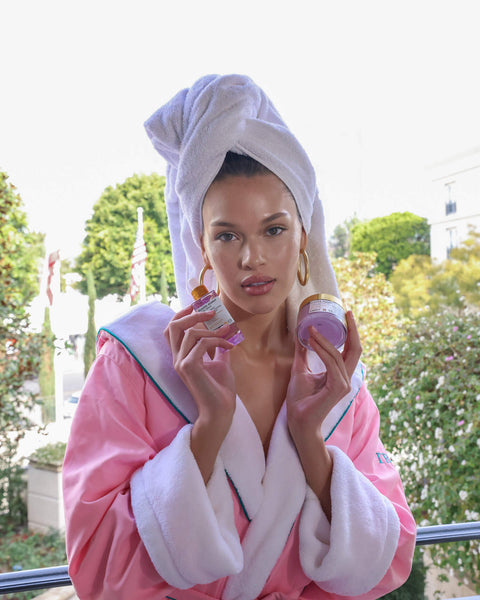 Glazed Donut Skin Set
>Good to Know:
Moisturizing
Glow-Enhancing
Anti-Aging
Makeup Priming
Non-Greasy
Dewier you, in two!
Achieve the glazed donut skin of your dreams with this 2-step routine.
Glossy, smooth skin is achieved when skin is well hydrated, nourished, and without free radical damage. If you're looking for a shortcut to spa-worthy glow, behold: this pair of moisture-boosting, antioxidant-powered superstars help to smooth, brighten, protect, and improve the look of fine lines and wrinkles for skin that *glistens*.
What You'll Get
🍩 Hydrate & Glow: Glazed Donut Facial Serum
🍩 Hydrate & Glow: Glazed Donut Facial Glow Cream
🎁 Gold Spoon
Why it's Special
Get your dew fix from Glazed Donut Hydrate & Glow Facial Serum, a passion fruit + grapeseed oil serum that melts into skin, boosts moisture, and leaves skin visibly luminous within seconds.
For enhanced hydration and smoothness, apply Glazed Donut Hydrate & Glow Facial Cream, a shea butter-based formula that cushions skin with a barrier of moisture for skin that looks fresh and plump.
What Makes this Duo SO Good?
💟 Visibly Smooth + Luminous
Passion fruit, grapeseed oil, vitamin E, and shea butter hydrate, plump, and protect against free radicals and fine line formation for an unparalleled glow.
💟 Feels Like Second Skin
So lightweight and silky, our Glazed Donut products melt into skin for a gleaming complexion (without leaving you looking greasy!).
💟 Clean, High-Performance Formulas
The Glazed Donut duo is clean, vegan, cruelty-free, and 100% fragrance-free. No more dryness, no redness or irritation, just nourished, hydrated, extremely happy skin.
💟 Suitable For All Skin Types
Just like our bestselling Glazed Donut After-Shave Oil, this duo is great for all skin types, gentle enough for even the most sensitive skin, and formulated to leave you #TrulyGlazed.
Key Ingredients:
Passion Fruit ✨
Grapeseed Oil 💧
Shea Butter 🧈
Full Ingredients:
Glazed Donut Serum:
Glazed Donut Cream:
How to Use:
Glazed Donut Facial Serum: Apply one to two drops of serum onto clean skin and pat into skin for optimal absorption. For best results, apply morning and night.
Pro-tip: Mix a drop of serum with your fav liquid foundation for an extra dew boost.
Glazed Donut Facial Cream: Using a small amount of cream, press gently into cleansed skin, morning and night.
So Many Ways to Use it
One set = multiple routines to fight dryness, dullness, fine lines, and create the perfect canvas for flawless makeup.
The Glazed Donut Skin Routine: Glazed Donut Hydrate & Glow Facial Serum + Glazed Donut Hydrate & Glow Facial Cream
The 15-Second Glow Fix: Glazed Donut Hydrate & Glow Facial Serum
The Dewy Makeup Look: Prep skin with Glazed Donut Hydrate & Glow Facial Serum + Glazed Donut Hydrate & Glow Facial Cream before applying foundation for a dewier makeup look
The Foundation Upgrade: Mix a drop of Glazed Donut Hydrate & Glow Facial Serum with your fave liquid foundation for an extra glowy finish


What it Targets:
😞 Dull Skin
Douses skin in deep hydration for a fresh and glimmering appearance
💥 Dryness & Irritation
Intensely nourishes and soothes for a calm complexion that twinkles
🌫️ Fine Lines & Creases
Boosts collagen and elastin for firmer, smoother-looking skin
Free
Spoon 💛🥄
Complete your Truly collection with this adorable gold spoon. Perfect for scooping up your cream in style – without transferring germs into your container.
🔥GET YOUR FREEBIES🔥
Free with Glazed Donut Skin Set!
Free
Spoon 💛🥄
Subscribe & Save 10%
Stay glazy like Hailey all year long, and put this Glazed Donut Skin routine on auto-ship! Subscribe now, and you'll save 10% on every order.
No commitment. Pause or cancel anytime. Delivered straight to your front door!
Hear what people say about our Glazed Donut Skin Set
Very Nice
I love this new Glazed Donut set! It left my skin beautifully hydrated with a pretty glow. It has a very light scent and soaks right in.
Sarah A
Glazed Donut
Hailey said she loves to go to bed looking like a glazed donut. It made me think of Truly and now look at y'all!!! I WANT THIS SO BAD!
Lauren Carnprobst
Good, but
While the products work well, idk the whole point of the Glazed Donut body oil was the amazing scent - but these are of course logically unscented. Glazed Donut should've been a body polish/body butter instead. Still very effective products!
Victoria
Stay updated on our HOTTEST deals, captivating content, and more!