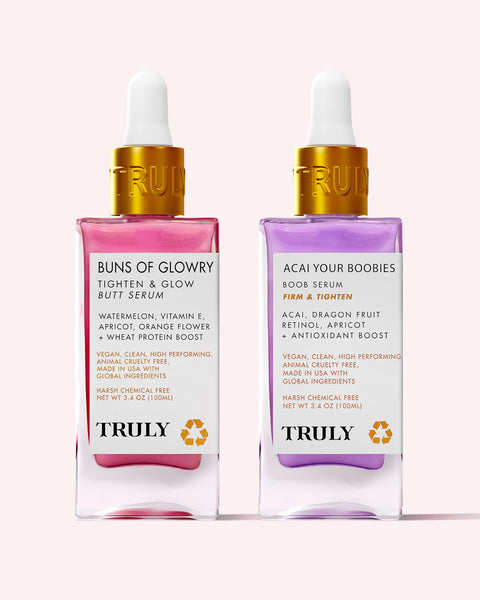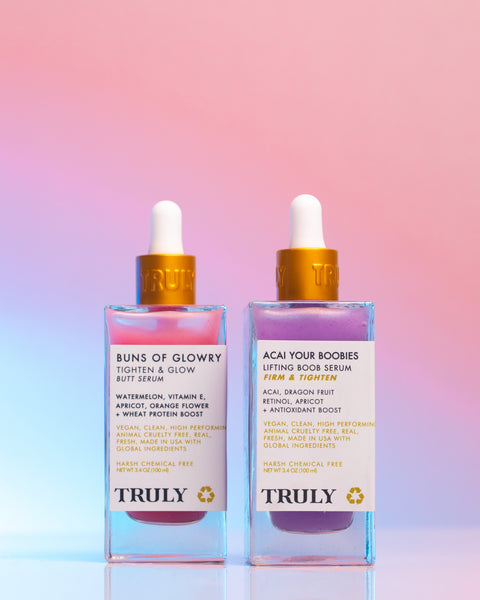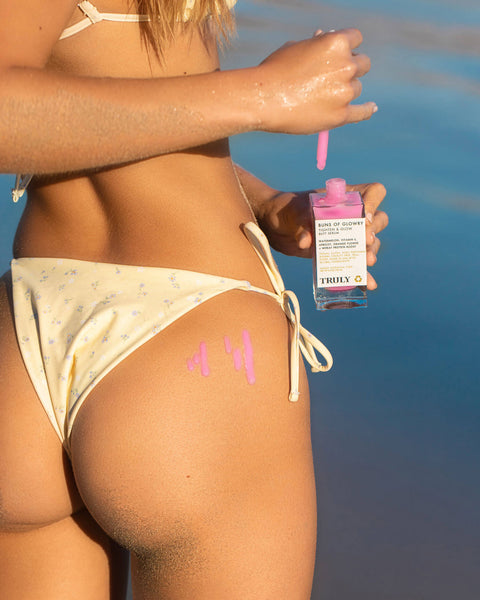 T + A Routine
>Good to Know:
Tightening
Smoothing
Moisturizing
The dynamic body serum duo, brought to you by the antioxidant-packed anti-aging capabilities of acai and bitter orange's ability to stimulate the cutaneous tone of the skin, mobilizing fats and making for a super smooth, dimple-free bod.
Why it's Special
Retinol has the capability to stimulate collagen production and therefore thicken the top layer of the dermis: plumping out fine lines, improving skin's elasticity and improving overall texture.
Key Ingredients:
Acai
Bitter Orange
Retinol
Full Ingredients:
Acai Your Boobies Serum
Buns Of Glowry Glow & Tighten Butt Serum
How to Use
Acai Your Boobies Serum: Apply a quarter sized amount of serum all over chest and breasts 1-2x per day. Its best paired acai your boobies polish and butter!
Buns Of Glowry Glow & Tighten Butt Serum: After showering, apply 4-5 drops to bum area. Rub in until fully absorbed before putting on clothes.
*Results can vary by user, continued use for an extended period of time provides the best chance of seeing results. Even the slightest improvement or minimal change in appearance or feel should be considered a positive result - The key ingredients are natural extracts and should not be compared to results rendered by surgical or medical procedures. Benefits are based on positive customer feedback, testimonials, positive before & after results & ingredient benefit profiles - results are not guaranteed.
Stay updated on our HOTTEST deals, captivating content, and more!