9 Cellulite Treatments You Can Try at Home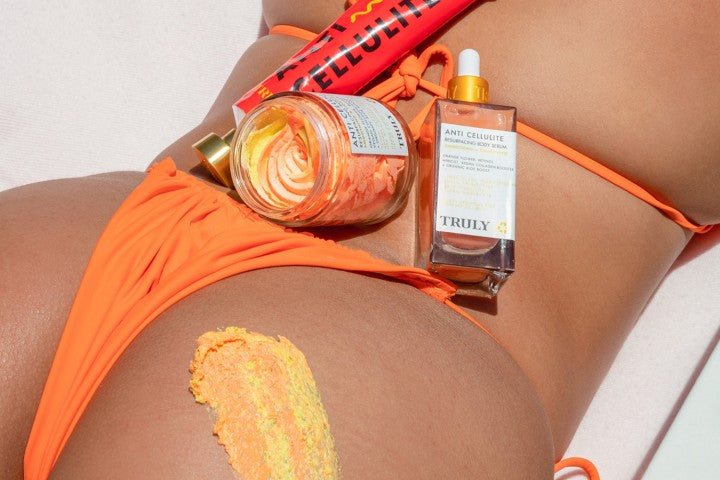 Cellulite, aka orange peel, is an extremely common skin complaint caused by changes in fat cells that live in between collagen fibers. When those fat cells rupture, it causes a dimpling effect that's known officially as cellulite.
There's absolutely nothing wrong with cellulite, with many women embracing their "dimples." However, if you're looking to reduce the appearance of cellulite on your butt and thighs, here are some affordable cellulite treatments you can try from the comfort of your own home.
#1: Anti-Cellulite Mask
A decongesting body mask that harnesses the power of bitter orange and retinol to blur the appearance of dimpled skin and tighten skin on the thighs, stomach, and hips.
While bitter orange promotes blood flow and fat mobilization, retinol enhances collagen production and elasticity. Together, they help to refine skin's texture — making cellulite look a lot less visible.
#2: Buns of Glowry Butt Serum
A made-for-your-booty formula enriched with citrus-based methoxylated flavones to increase blood circulation, facilitate tissue drainage and smooth the appearance of cellulite and stretch marks. Alongside lymphatic drainage-stimulating orange, Buns of Glowry contains ultra hydrating watermelon and vitamin E to improve skin tone and texture while plumping out dimples.
Use this serum to give yourself a deep tissue massage — and get that blood flowing!
#3: Anti-Cellulite Polish
Part of our bestselling Anti-Cellulite line, Anti-Cellulite Polish is an exfoliating treatment that buffs away dead skin cells, boosts skin's brightness, and reduces hyperpigmentation. Thanks to retinol, it can tighten up loose skin, promote cellulite reduction, and provide contouring effects. Use it in the shower to scrub away cellulite.
#4: Cake Maker Leg and Butt Polish
A sprinkle-flecked body exfoliator designed to tone up your butt and thighs with the help of sculpting ceramides, plumping vegan collagen, and ultra-hydrating polyglutamic acid. Guarana is another powerhouse skin toner. Rich in caffeine, this South American fruit offers constricting effects on the skin, tightening loose skin and making skin look visibly firmer. Infused with a freshly baked cake fragrance! It's cake — for your cake!
#5: Anti-Cellulite Serum
The final product in our Anti-Cellulite Skincare Line. Anti-Cellulite Serum is an effective topical treatment for blurring out dimples. Bitter orange promotes the mobilization of body fat deposits, detoxing and decongesting your skin. Retinol and vegan collagen build up skin's elasticity while improving overall skin condition for visibly smooth, firm limbs. It's even better than dry brushing!
If you've recently experienced weight loss and now your puckers are more noticeable than ever, slather on this sculpting serum. Used daily, you should see an improvement within 2-3 weeks. For best results, pair with the other two products in our Anti-Cellulite line.
#6: Buns of Glowry Polish
Forget laser treatments, radiofrequency, and liposuction. Try Buns of Glowry Polish instead! Its two key ingredients - wheat protein and watermelon extract — increase firmness of skin while fading cellulite and stretch marks. And they intensely hydrate skin, leaving you with a smooth and glowing backside. That's because they're rich in antioxidants and lipids, which promote cell regeneration and plump out puckering for your smoothest, glowiest booty.
Unlike a body brush, this formula is gentle enough for dry skin and even the most sensitive skin types. In addition to treating cellulite, this retexturizing booty scrub can tackle dark spots, discoloration, and even blemishes. And it'll leave you smelling fresh and sweet like a perfectly ripe watermelon. Yum!
#7: Cake Maker Leg and Butt Serum
We call it "BBL in a bottle!" This butt and leg tightening serum harnesses the plumping powers of vegan collagen and ceramides to lift, firm, and smooth your legs, butt, and hips while leaving you smelling like cake. It's one of our most delicious treatment options for cellulite. Sadly, you can't eat it though!
Guarana is the superstar ingredient in this formula. Rich in caffeine — an ingredient commonly found in cellulite reducing formulas — guarana smooths and tones skin while fading out cellulite, sagging, and stretch marks.
#8: Buns of Glowry Butter
A buttery, deeply conditioning lotion powered by watermelon, wheat protein, and orange flower. Buns of Glowry Butter was originally developed to lift and perk up your booty. However, a clinical study shows that this formula can also improve skin tone and texture, helping to reduce the appearance of cellulite.
Not only is it good for alleviating cellulite, it can also deeply hydrate skin thanks to nourishing coconut oil, shea butter, and almond oil.
#9: Cake Maker Butt and Leg Cream
A cake fragranced cellulite cream that's tougher than it looks! Made with a mixture of antioxidant-rich guarana, free radical-fighting vanilla, and plumping vegan collagen, Cake Maker Cream can reverse signs of aging, sculpt sagging skin, and give your booty back its bounce. Plus, it's super fun to apply! Think freshly whipped icing spread all over your cake!
OTHER WAYS TO TREAT AND PREVENT CELLULITE
We urge you to try at least one of the lines above. Whether it's Anti-Cellulite, Cake Maker, or Buns of Glowry, all three are capable of great things! Alongside this, make sure you follow a healthy diet, drink plenty of water, and add in some cardio and weight lifting sessions to make things smoother and perkier down there.
Speak to a dermatologist about other potential treatments like supplements or in-office procedures which may be able to lessen the appearance of dimply skin. While there are home remedies you can try for smoothing out cellulite, we recommend sticking with the tried and tested products above.
Cellulite is nothing to feel ashamed about. And FYI: you're not the only one dealing with dimples — over 90% of women have it! Yup, it's that common! It's up to you whether you want to embrace your cellulite or get rid of it. Either way, you have plenty of options above that can work wonders on your skin.
Shop Truly at Trulybeauty.com, Ulta, Amazon, and Sephora EU.
Share
---