A Make Your Ex Super Jealous Beauty Routine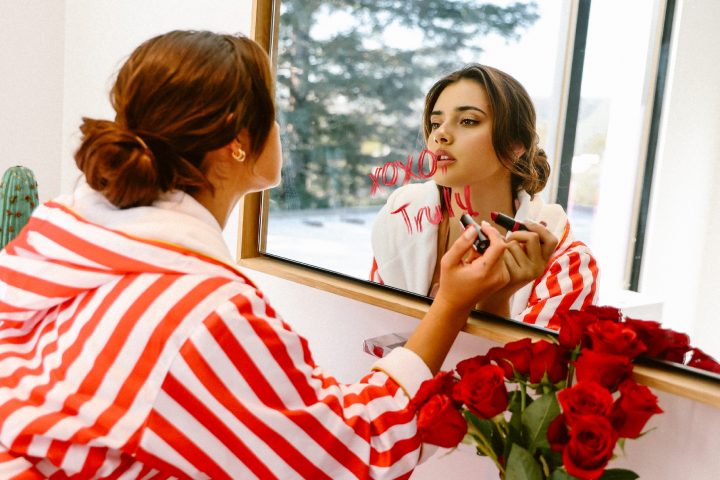 You don't need to win your ex back...but you can make him a teenzy bit jealous!
All you need are a handful of beauty essentials, YOUR WONDERFUL SELF, and some HOT selfies to make your ex jealous.
Over your ex? You can also use this beauty routine to wow the heck out of your new boo. Makeovers are always fun, and we're sure your new love will appreciate the effort. Better yet, do it for your own satisfaction!
Here's a routine for making your ex jealous and your new guy extra smitten.
#1: Scrub Away Dead Skin
Using 24k Gold Black Soap Impurity Cleanser
Getting over your ex-boyfriend? Or ex-girlfriend? 
Maybe you're still friends or maybe things ended badly and now you're looking for revenge. Either way, there's never a bad time to bulk up your beauty routine and get super smooth, perky, and HOT! 
Buff away the heartbreak with our 24k Gold Black Soap Impurity Cleanser. It's made with 24k gold, African black soap, and charcoal to swipe away dead skin, eliminate oiliness, and leave skin clear, smooth, and refreshed, ready for those social media pics.
#2: Add Some Sparkle to Your Skin
Using Blueberry Kush CBD Face Oil
Did your best friend or mutual friend just reveal your ex has a new girlfriend? Ouch! That's gotta hurt. Whether you're getting over past relationships or venturing into new relationships, boosting your skin's glow is a great way to instantly feel and look amazing! 
Make your ex feel mega jealous by glow-ifying your skin with our Blueberry Kush Hemp Face Oil. It's formulated with brightening blueberry, exfoliating AHA/BHA, and plumping vegan collagen to give you a dewy, illuminated complexion that makes all the bad things seem better. 
#3: Make Your Strands All Shiny + Smooth
Using Star Fruit Hair Mask
Make him regret calling it quits in the first place. Show your strands some love by slathering on a hydrating, shine-enhancing hair mask so that you glisten in all of your snapchats and TikToks. 
Star Fruit Hydrate + Shine Hair Mask restores essential hydration and natural vibrancy to dry, damaged hair while adding shine, strength and preventing future breakage. It'll work wonders on your self-esteem -- and on your new boyfriend. 
#4: Firm Up Your Lady Lumps
Using Acai Your Boobies Polish
So you've got yourself a new job, new hobby, and new BF or GF. Good for you, girl boss bestie! Now it's time to show yourself a little more love in the beauty department so you can feel and look your best. And show that dude who broke your heart that you are your number one!
Acai Your Boobies Polish is a retexturizing boob scrub designed to firm, smooth, and brighten your boobs. Made with powerhouse actives like retinol + acai, this formula also targets the appearance of stretch marks and discoloration. Plus, it's clinically proven to work in four weeks!
#5: Perk Up Your Peach
Using Buns of Glowry Butt Polish
Valentine's Day may have gone, but that doesn't mean you can't make things extra hot and saucy between you and your man the first time you...you know what. If he's been showing you all the signs in his body language, and you're ready too, get your butt extra tight and perky with our Buns of Glowry Butt Polish. He'll be head over heels!
This retexturizing booty scrub contains a butt-sculpting blend of retinol, watermelon, and wheat protein to increase firmness of the skin, while minimizing the appearance of discoloration and cellulite. It's also clinically proven to show results in four weeks of daily use.
#6: Blind Him with Butt Glowiness
Using Buns of Glowry Serum
Add some extra sparkle to your tush to make your ex guy friend wish he never made that phone call. And make your new prince super happy this evening! He won't be able to keep his hands off!
Buns of Glowry Serum is perfect for post-shower hydration. Formulated with citrus-based methoxylated flavones and retinol to increase circulation and plump out dimpled skin while boosting collagen and smoothing skin. Your peach will be 10x smoother and tighter after using this serum every day for four weeks. And it will leave your derriere gleaming!!!
#7: Highlight Your Hotness
Using Moon Lit Shimmer Oil
Emphasize your cheekbones, cupid's bow, cleavage, and thighs with our sparkling body oil. Just be prepared for a self-pity party -- from your ex, of course. We know relationship experts would probably advise against it, but you have our permission to feel the satisfaction!
Moon Lit Shimmer is a nourishing, flash-absorbing body oil infused with champagne gold shimmer for a radiant glow on the go. It's infused with a brightening blend of chai spices and witch hazel to soothe skin, tighten pores, and leave the skin extra sparkly.
#8: Smell Like Candy
Using Unicorn Fruit Eau de Parfum
Since you're probably not going to be hanging out with your ex anytime soon (or at least, we hope not -- for your sake!), this step is for gals with new guys. Don't waste any more time on that guy who didn't appreciate your wonderful-ness! Instead, focus on that person who does.
And while you're at it, satisfy their senses with a few spritzes of Truly's Signature Unicorn Fruit Perfume. Fruity and feminine, this irresistible aroma was made for sweethearts with a seductive side. Fans of the fragrance compare the smell to cotton candy. 
Exes are exes for a reason. That said, there's no harm in making that guy who broke your heart suffer through those super hot selfies on Instagram. 
If you're not doing it for your ex, do it for the new love in your life -- he deserves it, babes. Way more than your ex! 
Or even better, do this beauty routine for you and you only. In addition to looking smokin' hot by the end of it, the simple act of self-care works wonders for your mind and soul. You deserve a little more TLC -- just remind yourself to grant it to yourself every now and then!
Share
---