Best Shaving Subscription Boxes 2022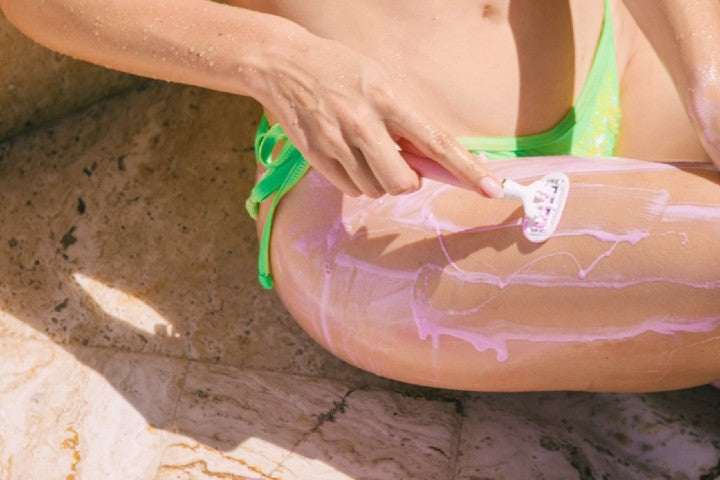 A shaving subscription can simplify your routine and take one thing off your shopping list. You won't have to worry about ever running out of your favorite shaving products again when you enrol in a subscription service.
Luckily, we've got all the grooming products you need for a perfect shave without razor burn, ingrown hairs, and irritation. And unlike many razor subscription services like the Dollar Shave Club and Wet Shave Club, which target men, we cater especially to women — although men are free to use our products too!
Try Truly's shave club for women, and we guarantee you won't be disappointed with the results. To sweeten the deal, Truly offers a 10% discount on every order, so you can save on every shave! Scroll down to hear the shaving sets we have on offer...
4 BEST SHAVING SUBSCRIPTION BOXES
We offer a monthly subscription to all of these shaving sets and a 10% discount on each and every order.
ULTIMATE COCO CLOUD SHAVE SHAVE KIT
What it is: A 3-step shaving kit plus add-ons to secure your smoothest shave. Inspired by Truly's bestselling Coco Cloud Shave Butter, the complete Coco Cloud fam is here to conquer all your shaving concerns and deliver a creamy, dreamy, ultra-close shave.
All three products are formulated with soothing coconut milk, hydrating argan oil, and bacteria-busting vanilla to soften hair follicles and ward off razor bumps, burns, and hyperpigmentation.
What's Inside:
Coco Cloud Whipped Luxury Shave Butter
Coco Cloud After Shave Oil
Coco Cloud Aftershave Moisturizer
Truly Blue Razor
Truly Blue Cloud Bag
Who it's Best For: Deeply moisturizing and soothing, this shave kit is perfect for anyone with dry or sensitive skin who's crazy for coconut-scented skincare products.
SILKY SMOOTH SHAVE SET
What it is: A streamlined shaving routine featuring a shaving cream, body scrub, and body butter to exfoliate, soften coarse hairs, and prep skin for an effortless razor glide. Unlike our other sets, this one doesn't come with extras like a razor and cosmetics bag. It's the perfect starter set for anyone who's easing their way into grooming subscriptions.
Ultra-nourishing, skin-soothing ingredients like coconut, shea butter, lavender, and matcha work together to deliver a smooth, long-lasting, and irritation-free shave.
What's Inside:
Coco Cloud Whipped Shave Butter
Moon Rocks Whipped Body Scrub
Unicorn Fruit Whipped Body Butter
Who it's Best For: This shaving set is suitable for all skin types and is a great subscription option for anyone who already digs their current razor. Plus, it's the most affordable shaving set of them all — making it an excellent choice for babes on a budget!
ULTIMATE SMOOTH LEGEND SHAVE KIT
What it is: A 3-step bestselling shave kit plus a razor and fuzzy cosmetics bag for a high-end shave. This luxury shave set features full size, high quality shaving essentials enriched with fruity ingredients like grape and passion fruit for your sweetest shave ever. They also contain elasticity-restoring coconut, soothing lavender, and healing vitamin E to prevent the formation of razor burn, bumps, and ingrowns.
Unlike shaving gels and shave soaps, shave butters deeply nurture skin while injecting long-lasting hydration for ultra-smooth skin sans irritation.
What's Inside:
Smooth Legend Pre-Shave Scrub
Happy Hairless Shave Butter
Glazed Donut After Shave Oil
Life Shaver Starter Razor
Fuzzy Pink Bag
Who it's Best For: Whether you're looking for a starter kit or simply want to level up your existing routine, this is the kit to choose. Besides promoting long-lasting smoothness, this set also treats premature signs of aging, making it an ideal choice for mature skin types.
SUPER SHAVE BUNDLE
What it is: A 4-step shave set inspired by the Powerpuff Girls and powered by irritation-fighting ingredients like allantoin, watermelon, squalene, and niacinamide. It features a shave cream, pre-shave serum, after shave butter, five blade razor, and pimple patches so you can prep, lather, soothe, hydrate, and spot treat your way to uber-smooth skin. It's the only shave set that comes complete with acne patches to help treat active blemishes and post-shave bumps, while preventing hyperpigmentation.
What's Inside:
Super Fierce Pre Shave Serum
No Troubles Bubbles Shave Cream
What's Up, Buttercup? After Shave Butter
Pimple Power Pack Acne Patches
The PowerPuff Girls Super Razor
Who it's Best For: Anyone who loves the PowerPuff girls, for starters. It's also the best subscription box for those prone to breakouts as this actively targets zits. Whether you're looking to remove facial hair, tidy up your bikini line, or de-fuzz your legs, this kit can help save the day!
TRULY'S RAZOR SUBSCRIPTION
While there are a few women's razor subscriptions around like Billie Shave Club and Birchbox, we're aiming to be the best shave club for women. In addition to our shave set subscriptions, you can also subscribe to one of our razors instead of relying on those disposable razors you get from the drugstore.
Truly Blue Razor
Truly Blue Razor features a flex-grip razor handle and extra cushy gel bars infused with aloe & shea butter for a smooth and seamless razor glide every time.
The Powerpuff Girls Razor
A five razor blade flex-grip shaver with an extra cushy gel bar for a silky shave and effortless glide.
Life Shaver Starter Razor
A smooth-inducing starter razor made with the perfect shave in mind. Featuring double blades and a pink, flex-grip handle, this razor provides an ultra fast and close shave wherever you are.
Razor Cartridge Refills
Whenever your blades get dull, don't worry. Pop on one of these replacement cartridges. We offer monthly deliveries on these blade refills to ensure you always enjoy a soft to the touch shave. Each box contains two razor blade cartridges.
Nowadays you can subscribe to almost anything — shaving brushes, safety razors, body washes, deodorants, toothpastes, toothbrushes, hair care products, sprays (and the list goes on!)
At Truly, you can subscribe to almost all of our products, including our shave bundles. And you'll receive a 10% discount on every purchase — from your first box to your last!
Curate your best shaving routine with one of Truly's shaving subscription boxes.
Share
---