How Allantoin Stepped Up My Butt Care Routine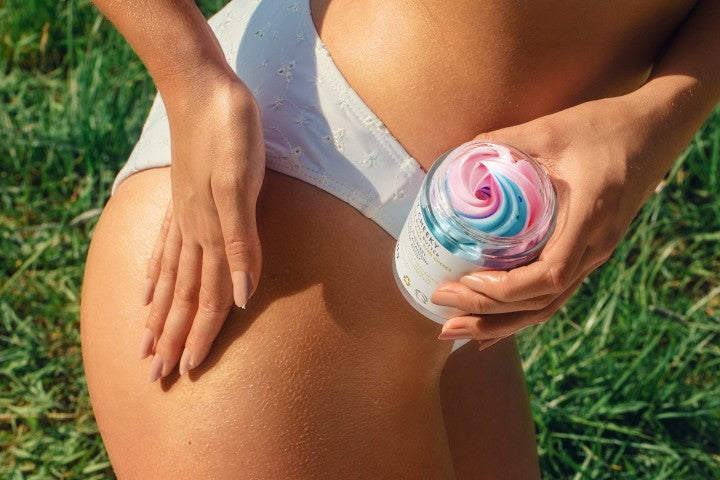 Summer butt here you come...
Buying skincare products for your face and body is second nature, but when was the last time you purchased a product for your butt? It is easy to overlook this area of the body, but it is still part of your skin that needs care and attention. So, if you want to know the secret to a smooth and firm butt for the summer, discover how allantoin can help.
WHAT IS ALLANTOIN IN SKINCARE?
From time to time, a new skincare ingredient hits the headlines and grips beauty followers. Now slowly emerging is allantoin, a unique product that is pretty much unknown in the beauty world. Allantoin is an extract from the comfrey plant and native to Asia and Europe. It has substantial healing and soothing properties.
Allantoin can be found in cleansers, toners, lotions, moisturizers, exfoliants, body washes, and body oils. It's more common than you think!
"Although rigorous scientific studies are lacking, there is anecdotal evidence that it helps moisturize the skin by exfoliating and removing dead skin cells that prevent natural humectants from binding and retaining water in the skin," says Jennifer Herrmann, MD, FAAD.
Allantoin is a universal skincare product that suits all skin types. It can heal scars and treat itchy, dry skin and age-related skin conditions. Plus, it is safe for daily use and can be used on all body parts, from face to body to butt.
According to the derms, this topical ingredient can be useful for banishing breakouts, treating dryness, and nourishing the skin. It may even soothe skin conditions like eczema.
HOW CAN ALLANTOIN TREAT BUTT-RELATED SKIN ISSUES?
It Hydrates
The skin on the butt needs just as much hydration as any other part of the body. If the skin butt area loses water, the skin becomes thin and weak. Allantoin has keratolytic properties and will boost the water in the cells and help retain it. As a result, it will stop transepidermal water loss in the dermis and help keep your skin young-looking and plump. In addition, it will halt dry skin conditions from forming, such as psoriasis.
Could it be just as effective as hyaluronic acid is for its hydrating abilities? It's possible.
It Exfoliates
In truth, exfoliating your butt should be second nature. Even if you have sensitive skin, exfoliation removes dead skin cells from the outer skin layers which improves the overall skin condition of your butt. This process prevents the build up of dead skin cells, draws out impurities to prevent butt pimples, and promotes an even skin tone.
There is a vast range of beauty products on the market to do this job. Among them is salicylic acid, glycolic acid, retinol, and allantoin. Unlike certain alpha hydroxy acids and beta hydroxy acids which can cause irritation for some people, allantoin is a gentle, non-toxic, non-irritating, and safe product for all skin types. A feature of allantoin is its calming properties, so it's a great choice for sensitive skin. 
It Banishes Blemishes
When blemishes pop up on your butt, it probably doesn't make you too happy, right? Same! The good news is, you can get rid of butt pimples. 
Following a beauty routine designed to banish breakouts will help get rid of these marks and prevent them from occurring again. Using allantoin regularly as an exfoliator and moisturizer will help a lot, too, as it removes dead skin cells, locks in moisture, protects outer skin layers from water loss and forms a protective coating for a stronger skin barrier. There is no doubt it can take a while to banish blemishes, but the hard work will be worth it.
It Brightens
Improving dull butt skin will give you confidence when it comes to hitting the beach or pool. Allantoin encourages cell proliferation and generally improves the overall skin condition. Improving your butt skin will mean it looks firmer, smoother, soft, and free of imperfections. Great for when you want to have a dip in the pool or hot tub. 
Allantoin is classed as an anti aging product simply because it is effective in reducing age-related problems. It is the go-to beauty staple to achieve a radiant butt and body. You get value for money with its multiple uses of exfoliating, hydrating, and moisturizing benefits. So look for it in your body lotion and look out for other skin-supporting ingredients like retinoids, green tea, aloe vera, and vitamin E!
It Improves Skin Tone
There is no doubt allantoin will improve the overall condition of your skin, especially around the derriere. However, the product also removes dead skin cells and keeps skin silky smooth and soft to the touch. After all, nobody wants rough and dry skin on their butt. Allantoin improves dull and tired skin, leaving it bright and free of blemishes. 
As a natural plant extract, it effectively reduces signs of aging by promoting collagen production and rejuvenating skin cells. You can even add provitamin B5 to allantoin, and it will heal wounds, discoloration, and scars.  
WHY LOOK FOR ALLANTOIN IN YOUR BUTT SKINCARE PRODUCTS?
Dermatologists have a lot of praise for allantoin, and recommend incorporating it into your skincare routine. You really should make allantoin top of your cosmetic list when you go shopping on the high street or online. It is the product of the year for a smooth and soft butt for summer.
GET OUR LIMITED EDITION ALLANTOIN-FORMULATED BERRY CHEEKY EDITION
Give your cheeks the TLC they deserve this summer with our brand new limited edition Berry Cheeky Trio. Featuring a butt scrub, serum, and butter, this kit is designed to clear blemishes, quell redness, and provide intense hydration. It was made especially for your butt!
Its key ingredients include allantoin, strawberry, blueberry, and beta glucan. These high-performing ingredients all work together to neutralize free radicals, prevent moisture loss, and fight against the formation of fine lines. 
Use these products daily for best results. 
Order your Berry Cheeky Edition today before stocks run out.
Share
---