The Do's And Don'ts of Sugar Scrubs for Skin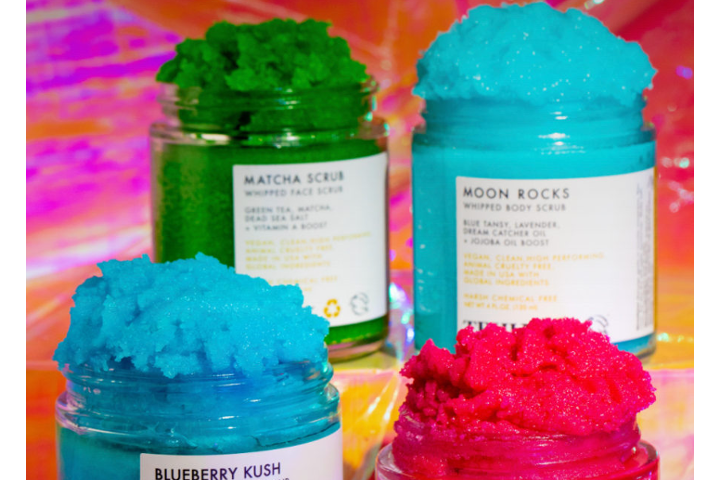 Sugar scrubs are a decadent way to slough away dead skin cells and attain silky-smooth skin. Between the sweet aroma and the luxurious texture, exfoliating with a sugar-based scrub evokes a sense of indulgence in your skincare routine. But just how safe are sugar scrubs for your face, lips, and body?
Here, we deliver the intel on sugar scrub exfoliation.
THE SCIENCE OF SUGAR SCRUBS
There are two different ways to exfoliate: chemically and physically.
Chemical exfoliation uses AHAs and BHAs like glycolic acid, lactic acid, or salicylic acid to dissolve excess oil and dead skin for a smoother complexion.
Physical exfoliation uses tiny granules like salt or sugar to buff away dead skin and promote cell turnover. 
A sugar scrub is a form of physical exfoliation that works by manually exfoliating the skin. Usually, you'd apply it in the shower on wet skin in circular motions to physically remove oil, dirt, and dead skin.
FACE VS BODY VS LIPS
Face scrubs, body scrubs, lip scrubs ... there are plenty of exfoliating products out there. But just how safe and effective are they when used on different areas of the body?
Face
When it comes to using sugar scrubs on the face, you need to be extra careful -- especially if you have sensitive skin. Using this type of exfoliant on the face can easily cause irritation and sensitivity due to the particles inside. 
When selecting a facial exfoliator, always look for the gentlest formula you can find with the smallest, smoothest particles. Using something too rough can cause microtears in the skin -- something you want to avoid!
Provided you use a gentle, nourishing exfoliating product, you can look forward to a slew of benefits including clear, smooth, glowing skin.
Lips
Lips can really benefit from the wonders of a sugar scrub. 
"For all that our lips do for us, we don't give them enough credit or care," says dermatologist Dr. Dendy Engelman. "In fact, our lips are primed to be dry and chapped because they have a lower density of oil glands, and are in daily contact with saliva that contains alpha-amylase (a digestive enzyme that can break down skin)." What's more, because lips are always exposed, the sun, cold weather, wind, and heat can take their toll!
To soften lips, exfoliate with a sugar scrub once a week. If your lips start feeling raw, stop immediately as that means you are over-exfoliating.
Body
The skin on your body is tougher than that on your face. In other words, the safest place to use exfoliating scrubs is on the body. Whether you've got oily skin, dry skin, or acne-prone skin, every skin type can benefit from body exfoliation.
It also helps other skincare products like moisturizers and oils work more effectively. Hydrating and moisturizing healthy cells instead of dead cells can promote smoother, softer skin.
Additionally, exfoliating with a sugar scrub is great for stimulating and increasing blood circulation for neck to toe radiance.
Benefits of Exfoliating with a Sugar Scrub
It unclogs pores
It helps other products penetrate better
It clears and prevents breakouts
It boosts cell turnover
It simulates collagen synthesis
It promotes smoother, softer skin 
HOW OFTEN SHOULD YOU EXFOLIATE?
It depends on your skin type.
Sensitive and dry skin types should limit exfoliation to once a week for optimal results. If you have oily or acne-prone skin, you can afford to incorporate a little more exfoliation into your regimen -- up to three times a week.
With regards to your lips, stick to exfoliating them 1-2 times per week for best results. If you're noticing rawness or irritation, stop exfoliating altogether until they've fully healed.
BEST SUGAR SCRUBS 2021
Truly's best sugar-based scrubs for face, body, and lips...
Matcha Face Scrub 
An exfoliating, smoothing scrub made with a base of natural sugar and Dead Sea salt granules intertwined with antioxidant-packed green tea, blemish-banishing glycolic acid, and skin-resurfacing retinol.
This delicate, invigorating scrub delivers gentle exfoliation to the skin without being too abrasive. It's both a sugar and salt scrub that can help smooth and soothe while preventing pimples in their tracks.
Blueberry Kush Hemp Body Scrub
An anti-inflammatory, antioxidant, and omega-rich scrub that clarifies, illuminates, and calms. It's formulated with skin-soothing CBD, antioxidant-loaded blueberry seed oil, and skin-clearing AHA/BHA with a base of sugar to lightly buff away dead skin and reveal a brighter, smoother complexion.
Thanks to blueberry seed oil's high fatty acid composition, this formulation also provides hydration to the skin while simultaneously fortifying the skin barrier. Plus, it smells like blueberry pie!
Moon Rocks Whipped Body Scrub
This refreshing, redness-reducing sugar body scrub contains all-natural ingredients that buff and moisturize skin for a super stunning complexion.
It blends soothing ingredients like blue tansy and lavender with hydrating ingredients like coconut oil and jojoba oil to polish up dull, dry skin in replace of a silky-smooth, vibrant complexion.
GLOAT Sexy Soft Lip Scrub
A minty, pout-plumping scrub that's perfect for pre-balm and lipstick application. This hydrating lip scrub gently exfoliates dry, flaky lips to make other lip products absorb and perform better. 
Nourishing neem seed oil, coconut oil, and hyaluronic acid sink deeply into your pout to help hydrate and protect lips from cracking or chapping. Peppermint essential oil lends its pout-plumping superpowers.
Remember to apply lotion and sunscreen following your exfoliating session to protect your skin from moisture loss and sunburn, which can lead to dry and skin damage. Because exfoliation is quite a drying process, it's always a good idea to finish up with a nourishing moisturizer. 
Without a doubt, exfoliating with sugar scrubs can be extremely beneficial for the skin provided you use gentle products and techniques -- and avoid overexfoliation! You can also use either of the body scrubs above for pre-shave exfoliation to help prevent ingrown hairs and provide a smooth base for shaving.
Got questions? Get in touch, and we'll do our best to help you!
Share
---