CBD: A Three-Pronged Skincare Approach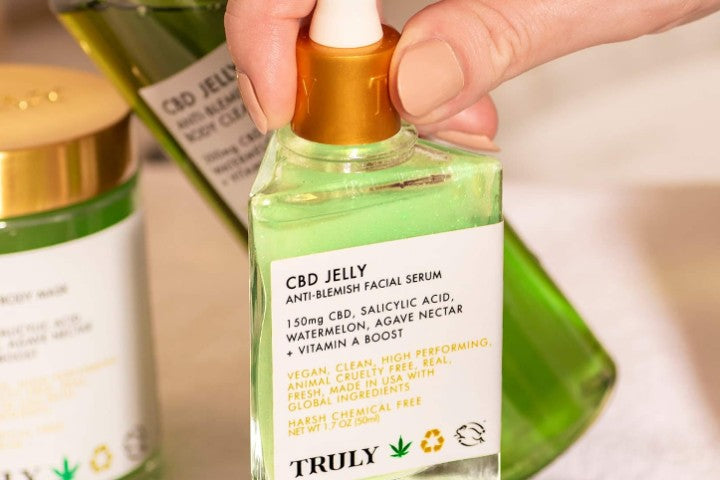 Anyone who stays even slightly updated on skincare trends should have heard of CBD (cannabidiol) by now. Praised by dermatologists for its anti-inflammatory and detoxifying effects, CBD is a powerful phytochemical with a plethora of beauty benefits. This stuff is so popular, experts say the CBD cosmetics industry could reach $1 billion by 2025.
Before you open a new tab to start buying this beauty elixir in bulk, let's first explore the effects of CBD on the skin and whether it really lives up to the hype.
CBD IS ORGANIC SKINCARE
Let's get one thing clear – CBD won't get you high. It comes from the marijuana plant, but unlike its sibling THC, it does not contain psychoactive compounds. 
Cannabidiol possesses a number of medicinal benefits such as reducing pain, improving sleep, and boosting nutrients. However, what it offers in health benefits it offers equally in skincare benefits.
Its major benefit, according to scientists, is its anti-inflammatory properties. Still, that isn't all it offers – CBD also provides skin hydration, balances oil production, and eases skin conditions like psoriasis. 
Best of all, it constitutes natural skincare which is always a good thing in the beauty industry because it means it's suitable for all skin types. 
HOW CBD HELPS THE SKIN
CBD solves a slew of skincare complaints. 
"I always say CBD offers a three-pronged skincare approach - it's anti-ageing, anti-oxidant and anti-inflammatory," said Samir Juneja of CBD of London. "In terms of an antioxidant on the skin, it provides a missing particle that a free radical can bond with, stopping it from going on to cause DNA damage. As for anti-inflammatory properties, we know that skin ageing and inflammation go hand in hand, and CBD helps to combat oxidative stress."
Let's take a look at CBD's positive effects on the skin – there are three main ones.
Skin Inflammation
Rich in omega-3 and omega-6 fatty acids, CBD is an excellent anti-inflammatory. It can ease rashes, redness, and irritation on the skin thanks to its soothing and calming properties. 
According to Tina Alster, M.D., clinical professor of dermatology at Georgetown University Medical Center in Washington, DC., CBD can also ease a number of chronic skin conditions.
"Anti-inflammatory properties associated with CBD are beneficial in treating such dermatologic conditions as acne, psoriasis and eczema due to reduction of dryness, irritation and redness," she explains.
The best way to get rid of redness and irritation is to apply CBD oil to your skin. Alternatively, purchase a product with a high content of CBD in it.
Truly's Hemp Jelly Facial Serum diminishes redness and inflammation in just one use.
Antioxidant Activity
According to the experts, CBD contains powerful antioxidant activity that works effectively as a treatment to repair skin from free radicals. It may also help to smooth fine lines and wrinkles. 
Our skin is made up of oxygen, each with electrons. Unfortunately, they don't always stay the same everywhere, with some atoms in the skin losing electrons and becoming unstable – known as free radicals. As they search for electrons, their travel damages the skin. CBD oils and creams help to prevent and treat that damage. 
You can use CBD cream to neutralize free radicals. Apply a generous amount of oil or cream on the face to rejuvenate your skin and fade creases.
Try Truly's antioxidant packed Hemp serum. 
Skin Oil Production
Research shows that acne is an inflammatory condition and seeing that CBD possesses powerful anti-inflammatory activity, it's an excellent natural acne treatment. Still, that's not the only contributor of acne. 
Further research also shows that CBD can decrease excess sebum on the skin due to its ability to balance the skin's oil. Excess oil can clog the pores, causing acne, which is why CBD could be an effective treatment for the condition.
By balancing the skin's oil levels, cannabidiol can prevent sebum build up and pore clogging, resulting in a clearer complexion. Apply CBD to your skin to balance sebum production and promote an acne-free complexion.
Wash your skin in Truly's Hemp Jelly Toning Solution for a clear and even complexion.
WHO CAN USE CBD FOR SKINCARE?
CBD is suitable for all skin types because it is potentially harmless. Of course, if you have specific skincare issues, it might be worth consulting with your dermatologist prior to using this product. 
CBD oil is especially beneficial for sensitive skin types as it contains no fragrances or preservatives that could irritate the skin. It also offers significant calming effects to minimize issues related to skin sensitivity. All in all, CBD can help all skin types. 
FINDING THE BEST CBD SKINCARE PRODUCTS
With so many CBD skin care products available, it's a good idea to know what you are looking for in order to find the best CBD oil. Here are some useful CBD shopping tips:
Look for the term "cannabidiol" in the ingredient list. If it doesn't contain that, it isn't an authentic CBD product. It also means it isn't INCI-compliant.

Check for the total cannabidiol content. Most brands list the CBD content in milligrams – a good indicator of a legitimate CBD product. 

See if the brand provides evidence of third-party certification on the purity. This certifies its effectiveness and safety.

Only purchase a CBD skincare product that's in stable packaging. Jars or clear bottles expose this fragile plant ingredient to light and air, resulting in a less effective product.

Choose the best type of CBD. Full spectrum oil contains traces of all ingredients, including THC. Broad-spectrum means no THC is detectable. CBD isolate is the purest form – containing up to 90% CBD. That's the one to choose.
The bottom line: CBD oil does have many benefits for the skin. It calms, soothes, clears, and smooths. Provided that you choose a high-quality product and the best type of CBD, it's an excellent natural skincare ingredient. 
In spite of its popularity, there's still little evidence about CBD oil's topical benefits. So we're excited to see how the research continues to grow in the coming years. No doubt, it'll soon become a fundamental part of our daily skincare regimens. If it's good for our health, it's got to be good for our skin. 
Share
---