TikTok Beauty Trend Alert: Hair Slugging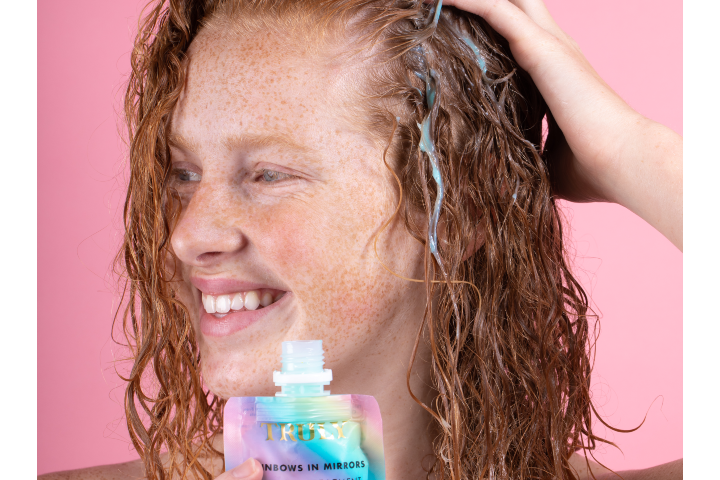 If you're on TikTok, you've no doubt seen all the buzz around "skin slugging," a Korean skincare technique that leaves your complexion plump, hydrated, and glowing.
Now there's a new type of slugging in TikTok town: "Hair slugging."
This brand new beauty trend involves adding a heavily hydrating treatment to your pm haircare routine to seal in moisture while you sleep. And good morning to smooth and shiny strands!
Here's everything you need to know about hair slugging, and what it can do for your strands.
WHAT IS HAIR SLUGGING?
The hair slugging trend was created by TikTok user Monique Rapier, who uses a light oil on her hair and then places it into a fluffy sock overnight. She insists that the sock helps prevent friction and damage during the night so that you can wake up with smooth and glossy locks. Sounds kinda genius to us!
According to celebrity hair expert Jason Collier, hair slugging is particularly beneficial for hair types craving moisture.
''When people talk about hair slugging on TikTok, they are referring to adding an additional treatment to the hair, pre-shampoo," says Collier. "This could be oil, leave-in conditioner, or bonding treatment. This can then be left overnight, or washed out after a couple of hours before you begin your usual hair routine."
If you're dealing with dry or frizzy hair, Collier says this social media beauty trend can be helpful. However, he points out that for other hair textures, slugging will simply weigh it down and cause unnecessary build-up.
BENEFITS OF SLUGGING YOUR STRANDS
Just as skin slugging can help boost hydration in dry skin by preventing transepidermal water loss, hair slugging can help counteract dryness of your strands.
When it comes to skin slugging, dermatologists have warned some skin types against it — especially those with oily skin and acne-prone skin, as slugging can clog pores and lead to breakouts. Since petroleum jelly (Vaseline) is an occlusive, it can be great for those with dry skin, sensitive skin or eczema, but terrible for those prone to blemishes.
The same applies to hair slugging. Only try this beauty hack if your hair is super dry or frizzy, and craving moisture. Otherwise, slathering on oils and other treatments will just weigh your hair down and offer zero benefits.
Some of the best benefits of hair slugging include improved hydration, added shine, and softer strands. It can also prevent breakage as it prevents friction against your pillowcase during the night.
HOW TO SLUG YOUR HAIR TONIGHT
Want to try this K-beauty inspired hair care trend tonight? It's easy!
There are two different ways to nail this TikTok beauty hack. First, comb a lightweight oil through the ends of your strands. Then wrap your mane in a big fluffy sock, secure it with a scrunchie, and sleep in it overnight. Look for an oil made with powerhouse hydrators like hyaluronic acid, coconut oil, olive oil, or argan oil.
The second way is to apply a heavier oil from top to bottom with a hydrating hair mask over the top. Wrap your hair in a fluffy sock, secure, and sleep. You can wash it out the next morning.
If you don't own a fluffy sock, try wrapping your hair in a satin pillowcase and securing with a scrunchie.
BEST BEAUTY PRODUCTS FOR HAIR SLUGGING
We've rounded up the best products for 'hair slugging' so that you can try this trend for yourself. Even if you don't have the hair type for slugging, don't worry. You can still benefit from implementing these hair care products into your routine.
Bonne Nuit Beaute Satin Sleep Set
Your beauty sleep starts here. Featuring a pillowcase, scrunchie, headband, and eye mask all made in precious pink satin for a friction-free night of beauty sleep. Sleep on or wrap your hair in this soft n' silky pillowcase while securing it with our super cute scrunchie. You can use the headband to push back your hair for your PM skincare routine, and the eye mask for a heavenly slumber. Ahhhh.
Super Fruit Repair + Restore Shampoo & Conditioner
Dry and depleted strands? Your mane's going to love this ultra-hydrating duo. Formulated with organic coconut, argan oil, and jojoba with an antioxidant boost to coat your locks and restore their naturally strong, silky form.
While shampooing and conditioning isn't an imperative step in the hair slugging routine, it can certainly help to strengthen and repair dry, damaged hair. Use these products every time you wash your hair to get your strands back to their strongest, shiniest form.
Coco Rose Milk Hair Mask
A strengthening hair mask made with coconut milk and rose to fortify hair while creating smooth manageability. While coconut deeply hydrates strands and seals frayed ends, rose gently cleanses the scalp, supporting healthy hair growth. Plus, it'll leave your tresses smelling divine!
Unicorn Hair Repair Mask
Your brightest, bounciest hair is only a slug away with this keratin-packed hair mask. While keratin amino acids feed the scalp, avocado acts as a natural moisturizer. Together, they work to enhance hair growth while diminishing dryness from the hair and scalp. If you have dry, damaged strands, your hair will greatly benefit from this mane-bolstering formula.
Rainbows in Mirrors Hair Treatment
Rainbows in Mirrors Split End treatment mends frayed, brittle ends while preventing future splits from forming. Enriched with conditioning avocado and shine-inducing argan to restore color, strengthen damaged strands, and bring illuminate to dull tresses.
There's always some new hair or skincare trend gaining traction on TikTok. Most recently, it's been skin slugging. And now, it's a spin on the original trend, aka, hair slugging. If you have dry, frizzy, or deeply damaged hair, we recommend giving it a try to provide your strands with much needed nourishment.
In meantime, shop hair and skincare products here at Trulybeauty.com. You'll also find our products on Amazon, Sephora, and Ulta!
Share
---