How to Get the Margot Robbie Look in Barbie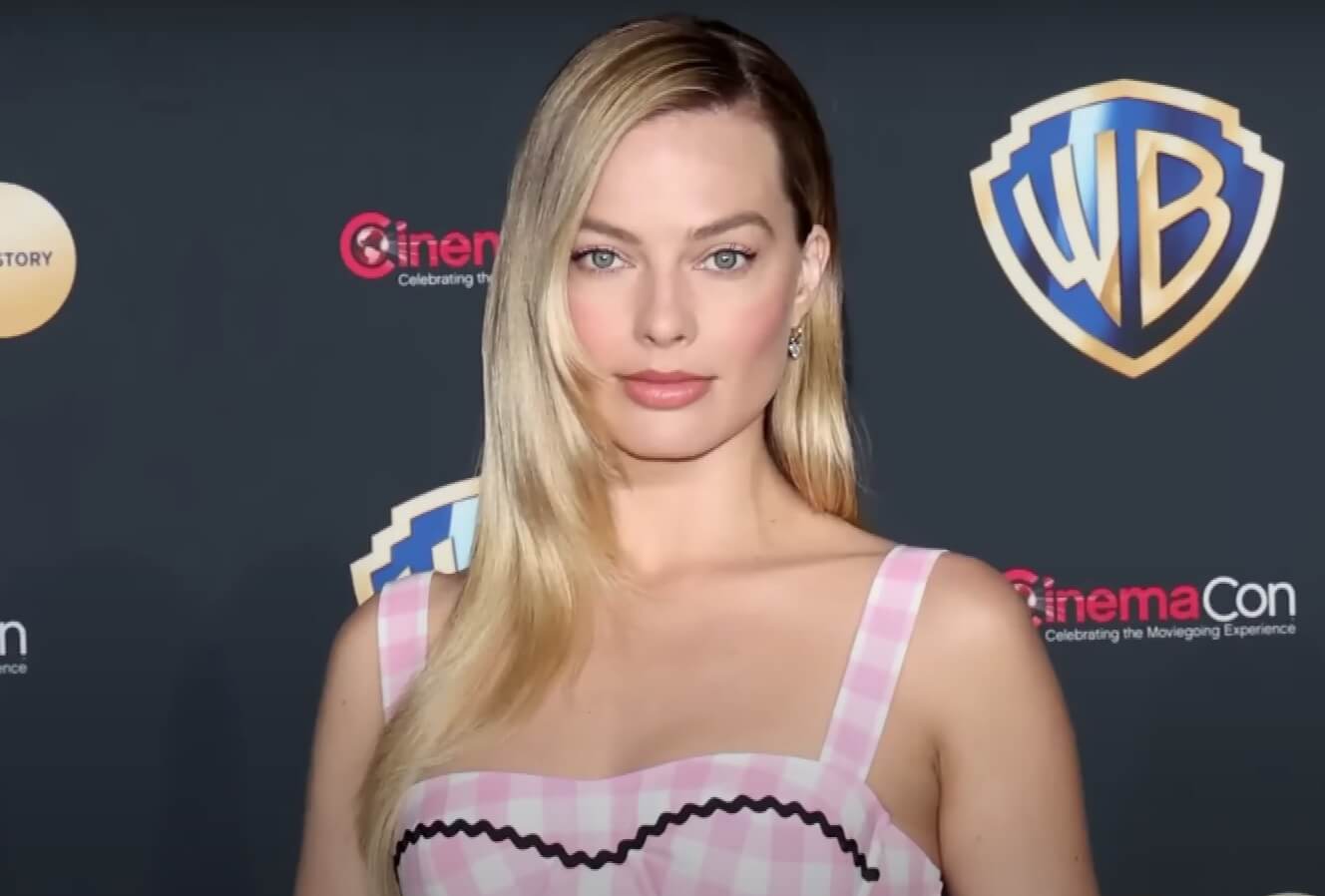 Channel your inner Malibu babe like your fave Aussie beauty with our guide on the Barbie movie makeup look, outfits, and skincare.
Last month, Warner Bros. dropped the second official trailer for Greta Gerwig's Barbie film, starring Margot Robbie, Ryan Gosling, and a host of other famous names. While it doesn't give that much away, we got a glimpse at some of the film's iconic looks.
In the highly anticipated movie, Margot Robbie brings the iconic doll to life with her platinum hair, playful spirit, pink ensembles, and blushing cheeks. 
Want to get the Margot Robbie look in Barbie? Get ready to transform into your fave Cali dreamer.
The Barbie Glow
Whether she's at the disco, rollerblading with Ken, or driving her pink Corvette, Barbie always looks radiant. So, what's the secret to Margot Robbie's glow in the movie?
Good skincare practices! Margot Robbie's skincare routine involves everything from facial mists to massages, masks and of course…plenty of Zzzz. She also swears by the basics: cleanser, moisturizer, and SPF for getting her luminous complexion.
When it comes to achieving Barbie's signature glow, the quickest route is with gentle exfoliation and a hardworking moisturizer. Face masks are a great way to unwind while rejuvenating your skin for a Barbie-like glimmer.
Finally, attaining a Barbie-like shine comes down to knowing your ingredients. Some of the best ones for tackling dullness, dark spots, and acne include retinol, AHAs, BHAs, and vitamin C. 
The Barbie Movie Makeup Look
The film taps into Barbiecore, an aesthetic that's all about embracing all things pink and playful. If rosy gingham dresses and fuschia ensembles don't work for you, you could always try embracing the trend through makeup. 
Think: blushed cheeks, pink shimmer on the lids, and a pink lip. Of course, the shade of pink you choose depends on both your skin tone and personal preferences. 
Barbie Movie Makeup Tutorial
Barbie's makeup look is simple yet vibrant, and easy to recreate. Here's a quick step-by-step Barbie movie makeup tutorial you can try.
Step 1: Skin
Start with a clean, moisturized face and apply primer to help your makeup last longer. To make your skin extra glowy, you may even want to kick things off with a brightening face mask. 
Step 2: Eyeshadow
Apply a pink, shimmery eyeshadow on your eyelids. Barbie often wears shades of pink, so choose a color that compliments your skin tone.
Step 3: Eyeliner
Apply eyeliner to your upper lash line, creating a slight wing at the outer corners. 
Step 4: Mascara
Apply a volumizing mascara to your upper and lower lashes, making sure to coat each lash evenly. 
Step 5: Blush
Using a blush brush, apply a light pink blush to the apples of your cheeks. Blend it out towards your temples for a natural Barbie look.
Step 6: Lips
Finish the look with a glossy pink lipstick or lip gloss. Barbie loves a bright pink lip.
And there you have it, a quick and easy Barbie movie makeup look!
The Barbie Movie Outfits 
From Barbie and Ken's matching rollerblade outfits to Barbie's pink beret and gingham dress, the Barbie film is packed with iconic looks. Here are some of the best outfits so far.
Barbie's Pink Gingham Dress
In the Barbie teaser trailer, Margot Robbie gets ready for the day in a cute pink gingham dress accessorized with a floral necklace and matching earrings, pearl buckled belt, and gingham bow.
Barbie's Blue Striped Halter Top
Robbie goes retro in a blue striped halter top and polka dot headband, looking like the ultimate fashionista. Of course, the pink convertible makes the outfit look all the more iconic.
Barbie and Ken's Rollerblade Outfits
We first got a glimpse at Margot Robbie and Ryan Gosling filming Barbie in summer 2022, when they were seen taking a stroll on their neon rollerblades. Barbie's rollerblade look: pink neon shorts paired with a patterned leotard, accessorized with chunky neon hoops, a colorful visor, and vibrant protective gear. 
Barbie's Pink Beret
Margot looks like butter wouldn't melt in her all-pink beret, dress, and bow. Meanwhile, Ken opts for a pink zip-up jacket covered in the Barbie logo. 
Barbie's Classic Swimsuit 
In the first teaser trailer, Robbie stunned in an instantly recognizable striped swimsuit and white sunglasses worn by the very first Barbie. 
Barbie's Seashell Jewelry
Even at the beach, Barbie always looks impeccably accessorized. Margot Robbie is seen sporting yet another pink gingham dress accessorized with a matching sun hat and gorgeous pink seashell jewelry. No doubt, we'll be seeing an influx of seashell earrings and necklaces on this year's beach outings.
The Barbie Movie Hairstyles
It's all about the hair in the upcoming Barbie movie. Here are some of the most iconic Barbie movie hairstyles, and how to recreate them to achieve Margot Robbie's look in Barbie.
The Retro Barbie Ponytail
Swingy and sophisticated, the Barbie ponytail is defined by a high pony, curled ends, and plenty of swoop. Best of all, it's pretty easy to do yourself. 
To recreate the look, start by parting out your bangs and pulling your hair into a slick pony near the top of your crown. Then, tease the base of your ponytail using a fine tooth comb. Finally, smooth out your bangs with a flat iron or hair dryer, swooping inwards. To recreate Barbie's retro bangs (as seen on Robbie), use a thin-barrel curling rod for instant face-framing curls.
Beachside Barbie Locks
Light blonde hair, side swept bangs, and a curled side ponytail create a simple yet striking look for Barbie as she heads to the beach. You can easily make this look yours with the help of a ponytail hair piece. Simply wrap it around your side ponytail for an instant beachy, Barbie-inspired 'do.
When it comes to getting the Margot Robbie look in Barbie, it's surprisingly simple. From Barbie's makeup look to her skincare, outfits and hairstyle, the above guide should help you recreate Margot Robbie's Barbie movie look. 
Shop Margot Robbie's Barbie Look
Barbie™ The Movie Bedtime Duo
Meet our limited edition Barbie™ The Movie Bedtime Duo. Together, they're the secret to sweeter dreams, firmer skin, and a calmer mind! Infused with adaptogenic herbs such as ashwagandha, ginseng, and acai. ©2023 Mattel. ©WBEI (s23).
Barbie™ Dream Bundle
Shine all day long with the Barbie™ x Truly Dream Bundle, a 4-step body brightening routine that treats everything from body acne to bikini line ingrowns and hyperpigmentation. 
LIMITED TIME ONLY: Shop the Barbie™ Dream Bundle to unlock our limited edition Barbie™ The Movie Bedtime Duo + a FREE Mini Purse.


Image sources:
Maximo tv YouTube
Entertainment Tonight YouTube
MsMojo YouTube
Eyewitness News YouTube
Share
---