Polyglutamic Acid is SO Popular Right Now. Here's Why.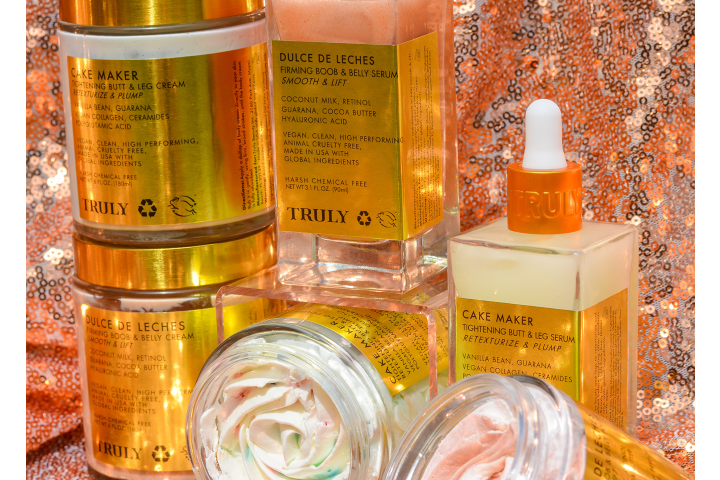 A buzzy new ingredient known as polyglutamic acid is sweeping the beauty industry right now — and it might just be the holy grail elixir your skincare routine has been craving.
Hailed as the new hyaluronic acid, polyglutamic acid (PGA) is an ultra-hydrating skincare ingredient derived from Natto, a Japanese food made from fermented soybeans.
Whether you've got dry, dehydrated skin, pigmentation issues, or fine lines and wrinkles, you'll definitely want to dig in to this multitasking powerhouse of an ingredient.
Here's everything you should know about polyglutamic acid, what it can do for your complexion, and the best PGA-laced skincare products.
WHAT IS POLYGLUTAMIC ACID?
Polyglutamic acid is a powerful humectant that *wait for it* holds five times more moisture than hyaluronic acid (HA). That's 5,000 times its own weight (as opposed to hyaluronic acid, which holds 1,000 times its own weight. Only recently has it begun to surface in skincare products designed to hydrate, such as serums, moisturisers, and eye creams.
Derived from fermented soybean mucilage, PGA is a peptide (aka protein) that even dermatologists have began backing due to its ability to reduce the appearance of fine lines and wrinkles, minimize pigmentation, boost elasticity, and stimulate the skin's natural moisturising processes. The derms say it even offers exfoliating properties to promote a smooth, fresh, and glowing complexion.
"PGA keeps skin super dewy, hydrated and maintains the bounce or sponge-like quality of younger skin," says Dr. Ava Shamban, a board-certified dermatologist.
It's suitable for all skin types, but especially sensitive skin, dry skin, and skin showing signs of aging.
SKINCARE BENEFITS OF POLYGLUTAMIC ACID
Wondering what you can gain from 2022's hottest new skincare ingredient? A LOT, it turns out.
Hydration
Since it's a natural humectant, polyglutamic acid is primarily praised for its hydrating properties as it helps seal moisture in your skin.
"What makes it different to hyaluronic acid is that it forms a film on the skin that stops water from evaporating, so not only is it a humectant that draws more water into the cells, it holds it there too," explains Mark Curry, CEO of the The Inkey List.
But that doesn't mean you should swap out all your hyaluronic acid serums for PGA products. According to Curry, the two work best when used together.
Anti-Aging
The experts say PGA is also something of anti-aging miracle worker.
"Part of the aging process involves the loss of HA in the skin, which is broken down by an enzyme called hyaluronidase," says makeup artist Charlotte Tilbury, speaking on behalf of the brand's PGA-infused Magic Serum Crystal Elixir.  "Products that contain PGA help to inhibit the action of hyaluronidase, resulting in more HA in the skin, and giving an overall moisturized, rejuvenated, and hydrated appearance to the skin."
Consider it your go-to wrinkle warrior, here to help you maintain a youthful, glowing complexion and prevent the onset of fine lines and wrinkles.
Other benefits of this buzzy new skincare ingredient include minimizing the appearance of pores, fading discoloration, and brightening the complexion.
POLYGLUTAMIC ACID VS. HYALURONIC ACID
Like retinol and vitamin C, hyaluronic acid is a household name in the beauty industry. So, how does this trending skincare active compare to the powerhouse hydrator we know as hyaluronic acid?
Polyglutamic acid has a larger molecular size than HA, which means that it is effective for surface level hydration. Unlike HA, PGA does not occur naturally in our bodies, but it can hold five times (or even 10, according to some derms) more water than hyaluronic acid.
Polyglutamic acid and hyaluronic acid, however, offer slightly differing properties, according to the derms. PGA is better at holding onto moisture than HA, but only hydrates the skin's surface while hyaluronic acid penetrates the lower levels of the skin.
Used together, they're the ultimate recipe for dewy, hydrated skin. Try incorporating both ingredients into your daily skincare routine. You can either use individual beauty products containing one or the other ingredient, or better yet, opt for a formula that blends both.
SHOP POLYGLUTAMIC ACID SKINCARE PRODUCTS
We've got three moisture-drenching products powered by poly-glutamic acid and other high-performing active ingredients.
Cake Maker Tightening Butt & Leg Polish
A cake-scented, skin sculpting scrub that sweeps away dead skin, dullness, and dryness via the power of plumping plant collagen, antioxidant-rich vanilla, and skin-quenching polyglutamic acid. While it doesn't contain HA, it contains the next best thing: glycerin, another holy grail humectant.
Cake Maker's anti-aging ingredients join forces to tone up your tush and thighs with the help of firming collagen and skin-sealing polyglutamic acid to give skin back its bounce.
For best results, use in conjunction with the other products in Cake Maker Recipe Kit.
Cake Maker Tightening Butt & Leg Serum
A hydrating serum developed especially for your butt and legs and packed with anti-aging, moisturizing ingredients to tighten, smooth, and sculpt your curves.
While ceramides plump out dimples, polyglutamic acid helps prevent moisture loss while smoothing out roughness for an extra perky peach. It also features caffeine-rich guarana to tighten sagging skin and stimulate blood flow for major booty glow.
For best results, use in conjunction with the other products in Cake Maker Recipe Kit.
Cake Maker Tightening Butt & Leg Cream
A creamy, caramel-scented lotion to firm, smooth, and hydrate the skin on your butt and legs. Made with a mixture of free radical-fighting vanilla, plumping plant collagen, and moisture-sealing polyglutamic acid to reverse signs of aging, sculpt sagging skin, and deliver day-long hydration.
For best results, use in conjunction with the other products in Cake Maker Recipe Kit.
Maximize the effectiveness of this kit by pairing it with Truly's Dulce de Leches Kit, a trio of boob and belly tighteners formulated with retinol, coconut milk, and hyaluronic acid. While both bundles tackle different zones, you can use them interchangeably or together for full body toning and smoothing. Sound good? Shop our Full Body TREATment, which includes all six products — and save on product value!
You can shop all Truly beauty products on our store, Ulta, Sephora, and Walmart.
Share
---