The 1-Step Natural Lash Lift TikTokers are Lovin'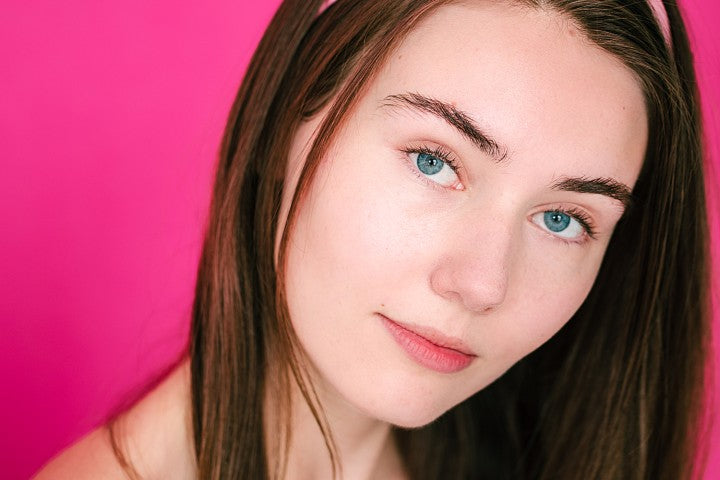 If there's one place you're guaranteed to find cool new beauty hacks, it's TikTok. The platform is chock full of influencers sharing their hottest beauty tips, and we've found the latest one: curling your eyelashes with an eye mask.
Yep, it's as easy as it sounds. All you have to do is snooze in a sleep mask and you'll wake up with luscious, fluttery lashes — as if you just spent a good minute curling them with your eyelash curler.
Here's everything you need to know about this natural lash lift hack, including a step by step guide on how to do it at home.
THE LASH LIFT HACK
The lash lift hack involves placing a clean sleep mask over open eyes to naturally curl your lashes. When you close your eyes, the pressure from the mask should keep your lashes in a curled position so that you wake up with fluttery, long lashes.
This neat little beauty trick delivers the same results as your lash curler, except you don't have to spend any time actually curling them. The sleep mask will do that for you. Unlike the eyelash curler you use, which usually only gets pressed and pumped for a few seconds, sleeping for seven or eight hours in a sleep mask is a surefire way to get cute and curly lashes all day long.
Don't fancy sleeping in an eye mask all night long? You can also try wearing it for half an hour to reap the same benefits. This trick provides an instant eyelash lift, opening up and widening your peepers for your most alluring eyes.
Once your lashes are curly, you can either keep them natural or go in with your eyeshadow, mascara and eyeliner for added definition.
HOW TO DO A LASH LIFT AT HOME
You don't need a lash lift kit or lash curlers to get your peepers looking long and fluttery in the morning. All you need is a soft sleep mask. Here's a step by step guide for achieving this one-step lash lift at home.
Prep: Wash + Dry Your Face
Prep skin and eyes by cleansing with a gentle, oil-absorbing face wash like Truly's 24k Gold Black Soap Impurity Cleanser. It's made with 24k gold, Black Soap, and charcoal to wash away impurities and buff away dead skin cells while soaking up excess oil. It's better to wash your face now before you perform the lash lift. If you do it tomorrow am after waking up, your curled lashes will quickly go flat. Perform your skincare routine — and thoroughly dry skin and eyes — before applying your sleep mask so that your lashes stay curly for as long as possible.
The #1 Step: Slide On Your Sleep Mask
Climb into bed, get comfy, and slip on your sleep mask while your eyes are still open. Once it's on, close your eyes and enjoy a restful slumber as your lashes get magically curled overnight. Remember, this can only be done with your upper lashes, not your lower lashes.
Results: Wake Up with Luscious, Fluttery Lashes
After several hours of curling, you can now remove your sleep mask and check out your gorgeous, curly lashes. Emphasize your peepers even more by dabbing on a little concealer under your eyes and applying a few swipes of a volumizing mascara. It's up to you whether you apply eye makeup or leave them natural. Either way, your eyes will look instantly more alert. When applying moisturizers and serums, make sure they don't go anywhere near your lashes.
TIPS FOR BUYING A SLEEP MASK
To get the best results from a sleep mask, make sure you choose the right one. Here are some tips for selecting a sleep mask.
Choose a Satin Sleep Mask. The best sleep mask is soft, comfortable, and gentle on the lashes. Since satin is such a soft, light material, it's an excellent choice for curling your lashes. Unlike cotton, satin prevents friction between your lashes and the mask, preventing breakage. We recommend the pink satin sleep mask in Truly's Bonne Nuit Beaute Satin Sleep Set.
Find One that Fits Comfortably. Your sleep mask should fit comfortably so that it places enough pressure against your lashes to create the curled effect without putting too much pressure on, and ultimately causing damage.
OTHER WAYS TO ENHANCE YOUR NATURAL LASHES
Nowadays, you have so many options when it comes to enhancing your natural eyelashes. Here are some for you to choose from...
Lash Tint
An eyelash tint involves coating your lashes with a semi-permanent dye to add instant color to your lashes without you having to rely on daily mascara application. It's a quick and easy way to bring out your eyes. And you can definitely DIY it! If you're a beginner, make sure you watch plenty of tutorials so that you get it right!
Eyelash Extensions
Dream of longer, thicker lashes? Book an appointment at your beauty salon for eyelash extensions. Not only do they last for several weeks, but they save you all that time you spend applying falsies and mascara.
Mascara
One of the easiest ways to enhance your natural lashes is by curling your lashes with an eyelash curler (or sleep mask), and then swiping on a volumizing mascara. For best results, wiggle the wand as you swipe upwards to make lashes appear instantly fuller.
Lash Serum
Lash serums are great for lash extension aftercare and for keeping lashes strong, thick, and healthy. They're typically infused with nourishing oils, and come complete with a spoolie so you can swipe the formula on your own lashes — working from the start of your lash line.
Lash Perm
And of course, you can always purchase an eyelash perm kit if you're looking for longer lasting flutter. Lash perms are a handy way to enjoy curled lashes for days or weeks on end.
Have you tried this 1-step natural lash lift yet? While we have included three steps in our guide, the primary step is sliding your sleep mask on. It could NOT be simpler!
Share
---