The Science Behind Plumping Lip Glosses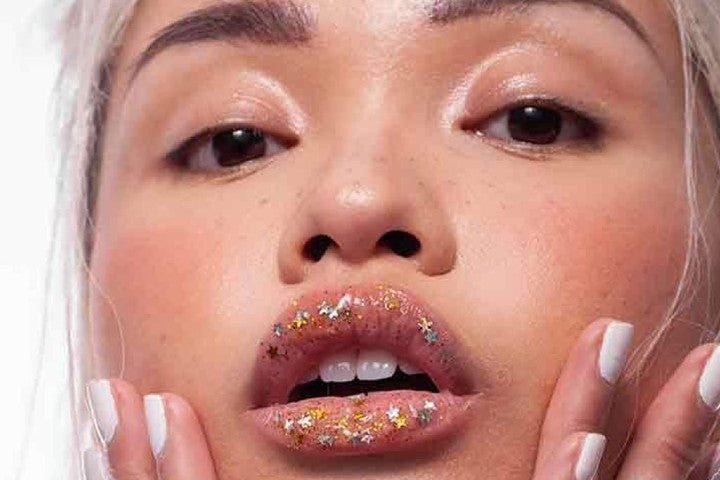 Ever wondered how those plumping lip glosses you see advertised in magazines or sitting beautifully on drugstore shelves actually work? That's what we're about to find out.
The pursuit of luscious, voluminous lips is nothing new. Non-invasive lip plumpers have been around for a while now. Still, that doesn't make us any less curious about the science behind them. And we're sure you're just as eager to find out whether they're worth the hype, right?
Here, we explore the science behind plumping lip glosses and whether or not they're worth your time – and money!
HOW PLUMPING LIP GLOSSES WORK
You see them all the time. In shops. On Instagram. Everywhere. But how do they actually work?
"Topical lip plumpers work by holding onto moisture in the skin surface, which results in a localized swelling effect," explains plastic surgeon Dr. David Shafer, M.D. "This gives the lips a fuller and smoother appearance."
When looking for a plumping lip gloss, you should opt for a topical product that delivers consistent results without causing irritation or swelling. It should also be easy to apply, and contain certain ingredients known for their plumping abilities.
"Some of the best ingredients are hyaluronic acid — which is a moisture molecule already in the skin — menthol, wintergreen, ginger and capsaicin, (the chemical from chili peppers that) can cause a localized swelling," adds Dr. Shafer. "Caffeine can help cause a smoothing effect from increased blood flow and peptides can induce collagen production, which builds the structure of the lips."
Hyaluronic acid is particularly effective as it pulls hydration to the surface of the skin, enhancing hydration and plumpness of your pout. It's a safer, gentler alternative to irritants – and offers powerful moisturizing effects for healthy, happy lips.
WHY THEY'RE AN EASIER ALTERNATIVE TO FILLER
While lip fillers promise a more dramatic effect and last longer than lip plumping products, they're not everybody's first choice. Unlike lip fillers, lip plumping glosses are painless, inexpensive, and virtually side-effect-free.
If you're someone who's pretty happy with how your pout looks naturally, but you just want a little boost, lip plumping glosses are your go-to. You can find them practically anywhere and you shouldn't need to pay much more than $10.
They're also not so much of a commitment as lip fillers, which require refills every 4-6 months in order to maintain the results.
HOW PEPPERMINT NATURALLY BOOSTS CIRCULATION IN THE LIPS
Peppermint is one of the most common ingredients found in lip plumping products.
Lip plumpers typically rely on irritants such as cinnamon, capsicum, wintergreen, and peppermint oil to swell the lips. While you do have to be careful which ingredients you use to prevent damaging your lips, peppermint is the safest and most highly recommended for its effectiveness.
Unlike some lip enlarging ingredients, peppermint isn't causing an allergic reaction. It's just causing mild irritation to boost circulation and induce temporary swelling – and a little tingling. In small doses, it's perfectly safe to use peppermint for lip plumping effects.
According to dermatologist Howard Sobel of Sobel Skin, peppermint oil is one of the best active ingredients for making the lips appear larger.
"I recommend a product with peppermint usually," he says.
Try our peppermint-packed 4-step lip plumping kit (aka, GLOAT: Greatest Lips of All Time) for a plumper, juicer set of lips. Inside, you'll find a lip scrub, butter, serum, and oil, all formulated for adding volume and hydration to your pout.
WHAT INGREDIENTS TO AVOID FOR LIP PLUMPING
As for the ingredients to avoid, steer clear of anything that irritates the skin to the extent that it could cause an allergy. Bee venom could be one of those ingredients.
While bee venom might give the appearance of bee stung lips, it might be too irritating for most skin types. In some cases, it may be effective, but there's also the risk of increased inflammation. Dermatologists don't recommend it if you have sensitive skin or a history of allergies.
You should generally stay away from lip plumping products if you suffer from allergies, as they may cause a range of unpleasant side effects. Because many of the ingredients intentionally cause localized irritation to create a plumper appearance, we advise against these products if you develop any sort of sensitivity or negative reaction to them.
SO, ARE LIP PLUMPING GLOSSES REALLY WORTH THE HYPE?
Lip plumping glosses may not be advisable to everyone (sorry sensitive skinned folks!), but if you can tolerate the irritants or use products containing hyaluronic acid, you can definitely enjoy the benefits of plumper lips.
Using these products will make your lips feel more hydrated and subtly plumper, but it will only be temporary. If you're happy with that, then you'll be more than happy with the results you get from lip plumping glosses.
RECOMMENDED LIP PLUMPERS TO TRY 
Heartbreaker Lip Plumping Mask
If you want something that's stimulating without drying out your lips, try our Heartbreaker Lip Plumping Mask. It's made with ceramides, aloe vera, and vitamin E to smooth, soften, and volumize your pout. Apply a thin layer to clean, dry lips. Leave it on for 3-5 minutes, then rinse.
Unicorn Fruit Lip Plumping Balm
This lip plumper is packed with hydrating, plumping ingredients such as peppermint, matcha, shea butter, and acai. Use it alone, under lipstick, or as overnight treatment. Either way, you can enjoy its lip-plumping results. Oh, and did we mention it smells like candy?
Starkisser Lip Plumping Mask
Formulated with hyaluronic acid, aloe, and peppermint, this glittery lip mask delivers a temporary perked up pout. Besides its plumping effects, it's really nourishing and hydrating for a soft, kissable pout. You'll feel the tingling sensation only a minute in. Apply to clean, dry lips. Leave on for 3-5 minutes. Wash off with water.
If you're not ready (or willing) to endure pout-plumping effects from a needle, lip plumping glosses are your best bet! So stock up on our faves and get the pout of your dreams!
Share
---