Try that TikTok Trend: Gym Lips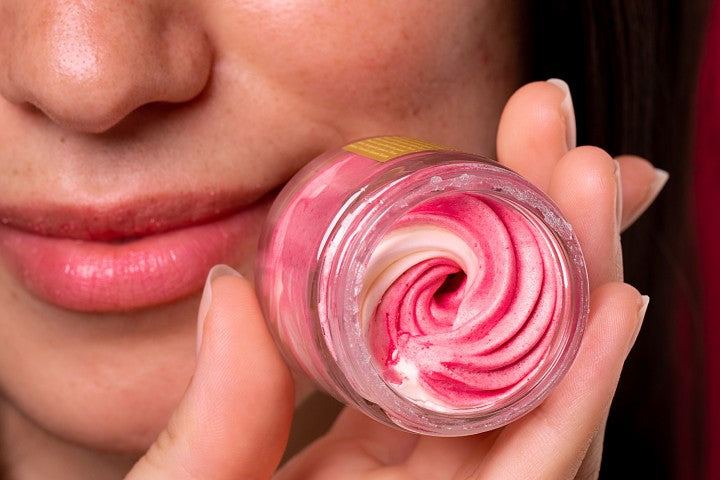 Gym lips are the latest TikTok trend everyone's obsessing about. Surprisingly, it has nothing to do with exercise whatsoever, so you don't need a treadmill or dumbbells to try the trend at home. And you also don't need to be physically fit, either.
If you've been on TikTok over the past month, you've probably seen the beauty trend popping up on your FYP page. This new trend is less about working out, and more about reinventing the no-makeup makeup look in only two steps.
Here's everything you need to know about gym lips, and how to achieve the social media makeup trend at home.
WHAT ARE GYM LIPS?
Coined by New York City makeup artist Kelli Anne Sewell, aka @makeupxka on Instagram and TikTok, gym lips are a makeup technique that involves overlining your lips with a pencil that's similar to your natural lip color, and finishing with a swipe of lip moisturizer.
"It's basically an over-lined lip that I wear to the gym that's really natural, and it's randomly catching on," Sewell told her followers.
Since most of us aren't big on the idea of wearing makeup to the gym, this is a great little hack for accentuating your pout without feeling icky — the way one feels when you go to the gym in heavy makeup. And the gym's not the only place you can put this lip trend to use! Wear it to work, to the beach, to parties — or basically anywhere you wanna look effortlessly glam.
"The key is to have a lip liner your color…and you over-line your lips and fill them in," explains Sewell. "Then, you're going in with a lip treatment…something that's gonna hydrate your lips. And I wear this to the gym — it looks like a little natural, plump lip situation."
WHY IT'S A TIKTOK TREND
Beauty-loving TikTok users dig anything that's easy, effective, and fun to do at home. And gym lips is one of those trends!
As the influencer explains, "This trend is so successful because you don't have to go out and buy one specific lip pencil and you're [not] looking for a product that is sold out." According to Sewell, it's just about finding the perfect lip color that matches your natural lip color.
"I think it's a fun little challenge to find your perfect gym-lip combo," says Sewell. "Your perfect gym lip liner will disappear into your lips and that's the goal to make it look the most natural. It makes you feel elevated, fancy and it's fun."
Is it worth the hype? Absolutely!
HOW TO ACHIEVE GYM LIPS
To try this trend for yourself, you'll need a lip liner that matches your exact lip color and a moisturizing lip treatment.
Using your liner, carefully outline your lips and then shade in the rest of your pout using the same liner. This way, you'll get a nice clean girl aesthetic that's perfect for gym sessions without looking overdone. Once you've done this, finish up with a hydrating lip treatment like a lip balm or mask to leave your pout looking smooth and glossy.
You're lips aren't going to look as full as a Kardashian sister when you're done, but they will noticeably plumper and more defined.
SHOP LIP PLUMPING PRODUCTS
Here are some of our fave lip products for achieving gym lips and home.
Pineapple Haze Smoothing Lip Polish
Before applying your lip liner, prep your skin for seamless makeup application by using a hydrating lip scrub like this one. Pineapple Smoothing Lip Polish features exfoliating sugar, hydrating mango, and antioxidant rich hemp oil to help smooth lip lines and maintain a youthful, kissable pout! It's the perfect first step to achieve gym lips.
Unicorn Fruit Lip Plumping Balm
Looking for a filler-free way to larger lips? Grab a tub of Unicorn Lip Balm. This ultimate hydrating, lip plumping duo delivers luscious lips in only a matter of seconds. While peppermint oil stimulates blood flow, creating a temporary swelling effect, moisturizing shea butter seals in hydration for day-long dreamy lips. Wear alone or under your favorite lip gloss! It even doubles up as a skincare product — simply apply it to dry areas of skin for quick dry skin relief. Did we mention it also smells as sweet as a candy store!
GLOAT Big Juicy Lip Oil
A juicy blend of hyaluronic acid and coconut oil work in tandem to prep, hydrate, and gloss up your kissers! Unlike a lot of lip oils, this one melts into your lips, creating a seamless priming base for perfect lipstick application. Alternatively, use it alone as a natural lip gloss.
Star Kisser Lip Plumping Mask
A gold and glittery lip mask to instantly plump up your pout! Enriched with ultra hydrating hyaluronic acid, soothing aloe, and plumping peppermint, this festive little formula puts a spell on your pout, leaving it smoother, fuller, and juicier in just a few seconds. Plus, it can help fade out fine lines and wrinkles forming on and around your lips.
GLOAT Luscious Lip Butter
A buttery whipped blend of hyaluronic acid, shea butter, coconut oil, and peppermint to soften lip lines and lock in moisture throughout the entire day while leaving you with pillowy soft, juiced up lips. It's a daily necessity — and a purse must-have!
Wanna stay on track of the latest beauty trends? Check out our TikTok videos to see the hottest new beauty trends. Be sure to follow us on our other social media platforms too to stay ahead of the game! We try to cover all the viral trends here on our blog and over on our social media channels, so stay tuned!
Truly products are available for purchase on our official website, as well as on Ulta, Amazon, and Sephora EU.
Share
---