Bae Swiping Your Skincare? These are the Products He Actually Needs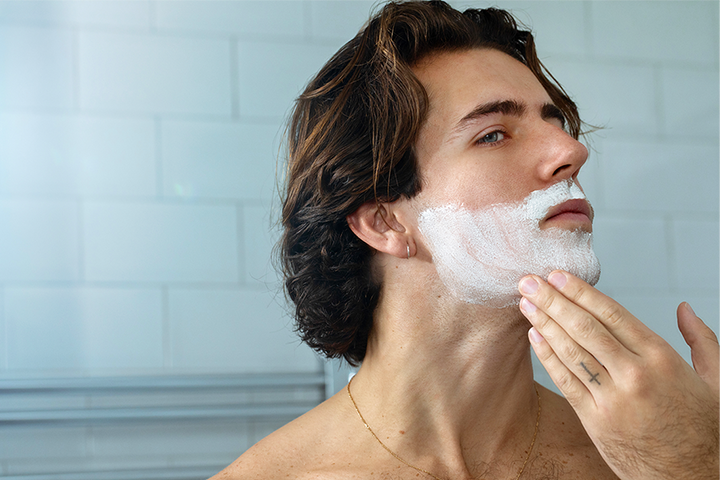 Is bae constantly 'borrowing' your beauty products? As sweet as it is to share, there is a reason why skincare products for men exist. Skin, it seems, really does have a gender according to the derms.
Here's why your guy needs a skincare regimen of his own – and the products that will truly work wonders for his complexion!
WHY YOUR MAN SHOULD SWITCH TO HIS OWN SKINCARE ROUTINE
Us breaking down the reasons your guy needs to step away from your lotions and potions...
Hormones
First and foremost, men have much higher levels of testosterone than women – ten times more, according to research. This means their skin is generally thicker and oilier, leaving them prone to large pores, congestion, and breakouts.
Since oily skin has a harder time shedding dead skin cells, men should look for a cleanser formulated with oil-zapping ingredients like salicylic acid. Salicylic acid is a beta hydroxy acid (BHA) known for dissolving dead skin, impurities, and face oil. It's extremely effective for acne-prone skin types. 
pH Levels
Men have a lower surface pH than women, which is why they have higher instances of acne. On the plus side, their skin barrier is better at sealing in moisture as their skin barrier is stronger.
It's why women are more prone to dry skin than men. In fact, up until the age of 50, men lose a much lower amount of water in the skin than women of the same age.
When looking for cleansers, toners, and moisturizers, always look for oil-free products that won't contribute to the oiliness. He should also curb rich, heavy creams that may clog the pores and trigger blemishes.
All that Shaving
Men allegedly subject their skin to around 16,000 shaves in a lifetime. That's why he needs to show that area a little extra TLC. 
"As well as mechanical irritation, he may suffer from ingrown hairs and folliculitis," says Dr. Stefanie Williams, medical director at the Eudelo skin clinic. "Look for ingredients aimed at daily repair as shaving can remove the skin's natural lipids along with the top layer of skin cells."
Some soothing ingredients to look for include aloe vera, tea tree oil, green tea, and lavender. 
MEN'S SKINCARE PRODUCT PICKS
Introducing Truly's brand-new Men's Skincare Product Line...
The Bodne Bundle
Because men have oilier skin, they're more vulnerable to issues like body acne. We've created this bundle to help diminish excess oil, zap away zits, and speed up the healing process of active breakouts.
What's Inside?
Cherry Jelly Cleanser:an anti-bacne body cleanser made with bacteria-zapping salicylic acid, skin-calming cherry, and hydrating allantoin and niacinamide to treat active blemishes on the body while eliminating dryness and irritation. 
Tansy Water Mist:this refreshing face and body mist relies on the bacteria-banishing powers of salicylic acid and brightening effects of blueberry and blue tansy for a clarified, dewy finish.  
Dragon Milk Lotion:a gentle yet effective daily moisturizer for maintaining clear, smooth, healthy skin. Exfoliation gem glycolic acid, brightening blackberry, and smoothing lactic acid join forces to decongest pores, refine skin texture, and seal in long-lasting moisture.
Pimple Party Pack:extra large pimple patches that drain and heal active blemishes in a flash. 
Get the Bodne Bundle here.
The 3-in-1 Bundle
Interestingly, men's skin can tolerate a higher concentration of active ingredients such as retinol, hyaluronic acid, and glycolic acid. In other words, it's worth taking advantage of anti-aging formulations made with such ingredients to help retain and restore youth, whatever his age. That's where our 3-in-1 Bundle comes in!
What's Inside?
Moon Rocks Whipped Body Scrub:formulated with a nourishing base of coconut oil blended with brightening lavender and moisturizing vitamin E, this body scrub can help diminish dull skin, improve skin tone, and retain long-lasting moisture.
Vegan CollagenBody Polish: this anti-aging body polish is loaded with the antioxidants and active ingredients skin needs to thrive. Made with retinol, vegan collagen, and vitamin C, this formula will help promote collagen production and skin cell turnover, fading fine lines, dark spots, and signs of sun damage.
Pimple Party Pack:

 

Formulated with pimple-draining hydrocolloid, these super-sized patches help get rid of active body

breakouts

while preventing scarring and

hyperpigmentation

.

 
Get the 3-in-1 Bundle here.
The Man's Shave Kit
With all that blade-on-skin action, your guy needs a little more love in that area. 
Since he's prone to issues like irritation, ingrown hairs, and folliculitis, it's important to establish a proper shaving routine that goes beyond a razor and shaving cream. 
He'll find everything he needs for a soft to the touch shave in Truly's Man's Shave Kit.
What's Inside?
24k Gold Black Soap ImpurityCleanser: a gentle cleanser formulated with salicylic acid, African black soap, and 24k gold to cleanse away dirt, oil, and impurities, and fight active breakouts. Cleansing should be the first step in a shaving routine to secure a clean, ultra-close shave.
Coco Cloud Whipped Luxury Shave Butter: prep the skin with this luxury shave butter made with hydrating coconut milk, elasticity-restoring argan oil, and healing vitamin E to achieve an ultra-close shave minus irritation or ingrowns.
Glass Skin Facial Serum: seal in moistureand soothe any inflammation with this hydrating, calming serum. 
Black Jelly Blemish Treatment Body Serum: Whether he's got combination skin or oily skin, if he's got a few body blemishes, he can definitely benefit from a few drops or more of this blemish-treating serum. With its blend of tea tree, witch hazel, aloe, and black charcoal, this body serum will help reduce post-shave redness, razor burn, and bumps while unclog pores, and eliminating existing breakouts. 
Get the Man's Shave Kit here.
Ask any dermatologist or aesthetician, and they'll tell you the same thing: men need designated skincare routines. 
In addition to the new products featured above, we also recommend using sunscreen SPF 30 on a daily basis and potentially even eye cream if he's dealing with issues like puffiness and dark circles. 
For more serious skin concerns, urge him to consult with a dermatology professional. He may be advised to undergo in-office treatments like laser and peels for chronic acne and scarring.
Share
---