Brad Pitt's Skincare Routine is Only Five Steps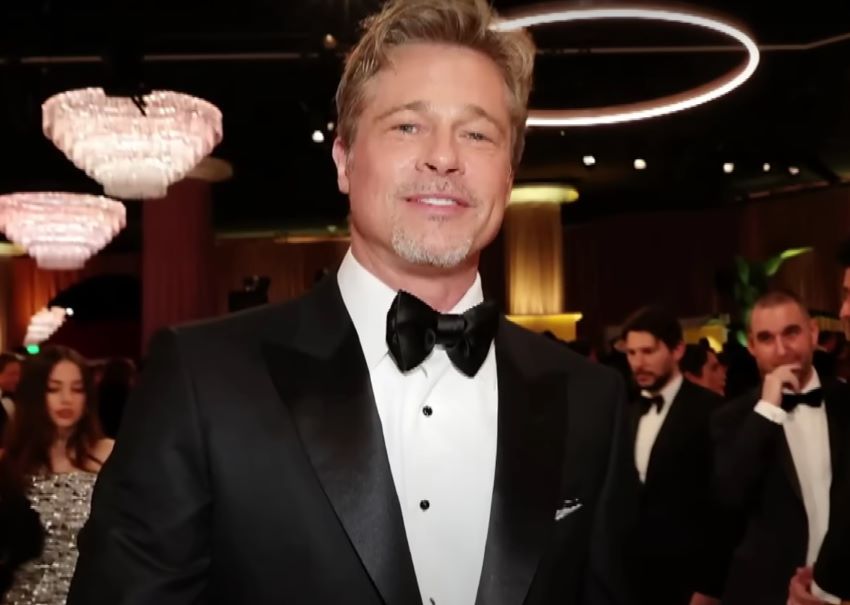 You've probably already heard of Brad Pitt's skincare line. Le Domaine, a genderless luxury skincare brand, was launched in 2022 and includes a cleanser, serum, cream, and other luxe anti-aging formulas. But what does the Brad Pitt skincare routine look like? Ahead, we reveal everything the actor does to stay looking so youthful and radiant, and the products to use to achieve smooth, supple skin. 
Brad Pitt Skincare Routine
What does Brad Pitt use for skincare? Interestingly, his skincare regimen is extremely minimalistic. With only five steps, it couldn't be easier to copy Brad Pitt's skincare routine. Here are all the steps he swears by for keeping his skin looking that good.
Step 1: Cleanse
In an interview with Vogue Beauty, Pitt revealed his routine only consists of three steps. However, he does occasionally add another couple of steps to his routine to achieve his iconic Hollywood glow. 
The first step in the Brad Pitt skincare routine: cleanser. And it's a step he never misses. His go-to cleanser is gentle, foaming, and formulated with soothing grape water to wash away impurities while hydrating skin with nourishing active ingredients. It leaves skin fresh, smooth, and supple. To keep skin clean and pores unclogged, it's best to cleanse morning and night. 
Step 2: Plump with Hyaluronic Acid Serum
After cleansing, Pitt moves on to serum. He skips the toner in favor of a hyaluronic acid serum that intensely hydrates and plumps out lines, giving skin a smooth, firm appearance. The great thing about serums is that they contain a high concentration of active ingredients, so they really penetrate deep into the skin–and they work hard.
Hyaluronic acid is an ingredient all skin types can benefit from. Whether you're dealing with dry skin, roughness, irritation, or fine lines and wrinkles, this potent humectant will leave skin visibly smoother and plumper. It's a daily staple in the Brad Pitt skincare routine.
Step 3: Apply a Day Cream
Next up: a lightweight moisturizer. Brad Pitt swears by day cream for keeping his skin soft and smooth. Plus, day creams are nice and light so they don't feel heavy or uncomfortable on the skin. 
Every skincare routine should include moisturizer. Not only does it make skin look and feel noticeably plump and supple, it also protects the skin's barrier to shield it from external aggressors. This, in turn, keeps skin young and healthy. Plus, it locks in hydration and all those nourishing ingredients from your serum so you can enjoy the benefits all day long.
Step 4: Apply a Night Cream
To combat dryness, Brad Pitt's nighttime skincare routine always includes night cream. Unlike day creams, night creams are rich and even more moisturizing. They're formulated with ingredients that help to replenish your skin while you sleep. 
If you want to try the Brad Pitt skincare routine for yourself, apply a thin layer of night cream after cleansing. Choose a product that contains hydrating emollients or humectants (or both) such as shea butter, coconut oil, hyaluronic acid, glycerin, and vitamin E. You'll wake up to radiant skin.
Step 5: Dab On Eye Serum
While this isn't always consistent in his routine, Brad Pitt has mentioned that he likes to apply a recharging eye cream before going to bed. He uses a formula that softens fine lines and targets dark shadows. 
Since the skin around the eye is extremely delicate, it's more susceptible to fine lines and dryness. You can combat these skin concerns by dabbing on a small amount of eye cream to your under eye area.
Brad Pitt Skincare Tips
The actor has admitted that he's only recently started taking his daily skincare regimen seriously. Aside from following the steps above, he does like to experiment with other products and skincare tools to keep his complexion looking fine.
In an interview with Glamour magazine, he revealed that he attributes his great skin to his long-time makeup artist friend Jean Black. 
"I have a makeup artist friend of 30 years who will always bring new stuff for healthy skin, with more of a skincare rather than a beauty focus like LED masks with red lights." 
Get Brad Pitt's Look
Want to steal Brad Pitt's sensational skin? Here are some routines you can try to achieve his ageless skin and youthful glow.
Vegan Collagen Booster Set
If you're looking to replicate the Brad Pitt skincare routine, look no further than Truly's Vegan Collagen Booster Set. This anti aging routine targets both the face and body with high-performance active ingredients such as retinol, vitamin C, and plant collagen booster. Together, they work to cleanse, resurface, plump, and hydrate for soft, supple skin all over. Whether you're looking to prevent or treat signs of aging, this bundle does it all.
Glass Skin Set
A 2-step routine that features a gentle cleansing balm and facial serum, developed to refine pores, clear acne, and combat signs of aging. No time for long, complicated skincare routines? You can achieve all your skin goals in just two easy (and luxurious) steps. 
Soothe Red Skin Routine
A three-step remedy for facial redness, sensitivity, and hyperpigmentation. This transformative skincare regimen utilizes the remarkable benefits of 24k gold, pomegranate extract, and hyaluronic acid to gently fortify your skin's protective barrier. Experience a soothing, cooling, and comforting sensation as your skin is nurtured back to its natural balance.
Brad Pitt's skincare routine is refreshingly simple. Instead of a dozen steps or more and expensive in-office treatments, the actor relies on a few basic steps to keep his skin looking youthful and radiant. To copy the Brad Pitt skincare routine, focus on the basics: cleanser, serum, moisturizer. And most importantly, be consistent. By using these products daily, you'll see a dramatic improvement in your skin within a few weeks.
Photo by Entertainment Weekly, YouTube
Share
---