Elsa Hosk Skincare Routine and Fave Products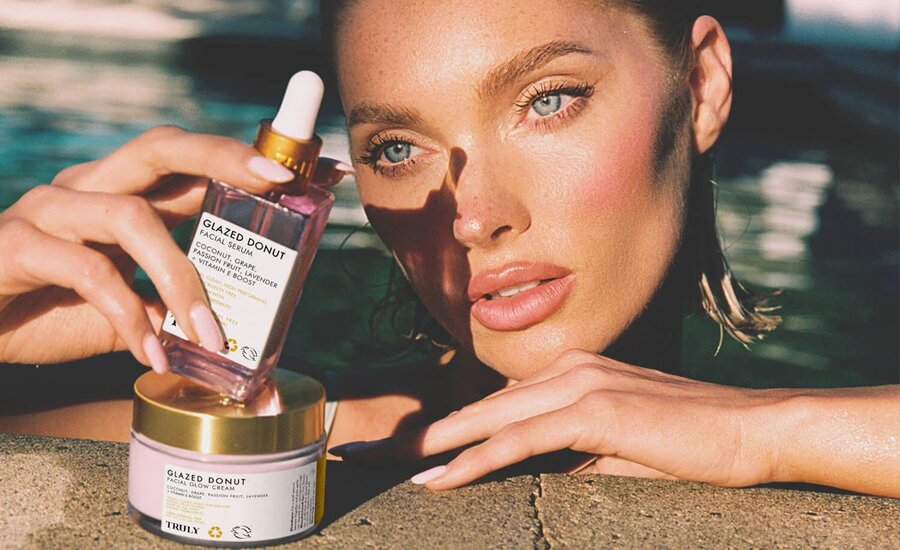 Get a glimpse into the Elsa Hosk skincare routine and achieve that supermodel glow!
The former Victoria's Secret Angel might look flawless on runways and Instagram (@hoskelsa) but she struggles with many of the same skin concerns as the rest of us. From cystic acne to discoloration and loss of elasticity, model Elsa Hosk knows the importance of a good skincare routine for keeping her complexion clear, firm, and fresh.
Want in on all the Swedish model's beauty secrets? Ahead, Elsa Hosk's skincare routine revealed including her fave products.
Elsa Hosk Skincare Routine and Secrets
She might be a world-famous supermodel and influencer but the Elsa Hosk beauty routine is by no means unattainable. Here's how she keeps her skin looking runway-ready.
She Keeps Her Skin Clear With a Gentle Cleanser
                Glass Skin Cleansing Balm
Angel Elsa Hosk isn't much different to the rest of us. She too deals with pesky breakouts and sometimes even cystic acne. For that reason, she consistently cleanses every day using a gentle cleanser to remove excess sebum and impurities. When she's wearing a lot of makeup, she'll double cleanse to make sure her skin is squeaky clean before going to bed.
Even models experience skin complaints like blemishes. The secret to staying clear is cleansing every day to keep pores decongested. If you're looking to replicate the Elsa Hosk model skincare routine always start and finish your day with a gentle cleanser.
She Stays Plump With Hydrating Serums
                  Glazed Donut Facial Serum
The second step in the Elsa Hosk skincare routine...hydration. She uses a selection of serums infused with powerhouse ingredients like hyaluronic acid and vitamin E which work to plump out lines, retain skin's moisture, and strengthen the skin barrier for that model-worthy glimmer.
Serums are the best skincare products for addressing specific skin concerns. Since they contain a high concentration of active ingredients, they penetrate deep into the skin, combating specific skin complaints such as dryness, acne, or discoloration. Plus, they're incredibly light. So, if you don't like thick creams and lotions, serums are a great alternative.
She Maintains Her Glow With an Antioxidant-Rich Moisturizer
        Glazed Donut Facial Glow Cream
Another of Elsa Hosk's fave beauty products: Moisturizer. To seal in all the goodness from her serums and lock in hydration, she applies a thin layer of face cream infused with antioxidants.
Antioxidants like vitamin A, C, and E work wonders for the skin. In addition to imparting a radiant glow, they also help to defend the skin against external aggressors like the sun and pollution. In other words, they keep your skin young and glowing.
In the Elsa Hosk skincare routine you'll always find a nourishing moisturizer. She swears by it for keeping her skin fresh and radiant—both in her daytime and nighttime skincare routine.
She Loves a Good Face Mask
Like most models, Elsa Hosk swears by a good face mask. She particularly loves face masks that contain natural, healthy ingredients. The former Victoria's Secret model has openly spoke about her struggles with acne, discoloration, and loss of elasticity. She uses face masks that address these issues—with ingredients like niacinamide, glycerin, hyaluronic acid, and antioxidants.
She Stays Smooth and Supple With SPF 50
Sunscreen plays an important role in the Elsa Hosk skincare routine. In fact, it's every model's secret weapon for keeping their skin bright and youthful.
According to Elsa, she didn't take sunscreen application as seriously when she was living in New York because she wasn't out in the sun all the time. Since living in California, she applies SPF 50 daily to protect her skin from damaging UV rays. Dermatologists say sun exposure is the leading cause of skin aging so slathering on the sunscreen is a worthy investment in your skin's health.
However, it's not just important to wear sunscreen. You've gotta use a good one. When the model found out how much toxic stuff is in your average sunscreen, she searched high and low for a product labeled as safe. Do your research!
She Plumps Her Pout With Nourishing Lip Balms
That iconic pout. Elsa Hosk's secret to luscious lips is layering on hydrating lip products. Whether it be a lip balm, oil, or serum, she swears by a lip care routine that plumps from within. Most importantly, she uses them daily. From summer through to winter, your lips are always prone to dryness which is why it's essential to inject some moisture into them.
Elsa Hosk's fave lip products contain ingredients like shea butter, jojoba oil, avocado oil, and vitamin E. All ultra-hydrating natural ingredients that soften, smooth, and naturally volumize your pout.
She Combats Breakouts With Spot Treatments
The final step in the Elsa Hosk skincare routine is targeting breakouts. She's openly admitted that she doesn't have perfect skin and struggles a lot with pimples. To combat stubborn breakouts, she uses a spot treatment whenever a zit pops up.
Her fave formula is made up with a lineup of soothing, acne-fighting ingredients such as zinc, tea tree oil, niacinamide, and jojoba oil. With their antibacterial, anti-inflammatory, and sebum-balancing properties, it's the perfect combination for combating pimples.
She Starts With Skincare, Finishes With Makeup
Elsa Hosk knows the secret to a flawless makeup look: good skin! That's why she always preps her skin before starting her makeup routine. The model starts with a cleanser followed by a serum and moisturizer before applying foundation, concealer, eyeliner, and lip color. And this is how you get that Elsa Hosk no makeup makeup look. Because she always looks naturally glowing!
She Never Sleeps in Makeup
Since acne has always been an issue for Elsa Hosk, she always makes sure she washes away the day's makeup before going to bed. Wearing makeup to bed gives it chance to clog the pores while you sleep, resulting in blemishes.
The best thing you can do for your skin is always cleanse your face before bed. Whether or not you're wearing makeup, cleansing removes the day's dirt, oils, and impurities and gives your skin chance to rejuvenate over night.
She Stays Away From Dairy
When it comes to Elsa Hosk skincare routine it's not just about what you apply to your skin—but how you treat your skin from the inside. Elsa believes what you eat has a real impact on your skin. What does Elsa Hosk eat? She says she tries to eat super healthy and stays away from dairy.
Some studies suggest that drinking cow's milk may be linked to an increase in acne breakouts. And many people see a visible improvement in their skin once they eliminate dairy from their diet.
Shop Elsa Hosk's Skincare Routine
Truly x Elsa Hosk
Glazed Donut x Glass Skin Skincare Set
We've partnered with model and influencer Elsa Hosk to bring you a clean, vegan, fragrance-free skincare routine to get you clear, smooth, and glowing like a supermodel. This revolutionary new set combines our iconic Glazed Donut + Glass Skin lines for the dewy skin of your dreams. We love it. Elsa loves it. You'll love it!
Now you know the Elsa Hosk skincare routine and her fave skincare products, it's time to get your supermodel glow on!
Image Credits:
Whoopsee YouTube
FashionTV YouTube
Passionforfashion YouTube
TheAngels YouTube
Share
---