Enjoy a Couples Pamper Session this Eve (With Skincare!)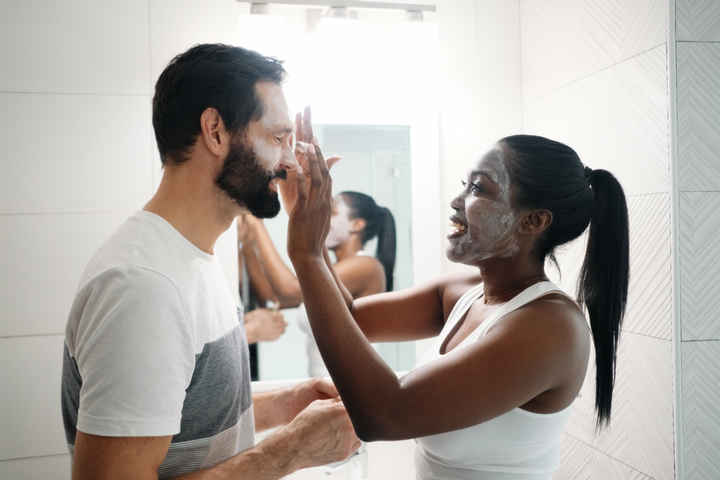 Have you and your other half been up to your eyeballs lately in work? If late nights and early mornings have become deeply ingrained in your daily routine, it's time to set aside some quality time to reconnect – and relax. And what better way to do that than with a joint home spa experience?
Light some candles, switch on some sexy jams, slip into something comfy, and simply...unwind.
Show bae how much you adore him by stocking up on these pampering essentials the both of you can enjoy – and your skin will appreciate!
DATE NIGHT SURVIVAL KIT
Who says skincare isn't sexy??? It SO IS!!!
Start your spa night by getting silky smooth. Smooth, exfoliated skin absorbs skincare products better. By making shaving and exfoliation your first step, your face masks, serums, and lotions will instantly work 10x harder.
The Date Night Bundle features a lineup of six Truly faves to grant you smooth, perky, sultry skin. It includes Buns of Glowry Smooth Butt Polish, Acai Your Boobies Lifting Boob Polish, 24k Gold Black Soap, Coco Cloud Shave Butter, Super Heart Patches, and Coco Rose Fudge Butter, complete with a gold spoon. 
Cleanse with: 24k Gold Black Soap Body Wash.
Buff away dead skin cells with: the two body scrubs (aka, polishes).
Prep your skin for shaving with: Coco Cloud Shave Butter.
Seal in hours of dreamy softness with: Coco Rose Fudge Butter Moisturizer. 
Treat active breakouts with: Super Heart Patches.
Retinol in both Buns of Glowry Butt Polish and Acai Your Boobies Boob Polish help boost collagen levels to perk up your skin and improve overall texture. Coco Rose Fudge Butter delivers full-body hydration, while reducing the likelihood of razor bumps and burns caused by shaving. The end result? Head-to-toe hotness! 
Get the Date Night Survival Kit.
MAN'S SHAVE KIT
Give your guy the gift of a great shave! Because honestly, it's time his razor and shaving cream routine got an upgrade.
The Man's Shave Kit features 24k Gold Black Soap Impurity Cleanser, Coco Cloud Whipped Luxury Shave Butter, Glass Skin Facial Serum, and Black Jelly Blemish Treatment Body Serum, all working in harmony to deliver an ultra-smooth shave. You won't be able to keep your hands off!
Cleanse with: 24k Gold Black Soap Body Wash.
Prep skin for shaving with: Coco Cloud Shave Butter.
Secure hours of soft to the touch skin with: Glass Skin Facial Serum.
Fade blemishes with: Black Jelly Blemish Treatment Body Serum.
Using soothing ingredients like aloe and tea tree with hydrating powerhouses like argan oil and coconut, these products promise a truly delightful shave. These products are suitable for all skin types.
Get the Man's Shave Kit here.
3-IN-1 BUNDLE
Why not treat your guy to a generously long body massage using two of the products featured in Truly's 3-in-1 Bundle: Moon Rocks Whipped Body Scrub and Vegan Collagen Body Polish. Besides the feel-good aspect, these products contain active ingredients like retinol, hyaluronic acid, and glycolic acid to help retain and restore youth. 
They're definitely worth incorporating in his skincare routine. The bundle also includes Truly's Pimple Party Pack to detox the skin of impurities and blemishes.
Exfoliate skin with: Moon Rocks Whipped Body Scrub.
Buff away signs of aging with: Vegan Collagen Body Polish.
Diminish breakouts with: Pimple Party Pack.
Together, these beauty products work to improve the appearance and texture of skin. 
Get the 3-in-1 Bundle here.
BODNE BUNDLE
Did you know that men have oilier skin than women? Yup, that's cos he's pumping with testosterone. 
The Bodne Bundle aims to diminish excess oil, zap away zits, and speed up the healing process of active breakouts via four phenomenal products: Cherry Jelly Cleanser, Tansy Water Mist, Dragon Milk Lotion, and Pimple Party Pack. 
Cleanse away dirt and oil with: Cherry Jelly Cleanser.
Spritz away acne-causing bacteria with: Tansy Water Mist.
Hydrate and heal with: Dragon Milk Body Lotion.
Treat active breakouts with: Pimple Party Pack.
Salicylic acid in Cherry Jelly and Tansy Water helps dissolve excess oil, decongesting pores, and swerving breakouts. 
Get the Bodne Bundle here.
MORE SPA DAY INSPIRATION
Wondering what other spa treatments you can enjoy together at home? Here are some suggestions.
DIY mani-pedis: give one another a manicure and pedicure or better yet, hire professionals to come to your home and do it for you. It'll feel super relaxing and indulgent. Plus, you'll have plenty of time to catch up. 
Sheet masks: a great way to take care of your skin and unwind at the same time is with a sheet mask. Simply drape it over your face and relax. Feel free to catch up on your favorite Netflix series while you let the mask work its wonders.
Eye masks: they're just as enjoyable, and equally as beneficial for your skin. Applying eye masks is a great way to practice self-care with your other half while warding off fine lines, dark circles, and puffiness.
Bath time: who doesn't love a super sudsy bath? What's more, it's completely romantic when sharing the experience with your partner. Bring your bath to new levels by dropping in bath salts and essential oils like eucalyptus for a truly soothing experience. You and bae can quite literally soak away your stresses with this popular wellness practice.
Calming beverage: finish your wonderful, laid-back evening with a calming cup of green tea in the living room with your feet up. Use this time to enjoy conversation with your partner and talk about how you really need to do this waaay more often!
It's been a hectic couple of years. We all need time to adjust to our new world and the traumatic events that have happened since the pandemic arrived. That includes you, couples!
Whether you've been apart for months or together 24/7, it's never a bad idea to find time to reconnect and doing something nice together. 
We truly hope these couples pamper session ideas will put you in the mood to chillax with bae while indulging in a few few skincare treats! And enjoying the skincare benefits that accompany! 
Share
---