Glass Skin Set is Coming: Pre-Order Before it Sells Out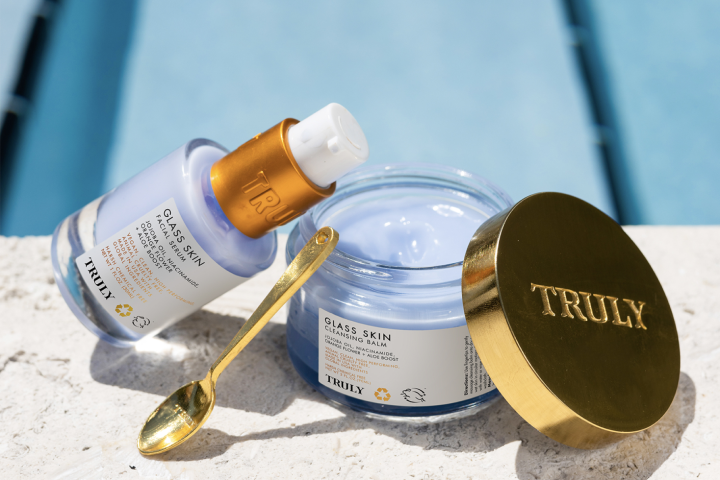 You asked. We listened. Thousands of requests later, Truly's Glass Skin Set is ready to pre-order.
Are you longing to achieve the coveted glass skin look? Now you can — in two easy steps! The Glass Skin Set features our first ever 2-in-1 cleanser and makeup remover + a pump bottle serum designed to clean deep, unclog pores, and refine pores while preventing future blemishes.
Here's everything you should you know about Truly's hottest new launch.
Glass Skin Set: Your Shortcut to Poreless Skin
Inspired by the K-beauty trend, our Glass Skin Set is your streamlined routine for achieving poreless, radiant skin. Instead of the traditional 12 step glass skin routine, this skincare routine gets you clear and dewy in just two simple steps.
Inside, you'll find our Glass Skin Cleansing Balm + Glass Skin Facial Serum, two uber-gentle yet effective skincare products that intensely cleanse, nourish, and hydrate while balancing oily complexions. Whether you've got dry skin, sensitive skin, combination skin, or oily skin, these formulas benefit all skin types.
Lucky for you, you can pre-order the Glass Skin Set now. Just don't wait too long! It's destined to sell out fast!
Glass Skin Cleansing Balm
Our first-ever 2-in-1 cleanser and makeup remover balm, the Glass Skin Cleansing Balm is designed to deeply penetrate pores and lift away the day's sebum, gunk, and makeup, revealing a clear, poreless, and glowing complexion.
Infused with oil-balancing jojoba oil and brightening orange flower, along with a hydrating blend of niacinamide, shea butter, and aloe, our double cleansing balm not only cleanses and melts away makeup, but also effectively targets blackheads and blemishes. It's gentle enough for sensitive skin, provides surplus hydration for dry skin, and offers plenty of sebum-curbing power for oily skin.
Plus, if you're not a fan of cleansing oils because you don't like the greasy feel, Glass Skin Cleanser deep cleans without leaving you oily.
In a nutshell:
✓ 2-in-1 cleanser + makeup remover
✓ Targets large pores, blackheads, and blemishes
✓ Supports a healthy skin barrier
✓ Suitable for all skin types
✓ Gentle + fragrance-free
Glass Skin Facial Serum
Our Glass Skin Facial Serum boasts better-than-filter effects in a bottle. Formulated with a special blend of jojoba oil, niacinamide, and probiotics, the glass skin refining serum works to strengthen the skin barrier, balance moisture levels, curb excess oiliness, and minimize the appearance of pores.
Lightweight and fragrance-free, Glass Skin Face Serum melts into skin immediately, delivering a superior level of nourishment and hydration to skin for a gorgeous, glinting finish.
In a nutshell:
✓ Lightweight, non-greasy facial serum
✓ Targets dryness, dullness, large pores, and blemishes
✓ Supports a healthy skin barrier
✓ Suitable for all skin types
✓ Gentle + fragrance-free
Why it Works
The Glass Skin Set was developed to give you the ultimate glass skin experience. Each product is formulated with high-quality, skin-loving ingredients that work together to give you a smooth, radiant, and poreless complexion while preventing future breakouts. From nourishing oils to powerful antioxidants, each ingredient is carefully selected to help you achieve the perfect glass skin look.
These new products tackle a slew of skin concerns ranging from dullness to dryness, large pores to blackheads, dark spots, and hyperpigmentation. Plus, they're guaranteed to leave skin feeling silky smooth after the very first use. We're confident our Glass Skin Set will become an instant best seller!
How to Use it
Glass Skin Cleansing Balm: Gently massage a small amount of cleansing balm onto dry or wet skin using circular motions. Rinse off or wipe away with a damp washcloth. For best results, use 2x daily.



Glass Skin Facial Serum: Apply a couple of pumps of serum to cleansed skin. Massage into skin and allow to absorb for a few minutes before applying moisturizer and sunscreen SPF 30. Use both day and night. For best results, use 2x daily.
So Many Ways to Use it
Try these sub-routines to tackle dryness, dullness, large pores, blackheads, blemishes, and meh makeup.
The Makeup-Melting Quicky: Massage a little Glass Skin Cleansing Balm into skin using circular motions to dissolve makeup + rinse off.

The Glow-and-Go Routine: Pat into a few drops of Glass Skin Facial Serum to matte-ify oily skin while unlocking your natural glow.

The Filter-Effect Makeup Routine: Glass Skin Cleansing Balm + Glass Skin Facial Serum + your fave foundation, concealer, and highlighter.

The Better Foundation Formula: Mix a drop of Glass Skin Facial Serum + your fave foundation to boost your dewiness.
FREE Blue Pouch
You know us. We always love to add in a surprise gift with your Truly Beauty hauls. Our Glass Skin Set comes with a complimentary Truly Blue Pouch + Gold Spoon. Pack up your skincare goodies in this super cute and pretty pouch, enhance your vanity with this chic accessory, and scoop out your fav products without transferring germs using the adorable spoon!
Pre-Order Today
Save yourself the 12 steps of the traditional Korean skincare routine, and get the same effects with our 2-Step Glass Skin Set. We're giving you the chance to get first grabs on our Glass Skin elixirs. Pre-order today to secure your set before it sells out!
Pre-Order Now
While you're waiting for the Glass Skin goodies to arrive, browse our full range of face + body formulas ranging from hyaluronic acid-based serums to firming butters, vitamin C masks, resurfacing toners and exfoliators, and all the travel-size faves! Our products treat everything from fine lines to acne, sagging, and hyperpigmentation. You may even get a surprise gift when you checkout!
While our formulas are clean, vegan, and sulfate- + paraben-free, you may want to consult a dermatologist before using if you have a skin condition.
Share
---