Gwyneth Paltrow Skincare Routine and Tips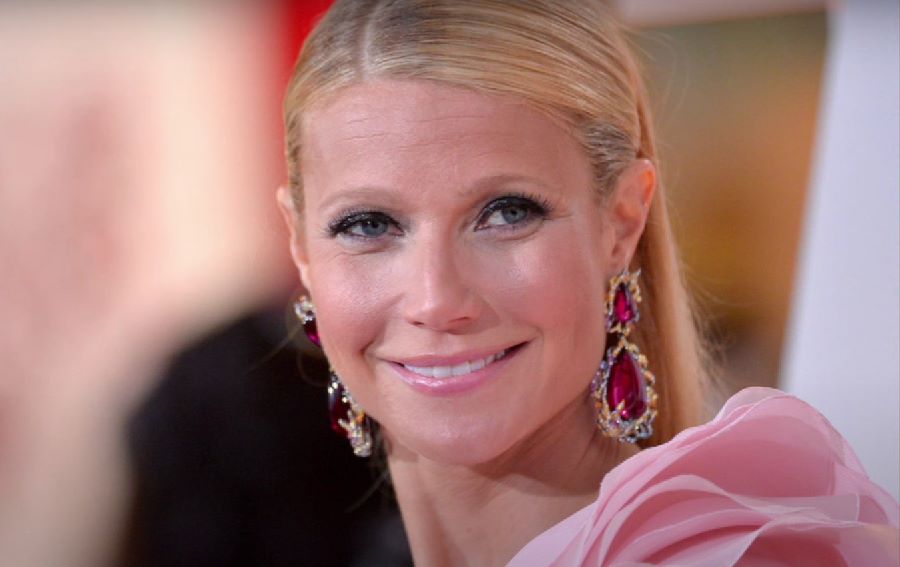 Discover the Gwyneth Paltrow skincare routine and what she does to maintain her youthful, radiant complexion. At 51, there's no doubt about it: Gwyneth's skin is pretty much flawless. In fact, it can easily be compared to that of someone in their late 20s or 30s. 
But what is Gwyneth Paltrow's daily routine and how does she keep her skin looking decades younger? Here's the full Gwyneth Paltrow skincare routine you can try at home. 
Gwyneth Paltrow Skincare Routine

If you've been googling "what skin products does Gwyneth Paltrow use?" or other questions along those lines, you'll be happy to hear that we've done the research for you. After thorough investigation, here's exactly what Gwyneth Paltrow uses on her skin. Below, her step-by-step skincare routine. 
Step 1: Cleanse + Exfoliate
Gwyneth Paltrow likes to start off her morning skincare routine with a deep and invigorating cleanse. What does Gwyneth Paltrow wash her face with? She loves the exfoliating cleanser from her own line. It's formulated with fruit enzymes and physical orange peel exfoliants to gently remove dead cells and impurities without stripping.
Besides unclogging pores and preventing blemishes, daily cleansing ensures your other skincare products perform their best. That's because active ingredients can better penetrate fresh, clean skin. 
Step 2: Toner
Next up in the Gwyneth Paltrow skincare routine: toner. Directly after cleansing, she smooths on a toner infused with flower acids to remove dead cells and soften the skin. The formula she uses is ultra-gentle so it doesn't irritate her skin. 
Toning the skin isn't as imperative as cleansing and moisturizing. However, it can provide a number of benefits such as further cleansing the skin as well as hydrating and soothing the complexion. 
Step 3: Vitamin C + Hyaluronic Acid Serum
After toning, Gwyneth Paltrow applies a thin layer of vitamin C and hyaluronic acid serum to achieve that youthful glow she's known for. Together, vitamin C and hyaluronic acid work to brighten, hydrate, fade hyperpigmentation, and plump out lines while leaving skin feeling smooth and supple.
Vitamin C is a powerful antioxidant known for its ability to fend off free radicals, protect the skin, and improve skin tone. Hyaluronic acid is a powerhouse humectant that draws and seals in moisture while spurring collagen production for a plump, hydrated complexion. Together, they're the dream team for glowing, Hollywood-worthy skin.
Step 4: Eye Cream
Another fundamental step in the Gwyneth Paltrow skincare routine: eye cream. She can't live without it. Her fave formula helps to soften wrinkles as well as reduce puffiness and dark circles. She says it's her secret weapon for keeping her peepers bright and alert. 
Like toner, eye cream isn't essential, but it can work wonders for those dealing with dark circles, puffiness, or crow's feet. Plus, it functions as a preventative step to ward off these skin concerns. If you find yourself regularly patting on the concealer, eye cream might just be your holy grail product for brightening up your peepers.
Step 5: Face Cream
Gwyneth Paltrow never skips moisturizer. And it's the secret to her gorgeously gleaming skin. What moisturizer does Gwyneth Paltrow use? Her daily go-to is the face cream from Goop. It features a nourishing blend of ceramides, squalane, and illipe butter to leave skin soft, supple, firm, and even-toned. 
Face cream, or moisturizing in general, is essential not just for softening and smoothing the skin, but bolstering skin barrier function. It protects the skin against external aggressors responsible for dryness, redness, and irritation. Just make sure you choose a lightweight, non-comedogenic product if you have oily or acne-prone skin. Alternatively, hydrating serums are an excellent option if you prefer something lighter. 
Step 6: Mineral Sunscreen 
Gwyneth Paltrow's skincare routine wouldn't be complete without a generous dose of mineral sunscreen. The actress and businesswoman knows the importance of protecting her skin from harmful UV rays and pollution. That's why she never skips sunscreen. And not just any sunscreen. Gwyneth only uses mineral sunscreen which she insists is healthier and more beneficial than chemical sunscreens.
Since sun exposure is one of the leading culprits of premature aging, daily use of SPF 30 or higher is one of the best steps you can take to keep skin young and healthy. 
Shop Gwyneth Paltrow's Skincare Routine for Less
Want to steal Gwyneth's iconic youthful glow? Choose from one of these bundles below to get her look for less.
Glass Skin Set
Better than your selfie filter. Glass Skin Set is a 2-step pore refining routine featuring a cleansing balm and serum infused with jojoba oil, niacinamide, and probiotics. Togethey, they help to balance, protect, and deeply hydrate the skin for a fresh, glistening, and poreless complexion. 
Vegan Collagen Booster Set
Firm up, smooth away fine lines with this 5-step anti-aging routine. Formulated with retinol, vitamin C, and plant collagen booster to restore skin's elasticity, soften lines, and fade discoloration. It also comes with a free cosmetics trunk to store your skincare in style.
Honey Buns Tightening Mask + Serum Set 
Show your body a little love with this indulgent 2-step body tightening treatment. Enriched with agave nectar, sea buckthorn fruit oil, and echinacea, these delicious formulas melt into the skin, smoothing out lines and sculpting sag. 
Gwyneth Paltrow Skincare Tips
Ahead, some of Gwyneth's favorite beauty treatments and top tips for staying irresistibly smooth. 
Exfoliating Peels
Gwyneth Paltrow loves to exfoliate. She's mentioned that many times in interviews. In addition to using her daily exfoliating cleanser, she uses the occasional exfoliating peel mask to brighten up her complexion. The product she uses contains glycolic acid and fruit extracts to buff away dead cells and buildup to reveal fresh, glimmering skin. 
Dry Body Brushing
The secret to Gwyneth's fabulous physique? Besides cardio and yoga, the Goop founder turns to dry body brushing to stay firm. She highly recommends it for boosting the circulatory and lymphatic system, which helps to remove toxins. Dry brushing is great for the skin in that it improves the appearance of cellulite while sculpting the skin and leaving it with a nice, healthy glow.
Face Rollers
Another key step in the Gwyneth Paltrow skincare routine: face rollers. While she's letting her eye masks soak in, Gwyneth likes to roll a vibrating face roller across her face. 
Face rollers offer a number of benefits for the skin. For starters, they enhance circulation, which promotes a glowing complexion and may reduce puffiness by aiding lymphatic drainage. Face rollers can enhance the absorption of skincare products, making them more effective. With regular use, they may also help to improve skin tone and firmness, potentially reducing the appearance of fine lines. 
The Gwyneth Paltrow skincare routine is easy to replicate, and even easier with the bundles featured above. You can get an A-lister, Paltrow-worthy glow in just five steps or less.
Photos by ScreenSlam, YouTube; MaximoTV, YouTube; The Crown Royal Fashion & Celebrity Fashion, YouTube
Share
---