Hailey Bieber Skincare Routine and Tips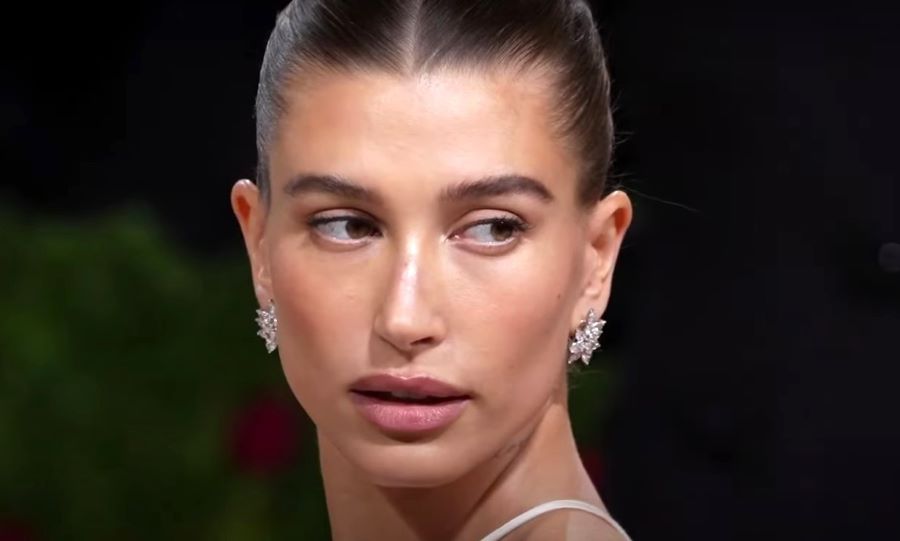 It's no secret Hailey Bieber has really good skin, but what are the Hailey Bieber skincare secrets that get her skin so dewy and glowy?
As the founder of skincare brand Rhode, the 26-year-old takes a scientific approach to skincare and isn't afraid to experiment with different formulas and even tools to get her skin in tip top shape. She relies on multiple products and brands–including her own–to achieve that iconic glazed glow. 
Ahead, the full Hailey Bieber skincare routine you can try at home to get gorgeously glistening skin. 
Hailey Bieber Skincare Routine 
What skin care does Hailey Bieber use? How does Hailey Bieber have such good skin? You've no doubt googled these questions in your quest to get Hailey's luminous skin—everyone else has! Here's the full Hailey Bieber skincare routine 2023.
1. Cleanser
Interestingly, Hailey Bieber usually just rinses her face with water in the morning before proceeding with the other steps in her routine. However, she never skips the evening cleanse. All that buildup of dirt, oil, and grime (plus, makeup if you're wearing it) that have accumulated throughout the day needs to be washed away thoroughly to avoid clogging your pores and triggering breakouts.
Hailey Bieber knows cleansing is fundamental. That's why she commits to it daily. As for what face wash does Hailey Bieber use, she doesn't seem to have one set fave. She tends to use a variation of different cleansers. One thing they've all got in common? Besides deeply cleansing the skin of impurities, they all hydrate the skin so you're not left dry and itchy. 
2. Glazing Milk
Step two in the Hailey Bieber skincare routine: Rhode Glazing Milk. It's basically a nutrient-rich essence infused with niacinamide and peptides to boost barrier function and provide intense hydration. The end result? Dewy, radiant skin. 
3. Botanical Serum
One of Hailey Bieber's favorite serums is chock full of skin-loving vitamins, minerals, and antioxidants. Her go-to botanical serum contains everything from avocado to grapeseed and evening primrose oil to lavender and tamanu. Together, these botanicals help to nourish, soothe, balance, and revitalize the skin for a fresh, youthful complexion.
Plant-powered skincare is great for supplying the skin with nutrients. Plus, it absorbs easily into the skin, maximizing the benefits.
4. Intensive Moisturizer
Another key step in the Hailey Bieber skincare routine: moisturizer. Moisturizer is crucial for skin health, offering barrier repair and protection. The skin's outer layer, the stratum corneum, shields against external factors but can be damaged by various stressors. Moisturizers with ceramides and fatty acids aid in repairing and strengthening this barrier, enhancing moisture retention and fortifying the skin's defenses. 
What moisturizer does Hailey Bieber use? Her favorite contains a nourishing blend of shea butter, peptides, and niacinamide. All of which help to lock in moisture, soften skin, and leave it feeling soothed and restored.
5. SPF 40
The final step in the Hailey Bieber skin care routine: sunscreen–and plenty of it. She has a handful of favorite sunscreens, all with SPF 40 for maximum protection against skin-harming UV rays. 
Since UV rays contribute to premature signs of aging such as fine lines and hyperpigmentation, wearing SPF on a daily basis keeps your skin young, vibrant, and healthy. It really is one of the best preventative steps you can take to maintain radiant skin.
Get Hailey Bieber's Glazed Donut Look
                  Ultimate Glazed Donut Skin Set
Steal Hailey's sheeny, shimmering skin with Truly's Ultimate Glazed Donut Skin Set. A 3-step routine guaranteed to give you the glazed donut look from head to toe. It features the Glazed Donut Facial Serum, Facial Cream, and Body Oil to drench skin in deep hydration for an instant all-over glow. 
And the benefits don't stop there. Mix a drop of Glazed Donut Facial Serum with your fave liquid foundation for an even dewier makeup look. 
Hailey Bieber Skincare Tips
Now you know what an average day looks like, skincare-wise, for Hailey Bieber, here are some tips she swears by for getting and maintaining her iconic glow.
Go to Bed Looking Like a Glazed Donut
Hailey Bieber once said, "I want to look like a glazed donut before I go to bed." And by the time she's layered on her essences, serums, creams, and oils, she really does resemble a gorgeously glazed, yummy sweet treat. 
The secret is injecting your skin with as much moisture as possible. The more hydration, the better. And there's no better time to layer on all your best skincare products than at night–the time when skin repairs itself and when products best penetrate the skin. By the next morning, you'll wake up to sheeny, dreamy, glistening skin.
                      Glazed Donut Skin Set
Truly's Glazed Donut Skin Set features a facial serum and cream enriched with coconut, grape seed oil, and vitamin E. Lightweight, non-greasy, and perfect for getting an instant glow.
Trust in Tretinoin
Hailey Bieber attributes her radiant complexion to her skincare regimen and a cherished topical treatment, tretinoin. She believes tretinoin provides a natural radiance, even without makeup, and has noticed a significant improvement since incorporating it into her routine. 
Tretinoin is a prescription retinoid derived from vitamin A. It treats acne and improves skin tone by increasing cell turnover and unclogging pores. Dermatologists say it can also stimulate collagen production, thus reducing the appearance of fine lines and wrinkles.
                  Vegan Collagen Booster Set
Truly's Vegan Collagen Booster Set features five face and body formulas powered by retinol, vitamin C, and plant collagen booster to combat fine lines, acne, hyperpigmentation, and sagging skin.
Choose Serums with Hyaluronic Acid and Niacinamide
What serum does Hailey Bieber use? She uses not one, not two, but multiple different serums to get her skin looking clear and dewy. She especially favors serums formulated with powerhouse ingredients like hyaluronic acid, niacinamide, vitamin C, and peptides. 
Why those ingredients? All four offer a slew of benefits including hydrating the skin, plumping out lines, brightening skin, soothing irritation, and fading discoloration. 
                         Glass Skin Set
Truly's Glass Skin Set is a 2-step pore-refining routine that harnesses the hydrating powers of niacinamide and jojoba oil to leave skin smoother, clearer, and poreless. 
Patch Up Your Pimples
Believe it or not, Hailey Bieber picks her pimples too. And just a heads up, that's not a skincare tip to follow! Being the skincare junkie she is, she knows it's a bad habit which is why she's found the perfect solution: pimple patches. Besides healing active breakouts, pimple patches stop you from touching, picking, and prodding at your pimples.
Acne patches, as they're also known, contain hydrocolloid that absorbs impurities while speeding up healing. These patches are super useful when you're dealing with a freshly formed or popped pimple. Best of all, they can help make that stubborn zit disappear overnight.
  #Heart Your Imperfections Blemish Patches
Truly's #Heart Your Imperfections Patches are a cute way to cover up your blemishes while helping them heal in as little as six hours. Made with hydrocolloid to suck out all the gunk and help your pimples heal while protecting against picking fingers.
Ready to get that glimmering glow a la Hailey Bieber? Try the Hailey Bieber skincare routine and stock up on Truly's Glazed Donut skincare goodies to shortcut your way to dewy radiance.
Watch our Glazed Donut Skin tutorial:
Feature image courtesy of: Harper's Bazaar UK, YouTube
Share
---