How to Get Him to Wear SPF (Since Most Men Skip it!)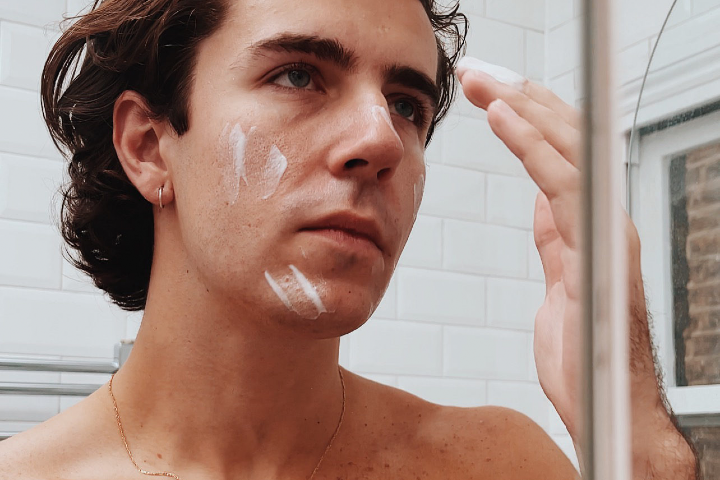 According to research, skin cancer rates are rising in young men. Sunscreen use, unfortunately, is not.
Truth be told, men generally aren't that great about sun protection. Reports show that only about 14 percent of men use sunscreen when going outside. Dermatologists agree that every skincare routine calls for broad-spectrum sunscreen of at least SPF 30 every day. If you've got very fair skin, you'll need SPF 50 for maximum UV protection.
When you wear sunscreen, you instantly protect your skin from issues like dark spots, photoaging, and even skin cancer. Guys certainly have a lot to gain from slathering their skin in sun lotion.
Wondering how to convince him? Let us lend a helping hand...
Tell Him: Melanoma is Increasing in Men
New research indicates a surge in melanoma cases among men aged between 15 and 39. According to the study, men are more susceptible to developing melanoma due to elevated levels of testosterone in the blood.
"Over the past several years, we have noticed a large increase in the number of skin cancers in men," says Benjamin Talei, board-certified facial plastic surgeon at Beverly Hills Center.
He explains, "Basal cell carcinomas are very common, and they are becoming increasingly found with better surveillance on our patients. But the scarier type of skin cancer is melanoma, and rates have also increased." 
Melanoma can be attributed to ultraviolet sun exposure. Daily use of sunscreen reduces the risk of developing melanoma by 50 percent.
In other words, getting your guy to start wearing sunblock every day will greatly reduce his risk of skin cancer. Meaning you get to enjoy a longer life together! Yay! 
Inform Him: UV Rays Are Always Present
Sunny days call for a generous slathering of sunscreen, as do cloudy days. It's a common misconception that you don't need to wear SPF when it's not sunny outside. You do!
That's because the sun's rays are always present, meaning you'll still be just as susceptible to sun damage on dull days as you would be on sunny days. Unlike UVB rays, UVA rays can reach your skin through clouds and even glass.  
So the next time your guy refuses to wear sun protection, inform him why he must, and make sure he layers it on any exposed skin -- going from his face down to his ankles. He can get away with using SPF 15 if he's only popping out for 10 minutes or so. 
Remind Him: Wearing Sunscreen is SEXY
It's sexy because he'll stay looking young and healthy for waaaay longer. Plus, he won't end up with painful sunburn that leaves him looking lobster-red for days. 
In order to convince your other half to wear sunscreen, remind him how SPF wards of signs of skin aging such as fine lines, wrinkles, and sagging. 
When ultraviolet rays from the sun penetrate into the skin, they damage the elastic fibers that keep it firm and youthful, enabling fine lines and wrinkles to develop. 
In addition to slathering on sun protection factor 30, remind him he can also protect himself further by wearing a wide-brimmed hat and protective clothing. 
Find: A Lightweight, Non-Greasy Formula 
Guys, much like us gals, hate the idea of feeling icky sticky after sunscreen. In fact, it's one of the most common reasons men skip SPF -- because they think all formulations come that way. 
Look for a lightweight, non-greasy chemical sunscreen or physical sunscreen. If he's got acne-prone skin, search for one made with zinc oxide, which prevents breakouts. The only downside to this, is it leaves a white cast on your skin.
Steer clear of cream formulations that leave an unpleasant residue on the skin. Opt for an oil-free, non-heavy liquid, gel, or spray sunscreen. If he spends a lot of time in the water, make sure you choose a water-resistant formula. 
He'll definitely appreciate your thoughtfulness. And the fact that he doesn't have to suffer the icky stick.  
Keep a Bottle: Near His Stuff
One of the best ways to get your guy to habitually start applying sunscreen every day is to help him make it a habit. 
While most men don't have such intensive grooming routines as women, they usually still have some habits that are second nature, like washing their face and brushing their teeth in the morning. Take advantage of his daily morning habits to integrate a new habit: sunscreen application.  
Every time he washes his face or brushes his teeth in the morning, make sure there's a bottle of SPF within reach that he can apply before going outside. He only needs a shot glass amount to cover his bod.
He can also integrate applying sunscreen with habits he does right before leaving the house. Park a bottle of sunscreen near his shoes or sunglasses, so he can apply some sun protection right before he heads outdoors. 
It might sound simple, but it's extremely effective in helping him develop skin-healthy habits. He'll thank you for it -- or at least, his skin will anyway!
Treat Him to: Some Skincare Goodies 
To show your guy how proud you are, treat him to a few skincare goodies of his own. Skin, it seems, really does have a gender. So your guy's skin will benefit no end when he starts using products designed especially for men and their skin type.
We recommend treating him to Truly's brand new men's skincare product line, which features:
The Man's Shave Kit
24k Gold Black Soap Impurity Cleanser
Glass Skin Facial Serum
Black Jelly Blemish Treatment Body Serum
Coco Cloud Whipped Luxury Shave Butter
The 3-in-1 Bundle
Moon Rocks Whipped Body Scrub
Vegan Collagen Body Polish
Pimple Party Pack

Bodne Bundle
Cherry Jelly Cleanser
Tansy Water Mist
Dragon Milk Body

Moisturizer

Pimple Party Pack
While the sun is great in small doses as it boosts his vitamin D levels and ultimately his immune system and overall skin health, too much of it can have devastating consequences for his complexion. 
Since men generally don't use sunscreen as consistently as women do, that leaves them vulnerable to everything from premature aging to skin cancer. 
By informing him of the sun's dangers and the importance of sun protection, you can help protect your other half's skin and potentially extend his lifeline. He's gotta love you for that!
Speak to a dermatology professional if your guy is experiencing skin issues like dark patches, itching, or sensitive skin. 
Share
---