IN LOVE WITH: Truly's LTD Edition Valentine's Day Beauty Bundle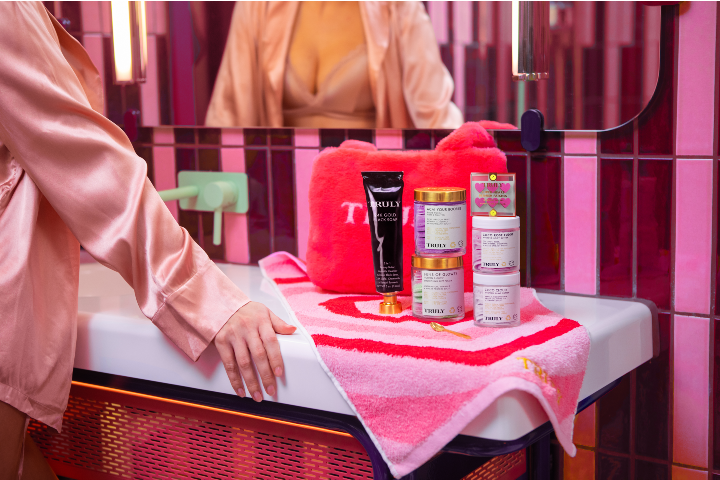 Still looking for the perfect valentine's day gift for that special someone in your life? Or are you just trying to look extra hot on the day? Maybe you're simply seeking a self-care moment to celebrate your single (and sunny!) life!
Either way...our LIMITED EDITION Valentine's Day Bundle just hit the shelves -- and we couldn't be more excited!!!
Our V-Day Bundle features a lineup of six full-size Truly bestsellers to keep you smooth, perky, and rendezvous-ready. It's the perfect gift set for yourself or your loved ones! 
Inside, you'll find our: Buns of Glowry Smooth Butt Polish, Acai Your Boobies Lifting Boob Polish, 24k Gold Black Soap Cleanser, Coco Cloud Shave Butter, Super Heart Pimple Patches, and Coco Rose Fudge Butter, complete with a luxurious gold spoon + 2 fun FREEBIES!
Here's everything you need to know about our Valentine's Beauty Gift Bundle.
WHAT IS IT?
Our V-Day Bundle can be anything you want it to be. A date night skincare routine to get you smooth and perky for your prince (or princess!), a gift box for your best friend or partner, or a thoughtful gift to wrap up and send to yourself as a little "I love you" -- you deserve it, hon!
Ultimately, it's a self-care bundle designed to cleanse away impurities, perk up your lady lumps, smooth and hydrate your skin, and banish breakouts.  
WHO TO GIVE IT TO?
It's a great gift idea for your love, your bestie, or yourself. 
Filled with six luxe beauty products, this bundle will leave you feeling, looking, and smelling incredible! 
Most Valentine's day gift guides feature things like chocolates, flowers, and sandalwood perfumes, but we think skincare is just as indulgent. 
Even if you plan on spending Valentine's in your loungewear, in front of the TV, with a bucket of Ben & Jerry's in hand, give yourself an excuse to show your face and bod some LOVE! 
WHEN TO USE IT?
Say you're going out for dinner with that guy you kinda just met but kinda really like, this would be the kit to get you brightened, tightened, and smooth for your date.
Like with most skincare products, it's always good to give them chance to work. With this kit, we recommend starting a few weeks ahead -- since two of the products are clinically proven to work in 4 weeks.
That said, not everyone has time to wait that long for results. Relax! You can still get what you want out of this self-love kit. 
Got a Zoom or in-person date coming up? Or maybe a Galentine's night in or out with the girls you want to look good for? Add this bundle to your wishlist, and order asap! 
THE LINEUP...
These are the products you'll find in the LTD edition V-Day Bundle.
Buns of Glowry Smooth Butt Polish
A retexturizing butt scrub clinically proven to smooth, firm, and lift in four weeks. Wheat protein and retinol work in tandem to boost collagen production and speed cell turnover, plumping out fine lines and dimples, exfoliating away blemishes, and increasing firmness of skin. Get your apples looking juicy and perky for date night!
Acai Your Boobies Lifting Boob Polish
A tightening and brightening boob scrub designed to smoothen skin and nips while minimizing the appearance of stretch marks and fine lines. Retinol and acai lend their firming, moisturizing, and brightening superpowers.
24k Gold Black Soap Cleanser
Attain a flawless, matte complexion with this purifying face + body cleanser slash exfoliator. It's made with 24k gold, African black soap, and charcoal to decongest pores, clear up blemishes, and shrink pores. It also doubles up as a face mask if you're looking for more intensive results.
Coco Cloud Shave Butter
We're feeling Caribbean vibes with this whipped coconut + vanilla-infused shave butter here to make your shaving days smoother, silkier, and ingrown-free. It's a unique gift, but it's one that will help you to prioritize wellness (or that of your loved ones!). Shaving has never been more sensational...
Super Heart Pimple Patches
These heart-shaped acne patches may look cute and pretty on the outside, but inside they're loaded with some hardcore acne-killing ingredients that'll clear those out of the blue blemishes right up.
Made with benzoyl peroxide, AHA's, and hydrocolloid, these adorable pimple patches are here to kill acne causing bacteria, treat blemishes, and reduce inflammation!
It may not be a box of chocolates or a cashmere sweater, but these pimples patches are actual life savers when pesky zits pop up on the day.
Coco Rose Fudge Butter
A flowery whipped body lotion to brighten, hydrate, and subtly scent your skin all over. Formulated with moisturizing coconut and soothing rose with a base of nourishing shea butter, this formula is just as hydrating as any body oil -- sans stickiness. You can also use it as a hand cream, foot cream, and cuticle softener. It's a great Valentine's Day gift idea for babes who moisturize -- or need to start. 
Gold Spoon
Scoop out just the right amount of product without the transference of germs with this luxurious gold spoon. You can use this gold spoon for almost any beauty or wellness product -- from your essential oils to your eye masks, moisturizers to your hair masks. 
+ FREEBIES x2
And just to make it all the more special, the V-Day Bundle comes complete with a FREE pink heart hand towel + fuzzy pink bag. So, you can transport these skincare goodies with you wherever you go for on-the-go smoothness, perkiness, and glow. Sleeping over at bae's tonight? Fill your fuzzy pink bag with your hand towel + all the skincare essentials you'll need to stay fresh and fab from evening to morning.
Our Valentine's Day Bundle is here to erase issues like ingrowns, razor bumps, and blemishes while perking up your lady lumps and leaving you silky smooth. It's definitely worth the splurge!
Share
---