Rosemary Leaf Extract, the Ultimate Skin Rejuvenator?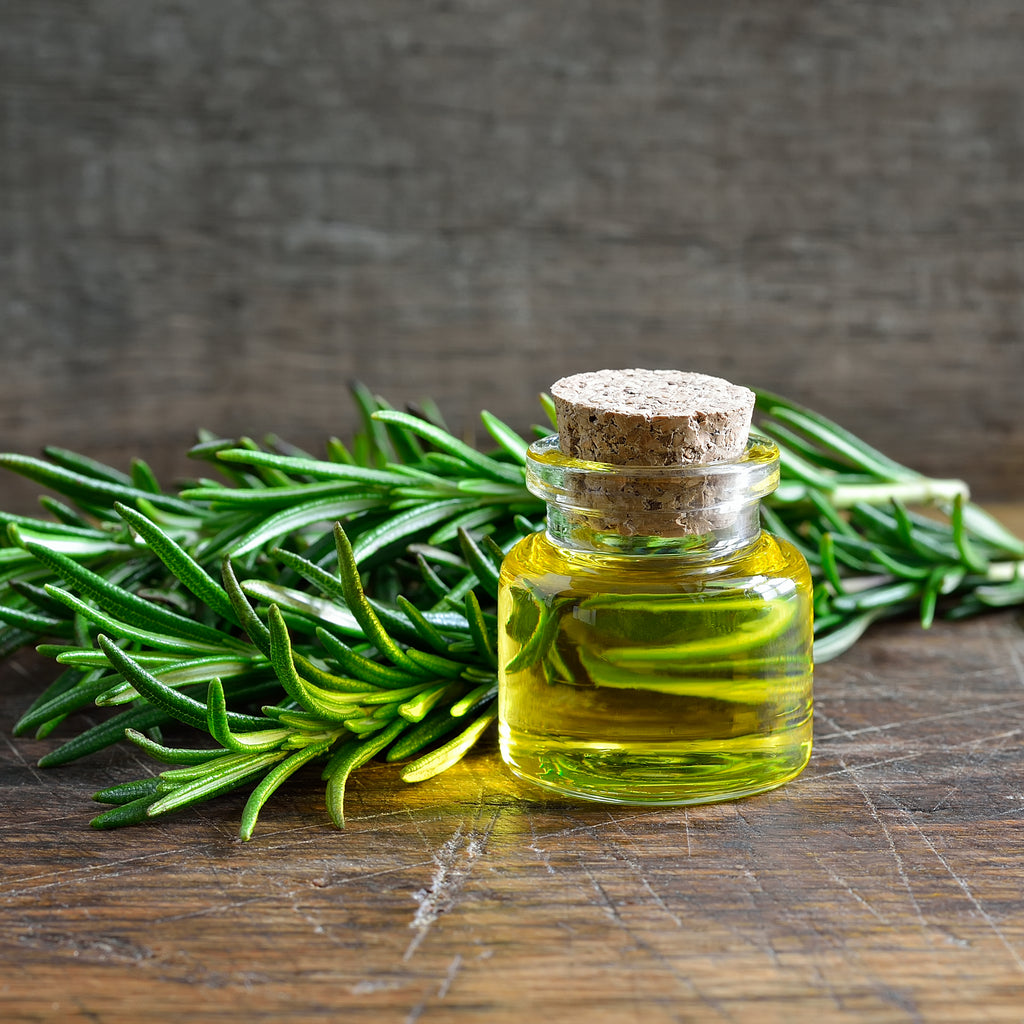 Rosemary (rosmarinus officinalis) is a perennial herb and part of the lamiaceae family. Derived from rosmarinus officinalis l shrubs and native to the Mediterranean region, this herb is a key ingredient in medicine, perfume, aromatherapy, and beauty. 
While it offers tons of antioxidant activity known to improve blood circulation, high blood pressure, and the immune system, its antioxidants can also extend to the skin. 
More specifically, it's rosemary leaf extract that you should be hunting out in skin care products. Typically an essential oil used in aromatherapy sessions, rosemary extract can also be used topically as a skin care ingredient.
With its anti-inflammatory and antioxidant properties, rosmarinus officinalis leaf extract can eliminate puffiness, combat age spots, and even attack acne. Let's take a closer look at what it is and what it can do for the skin.
WHAT IS ROSEMARY LEAF EXTRACT?
Rosemary extract is a botanical ingredient derived from the extraction of the rosemary leaf. 
According to PubMed research, it contains a huge amount of supercritical components like rosmarinic acid, caffeic acid, carnosic acid, ursolic acid, betulinic acid, and carnosol.  All of which are responsible for rosemary's anti-inflammatory, antibacterial, and analgesic properties.
Rosemary leaf extract is approved by the Food and Drug Administration (FDA) and considered an effective ingredient for many skin types. In fact, you'll find it in a range of high-quality skincare products including cleansers, soaps, toners, face masks, and lotions.
Before we delve into its benefits, there is something we want to clear up first. 
WHAT'S THE DIFFERENCE BETWEEN ROSEMARY EXTRACT & ROSEMARY ESSENTIAL OIL?
Although rosemary oil and rosemary extract may seem like the same thing, they technically have different meanings. Plant extracts, for instance, are far less potent than essential oils, as they are the essence of medicinal plants. 
Nonetheless, both rosemary essential oil and rosemary leaf extract contain the same level of skin-enhancing activity. They both contain antimicrobial activity, polyphenols, phytochemicals, and antioxidative activity.
While rosemary plant extract is more often seen in skin care products, rosemary essential oil cineole is more often used in aromatherapy. 
BEAUTY BENEFITS OF ROSEMARY LEAF EXTRACT
Protects Against Photodamage
The number one cause of aging skin is over-exposure to sunlight. 
Fortunately, the nutrients of rosemary oil extract can help protect skin cells from damage caused by the sun and free radicals. Rosmarinus officinalis l extract shouldn't be an alternative to sunscreen, but applying it regularly can protect the skin against photodamage and keep it looking youthful.
Slows the Effects of Skin Aging
Packed with phenolic diterpenes, rosemary oil strengthens the capillaries and helps to slow down the ageing of your skin. 
As per PubMed research, rosemary leaf extract also tightens sagging skin and plumps it up to make it look firmer and more elastic. And, most interesting off, rosemary stimulates biological activity and cell growth to lessen the appearance of fine lines and wrinkles.
Attacks Acne
Thanks to its powerful disinfectant and antibiotic properties, rosemary extract can help to treat acne and prevent oily skin. When  applied to the face, rosemary can help lighten dark spots and blemishes on the skin, leading to an improved complexion.
Because rosemary contains carnosic acid and rosmarinic acid, it offers antimicrobial properties that directly attack acne. 
Hair Growth
Rosemary leaf extract is highly effective at stimulating the hair follicles. As a result, it makes them stronger and more resilient. Thus, regular application of rosemary through shampoo and conditioner can help your hair to grow stronger and longer. It's also an excellent hair loss treatment. In the United States, hair growth supplements are becoming more and more popular. Fortunately, this is a natural approach to hair growth.
Natural Deodorant
As you already know, rosemary is a natural fragrance. With a floral, uplifting scent, it makes for the perfect DIY deodorant. So if you're trying to stay away from those harsh chemicals in antiperspirants, this is a cheap and effective natural deodorant that works really well.
Just apply rosemary extract on a cotton ball and wipe directly on your underarms. Apply when needed.
Reduces Puffiness and Swelling
Owing to its potent anti-inflammatory properties, rosemary extract can help to reduce swelling and puffiness of the skin. In addition, this herb contains powerful medicinal qualities that help to heal burns, soothe the skin, and ease chronic skin conditions including eczema, dermatitis, and psoriasis.
Spent too long at a friend's party or worked an overnight shift? Rosemary leaf extract can also help dissolve under-eye puffiness that usually comes from too little sleep.
ANY SIDE EFFECTS?
Rosemary leaf extract is a natural and side effect free ingredient. That's what makes it excellent for all skin types. Even if you have sensitive skin, rosemary is the perfect choice thanks to its soothing and calming effects. 
Naturally, if you're prone to getting allergies from skin care products, pay a visit to your dermatologist before trying something new. 
It is only in very rare cases that side effects may occur from using rosemary extract.
RECOMMENDED ROSEMARY LEAF EXTRACT SKIN CARE PRODUCT
Super Matcha Facial Cleanser
The problem with most clarifying cleansers ... is that they dry out the skin and leave it feeling all tight and uncomfortable. 
With Truly's Super Matcha Facial Cleanser, that will not happen. 
Made with matcha, willow bark extract, and rosemary leaf extract, this cleanser will rejuvenate your complexion without stripping it of moisture. Boosted with vitamin C and B12, Super Matcha will cleanse and nourish your skin, while locking in moisture to keep your skin super hydrated (and happy!). 
Daily cleansing is fundamental in any skin care routine. But sometimes, all that cleansing just feels like a little too much for your skin. 
That's what makes Super Matcha so special. 
It cleanses, reduces inflammation, and clarifies your complexion. Best of all, it's gentle enough to be suitable for all skin types.
How to Use:
Use daily, in the morning and evening. After wetting your face, massage the cleanser into a light lather into the face and neck for 30 seconds. Rinse thoroughly. For best results, use daily. 
Get your Super Matcha Cleanser for only $26!
Share
---