Selena Gomez Skincare Routine Starts with Serum, Not Cleanser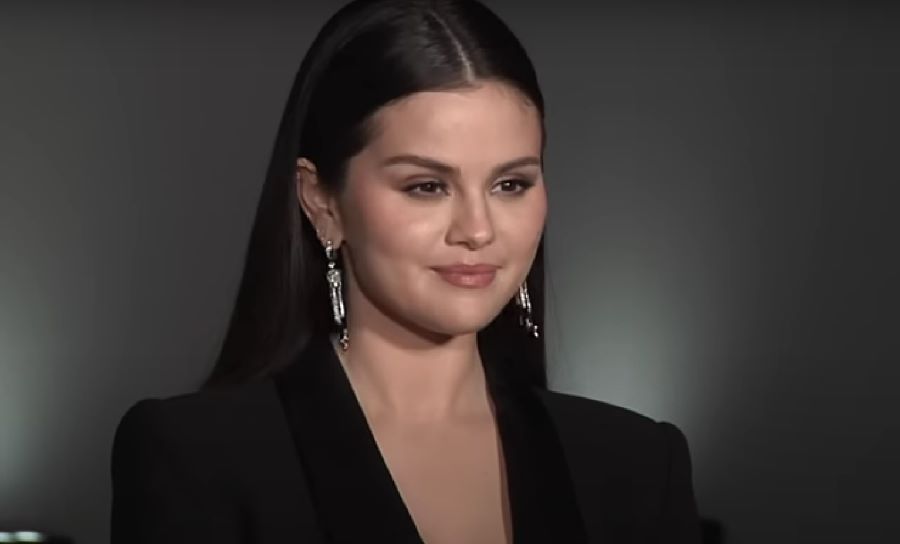 Discover the full Selena Gomez skincare routine to achieve her iconic glow at home. Ever wondered what skin care products does Selena Gomez use or how she keeps her complexion looking crystal clear and oh so dewy?
The singer and founder of Rare Beauty took to TikTok earlier this year to show her (then) 45.2 million loyal followers how she takes care of her skin. Ahead, Selena Gomez's skincare routine and how to steal her look for less.
Selena Gomez Skincare Routine
Selena Gomez's skincare routine focuses primarily on cleansing, hydration, and more hydration. Here's her step-by-step skincare regimen that you can easily replicate at home (and some product recommendations your skin will love!).
Step #1: She Removes Her Makeup with Serum
The Only Murders in the Building star starts with makeup removal. But instead of your typical makeup removers, like wipes or cleansers, she uses serum to remove her makeup. Selena applies the La Mer Concentrate all over her face before massaging it in to remove her concealer and foundation. She tells her followers that you can use any serum to remove makeup before washing.
We recommend Truly's Glazed Donut Facial Serum which blends passion fruit, coconut, and grapeseed oil to intensely hydrate and nourish skin while helping to melt away the day's makeup. It also leaves skin with a beautiful glowy sheen.
Step #2: She Cleanses with Micellar Water
Now that she's broken up the makeup buildup, Selena follows up by saturating a washcloth with micellar water. Then she swipes it all over her face. Using the same cleansing micellar water, the Rare Beauty founder uses a baby beauty blender to wipe away makeup around her eye area.
We recommend
Truly's Glass Skin Cleansing Balm
. Formulated with jojoba oil to balance oil production, niacinamide to tighten pores, and aloe to soothe skin, this daily cleanser is perfect for dry and sensitive skin types. Use it in your morning skincare routine to freshen skin for the day, and in your pm routine to remove makeup and impurities.
Step #3: She Rehydrates with Toner
Next up in the Selena Gomez skincare routine: toner. Her go-to daily toner is ultra light and infused with arnica and cucumber extracts to smooth and refresh the skin. It also contains moisture-binding humectants to replenish lost moisture and rehydrate dry, lackluster skin.
Toners used to be harsh and drying. Nowadays, they're formulated with hydrating ingredients that soothe and nourish the skin. And they're essential in your daily skincare regimen.
Step #4: She Gets Dewy with Face Oil
The secret to Selena's glowing skin? It has to be the daily use of face oil. Enriched with vitamins and minerals, her fave face oil replenishes the skin's natural barrier for a fresh and radiant complexion. Even if you have acne-prone skin, facial oils are great for balancing sebum production, preventing clogged pores, and keeping skin healthy.
We recommend Truly's Glass Skin Facial Serum, a pore-refining formula of jojoba oil and probiotics that hydrates, balances, and restores the skin. Lightweight and fragrance-free, it's gentle enough for even the most sensitive skin. Plus, it leaves skin poreless and glass-like.
Step #5: She Quenches Her Skin with Moisturizer
Next in the Selena Gomez skincare routine: moisturiser. Hydration plays a key role in Selena's beauty routine. One of her favorite products for keeping her skin soft and supple contains an antioxidant-rich blend of botanicals to strengthen, smooth, and refine pores. Moisturizer is one of those beauty products Selena just can't live without.
We recommend Truly's Glazed Donut Facial Glow Cream. It takes you from dry and dull to fresh and luminous in seconds—with passion fruit, vitamin E, and shea butter. It also doubles up as a primer for a flawless makeup look.
Step #6: ...and More Moisturizer
For extra nourishment and brightening effects, Selena slathers on a vitamin C-infused moisturizer. Vitamin C is a potent antioxidant that fends of free radicals, brightens skin, and gradually fades hyperpigmentation. It's the go-to ingredient if you're experiencing uneven skin tone. And many celebs swear by it, including Selena Gomez.
We recommend Truly's Vegan Collagen Facial Serum. It's developed with retinol and vitamin C to gently resurface and refine skin for a youthful, radiant appearance. It treats everything from fine lines to dark spots, discoloration, and even acne. Plus, it makes skin appear noticeably firmer.
Selena Gomez Skincare Tips
While Selena Gomez's skincare routine is relatively simple and straightforward, she does like to add a few more products to her routine from time to time. One product she adores are the Hydrating Under-Eye Patches—from her own brand, Rare Beauty. They're great for brightening up the under-eye area, especially if you're dealing with dark circles or puffiness.
She also likes to keep her skin fresh and dewy with a few spritzes of a rosewater facial spray. It soothes and hydrates throughout the day so you never lose your glow.
Another important step Selena never skips is sunscreen application. To protect her skin from the sun's harmful UV rays, she uses the Rare Beauty Positive Light Tinted Moisturizer Broad Spectrum SPF 20 prior to her makeup routine.
Alongside this, she does love to indulge in an aloe vera face mask for an extra boost of hydration and nourishment. Face masks give you that moment of self-care everyone needs, and are the perfect way to wind down after a long, hard day.
Shop Selena's Skincare Routine for Less
How to get Selena Gomez skin? While her skincare routine racks up to a few hundred dollars, there's no reason why you can't steal her sparkling skin for less. Here are some skincare bundles to try to achieve Selena's clear, dewy complexion in just a few easy and affordable steps.
Glazed Donut Skin Set
Get dewier in two! Complete with a facial serum and cream infused with vitamin E, passion fruit, and grapeseed oil to unlock new levels of glow and secure long-lasting luminosity. Best of all, there's zero greasiness with the Glazed Donut products. Only glow!
Glass Skin Set
Want smaller pores, smoother skin? Glass Skin Set features a 2-in-1 cleanser and makeup remover plus a serum to balance sebum, refine pores, and banish breakouts while imparting a lasting glow—with jojoba oil, niacinamide, and probiotics.
Vegan Collagen Booster Set
A 5-step skincare routine that targets fine lines, wrinkles, age spots, and uneven skin tone on both your face and body. This anti-aging set harnesses the youth-restoring powers of retinol, vitamin C, and plant collagen booster to reveal fresh, gleaming skin—from head to toe!
The Selena Gomez skincare routine is relatively simple but it does come with a high price tag. Fortunately, you can easily copy the routine by shopping the skincare picks above. Get ready to glow like Selena in just a few steps!
Photos by Entertainment Tonight, YouTube and WMTV, YouTube




Share
---