Your Ultimate Festival Skincare Checklist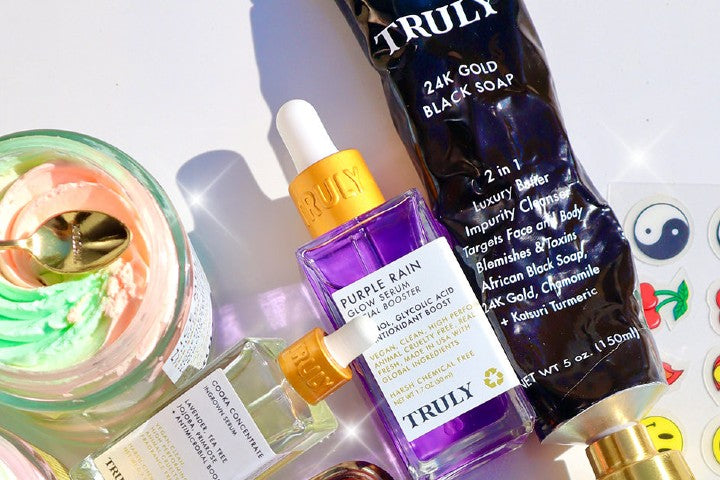 Festival season is here!!! IOW: your chance to let loose, listen to your fave tunes, and hang out with your besties. Before heading off, make sure you pack your bags wisely with a few key skincare products. With unforgiving rays of sunshine, sparse showers, and all that dust, musical festivals can wreak havoc on your skin.
To keep your skin fresh, glowing, and protected as you dance until sunrise, all you need are a few skincare essentials.
Ready to SLAY festival skincare??? Here's your ultimate festival beauty checklist...
#1: Sunscreen
Festival-goers spend a lot of time in the sun, leaving skin exposed to harmful UV rays that contribute to premature aging, hyperpigmentation, and even skin cancer. We don't wanna rain on your parade, but if you want to keep your skin healthy, we highly recommend packing a broad-spectrum sunscreen with SPF 30 or higher. It's a festival must-have!
Be sure to keep a bottle in your purse, and apply every two hours to keep your skin protected. Besides keeping skin youthful and radiant, wearing sunscreen prevents sunburn — a major music festival mood killer.
If it's a super hot day, you might want to consider packing a water-resistant sun lotion so that it stays on while you sweat!
#2: Face Mist
Besides being super hydrating and cooling, face mists often come with protective skincare benefits thanks to ingredients like antioxidants. They also gently cleanse the skin and balance oiliness, making it a perfect substitute for your daily cleanser — if getting to a sink is not an option. Plus, there's really nothing like a face mist for giving you that Insta-worthy dewiness fit for a music festival — and all those snaps your BFFs keep taking!
If you have dry or sensitive skin, pack a bottle of Truly's Volcanic Rosewater Mist. It's made with a hydrating blend of rose, vitamin C, and aloe vera to nourish, soothe, hydrate, and brighten skin while fending off free radical damage. Spritz it on for a quick complexion refresh!
Oily and acne-prone skin types should opt for a clarifying formula like Truly's Tansy Water Mist. Infused with a blemish-fighting blend of salicylic acid, allantoin, and beta glucan, this blue-tinted spray (a la blue tansy) is key for keeping skin clear, mattified, and blemish-free.
#3: Lip Balm
The lips are just as prone to dehydration as your face. Since the weather is typically hot at music festivals, it's easy for your lips to dry out and become chapped. Prevent that from happening by packing a hydrating lip balm like Truly's Unicorn Fruit Lip Plumping Balm. This multicolored moisturizer is made with a base of hydrating shea butter infused with plumping peppermint and soothing matcha to relieve dry, chapped lips while leaving your pout looking visibly juicier.
It's a festival essential that you can share with your best friends. Plus, it preps lips for perfect lipstick application. You can even use this beauty product to tame flyaways, soften cuticles, and diminish dry patches of skin on your ankles and elbows.
#4: Deodorant
Coachella may have passed, but that doesn't mean you can't get sweaty dancing the night away with your besties. To keep your pits daisy-fresh, pack a high-performing deodorant that can withstand hot temperatures. Even better, look for one that won't leave stains on your clothes.
Alternatively, pack some underarm wipes to get rid of sweat and odors that accumulate throughout the day. It's a quick, easy, and convenient way to stay fresh if you don't have easy access to a shower.
#5: Cleanser OR Makeup Remover Wipes
After a long day of partying hard, it's important to cleanse away the sweat, grime, oil, and makeup to avoid breakouts. Since you won't be able to bring your full skincare routine to the music festival, focus only on the essentials like cleanser or makeup wipes.
If you have easy access to a sink, pack an exfoliating cleanser like Truly's 24k Gold Black Soap Impurity Cleanser. This will buff away the buildup of dead skin and grime while thoroughly removing makeup — and leave your skin tone instantly brighter!
No sink? No problem. Pack some makeup removal wipes instead. They're not recommended for daily uses but they're better than leaving your makeup on — a recipe for clogged pores!
#6: Moisturizer
Planning on partying until the early hours? Top up your moisture levels with a hyaluronic acid-based moisturiser like Truly's Cream Skin Face Cream. Lightweight and loaded with moisture-sealing ingredients, it does a great job at keeping your skin smooth, soft, and hydrated all day long. Plus, it makes a great base for makeup. Wear it under your sun protection to keep skin dewy, radiant, and protected throughout the day.
#7: Body Shimmer
Be the glitteriest gal at the ball with Truly's Moon Lit Shimmer Oil. This flash-absorbing dry oil is infused with gold shimmer for a radiant glow on the go. Made with a brightening blend of chai spices and witch hazel, Moon Lit Shimmer helps to reduce inflammation, minimize pores, and leave skin looking luminous.
Best of all, you can apply anywhere you wanted a little added glow — your cheekbones, cupid's bow, collarbone, cleavage, or thighs.
While body shimmer oil isn't an essential, it's a great way to boost your skin's luminosity and keep you gleaming all day and night. It also boasts a delicious vanilla scent to ensure festival babes like you smell your sweetest.
Festival-goers generally don't have lots of space to play around with, so it's important to pack wisely. In addition to the skincare products above, here are some other items to add to your festival packing list: Dry shampoo, sunglasses, hat, purse, phone charger, hand sanitizer, and water bottle. And of course, your fave makeup products: mascara, lip gloss, eyeliner, glitter etc.
What's on your festival checklist?
Share
---