Truly House of Beauty Episode 5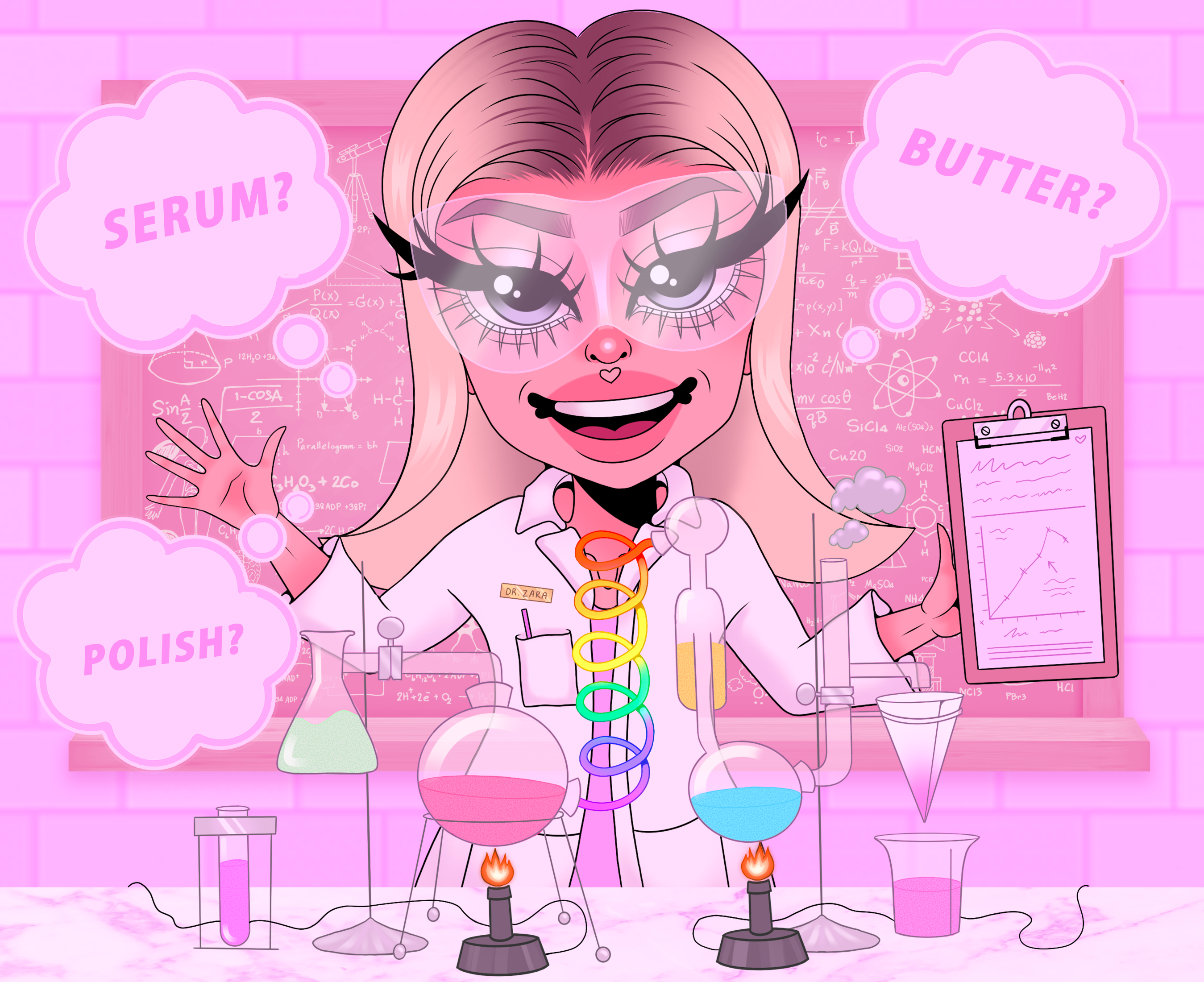 Psst...we are back for another episode, you beautiful babes. Oh the things that have been happening in the Truly House of Beauty...let's recall the last episode. You heard all about Chloe's mishaps with her back acne and how the Truly babes discovered the power of CBD in skincare. Now, think back to a few weeks ago...when Zara discovered the power of acai berries after she "accidently" poured an acai bowl all over Nikita Dragun's tatas? From there, our iconic Acai Your Boobies Lifting Boob Polish, one of our best-selling products, was created! But wait--we know what you're thinking, aren't there three items in the Acai Your Boobies line?! Exactly! This week's episode is all about how Zara discovered the power of three. 
It wasn't long after the Truly Babe's met Nikita that she blew up the internet with her new love for Truly Beauty. Truly was bombarded with thousands of DMs! So many requests for the newest product at the time: Acai Your Boobies Lifting Boob Polish! Zara worked countless hours, mixing together acai berries and retinol into these perfect hand whipped swirls to give to the community. But the people wanted more...the messages even had requests from celebrities like Britney Spears saying "Gimme, gimme more, Truly!" and Ariana Grande who posted "I want it, I got it...for my boobies!" The purple cream for your boobies took the internet by storm! Zara knew that the people wanted more, so she sought advice from the two skincare freaks she knew best-- Chloe & Tyler. 
Lounging in their all mirror-bathroom, Zara found Chloe & Tyler doing their 20-step skincare routine whilst sipping on cannabis-infused mimosas and listening to soft French jazz. "Hi guys...so sorry to disturb you all but um can I have some help with…" Zara was immediately cut off by Chloe. "Sorry Z, we are too busy! It's our body mask moment, we cannot be disturbed! Contact my agent for an appointment with me." The irony: Zara saw Chloe applying the Acai Your Boobies Lifting Boob Polish on her chest while Tyler applied it to the back of his arms (goodbye strawberry skin!). This scene made her just a bit frustrated. She sought advice for the product that these two brats were currently using, so she unplugged the speaker and flipped the switch for the overhead fluorescent lighting (aka anyone's worst nightmare). "AHHHHH!!!" screamed Tyler & Chloe "NOT THE OVERHEAD LIGHTING! PLEASE TURN IT OFF WE WILL DO ANYTHING YOU ASK!" Zara turned off the wretched lighting, and sweetly turned to the two babes, "SO as I was asking you both...I know you love the Acai Your Boobies Polish...but the people seem to want more! How could I expand this line?! I need insight from the best so I figured I'd ask you babes!" Tyler & Chloe turn to each other with a dumbfounded look and shrug their shoulders. "I dunno Z...you seem to be the one who can create things! We are just skincare brats who will use whatever looks good, smells good and works!" says Tyler. "Yeah I'm not too sure either...just look at our 20-step skincare routine and pull some inspo from that!" snaps Chloe. "Girlie who in her right mind would want a 20-step skincare routine...three seems to be my limit…" ponders Zara. Suddenly, an idea sparks in her beautiful brain. "Steps….three steps...hmmm…that's it! Off to my lab!" says Zara as she scurries away. "She's sucha dork…" says Chloe and Tyler and her giggle as they wash off their body polishes. 
Zara is in her comfort space: the Beauty Lab. This is the place where all Truly products are formulated-- this is where Zara can let her creation-flag fly freely. Sitting on top of a pile of paperwork, Zara is scribbling cosmetic equations, pouring rainbow liquids into beakers, all while in her head repeating "three steps...three steps...three steps." She stares at the polish, thinking about how a polish is an exfoliator, the perfect primer, so naturally this would be the first step. She then thinks of Chloe & Tyler's extensive skincare routine, all the potions and bottles and creams. "Well, what about a boob serum to lift?! And then….a boob butter to hydrate?! Step one is the Polish, step two is the Serum, and step three is the Butter! I can make an acai version of each of these." Zara gets to work: within hours, she's created a perfect Acai Your Boobies Lifting Boob Serum and an Acai Your Boobies Lifting Boob Butter. Exhausted, she takes the products upstairs to Chloe & Tyler who are relaxing on their white poufs in their mediation room, the LA skyline behind them. "Here babes, I haven't even tested them yet...but try them out, I'm heading to bed!" Tyler & Chloe immediately leap towards the new products anxious to try them. "Wow, these smell so good!" says Chloe. "I'm obsessed!" squeals Tyler. "Well... I guess there are perks to being besties with a dork!" laughs Chloe & Tyler as they dive into the entire Acai Your Boobies Line.
And that's how Truly Beauty expanded their iconic Acai Your Boobies Lifting Boob Polish into a three step routine! Stay tuned for the next episode of the Truly House of Beauty. 
Share
---