Truly House of Beauty Episode 7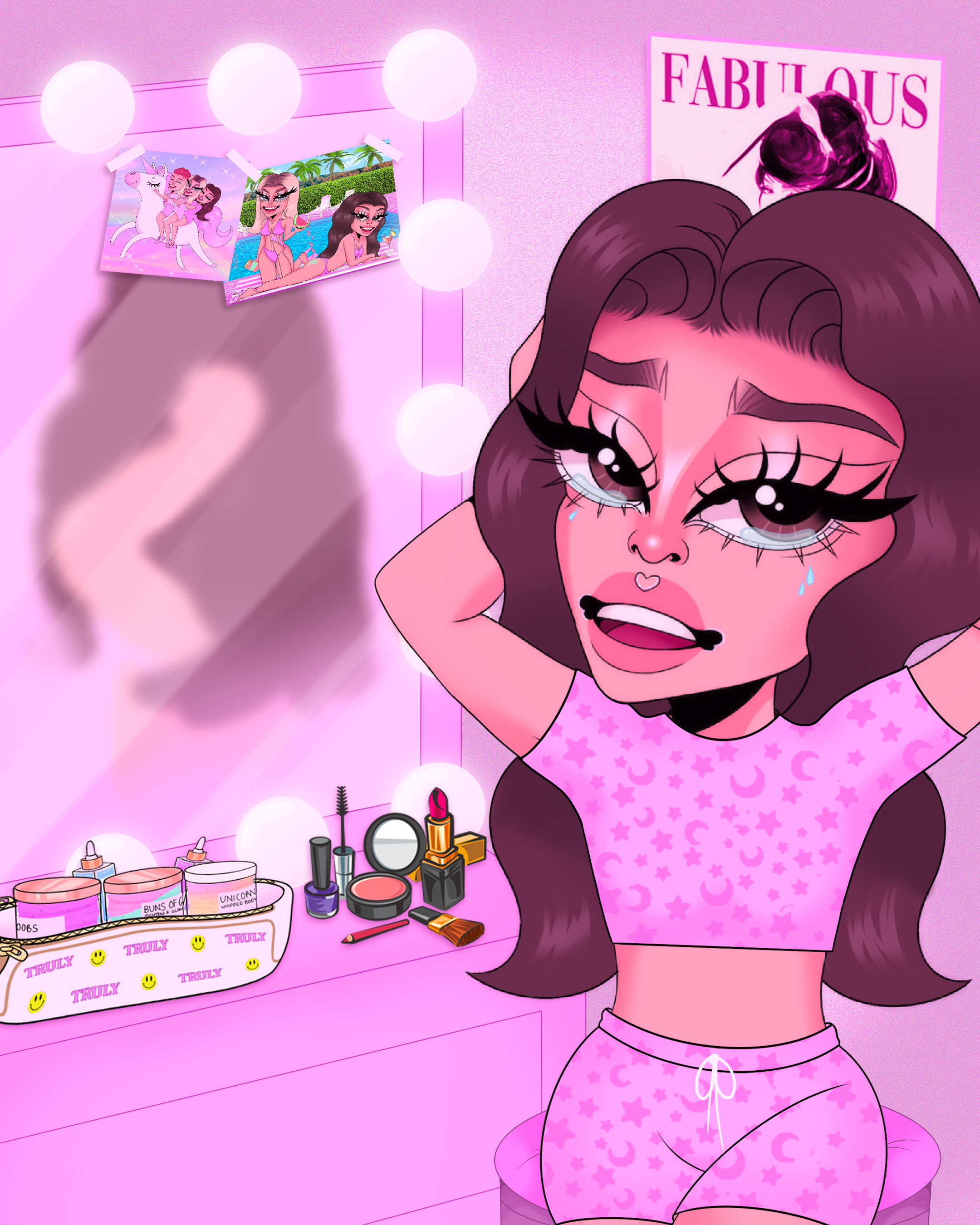 It's that time again, you skincare freaks 'n geeks. Welcome back to the next episode of the Truly House of Beauty! Last episode you heard of Tyler's mishap with his shaving experience, and how Zara introduced him to Coco Cloud Whipped Shave Butter. It always seems that the Truly babes are running into some skincare drama...but they always help each other out in the end! This week is a new tale, a tale of Chloe's dramatic desperation to fix a skin concern she never thought she'd have to...
It was an early June morning when Chloe received one of the most important text messages of her life: an invite to the America's Best Influencer Gala held at the West Hollywood SoHo House. It would be a night to remember, thought Chloe. She thought of the gift bags, littered with clothes from the top LA designers and pounds of exclusive merch never released to the public. She thought of the people she'd see, perhaps a Jenner or perhaps a well-known YouTuber she followed. She thought of the opportunities that could open for her, perhaps she would be signed to the CAA (Creative Artist Agency aka the most elite agency in Los Angeles). Ahhh, the fantasies swirled in her head as she pulled out her most expensive gown to try on-- a golden floor-length custom Dolce Gabbana that she had never worn out of her closet before, she was waiting for the perfect occasion. It had been a few weeks since she last tried it on so she slipped her lil' self into the custom gown and waltzed over to the mirror. She fluffed her hair, did a twirl or two feeling the dress swirl in the air, and swung her arms in the air out of excitement. She was FINALLY going to be seen in this dress! As she gazed in her vanity, her mouth dropped in horror! The gold in her Dolce Gabbana dress was highlighting a skin concern that she had been ignoring for quite some time: dark armpits. Now I know what you may think, who cares about dark armpits? But-- it is important to remember everyone has their own insecurities that you might not know by looking at them which is why it's so important to be kind to everyone you meet! And Chloe...well she just couldn't stand seeing the jarring difference in skin tones in her armpits. Naturally, she started to hyperventilate at the sight.

Stripping her dress off, she sprints to the bathroom to try to salvage this issue. She grabs things like cover up, foundation, even eyeshadow --well if she sweats, that's going to look really bad. She tries to think about her other options but her brain is scrambled! She could wear another gown but none of her other dresses even compare and she can't lose this opportunity to wear the gold dress of her dreams. With no options and her anxiety kicking in, Chloe does what Chloe does best: scream at the top of her lungs as if a piece of a shattered airplane jet crashed through her ceiling.
Tyler and Zara are downstairs practicing a rave version of Tai Chi that they learned at this Barbie themed disco party in a downtown LA warehouse when they heard the blood-curdling scream from upstairs. It could be one of two things: there is some sort of haunting ghost or Chloe is overreacting once again to a bug or perhaps a pimple. Their zen is totally broken so they blissfully saunter upstairs to check out the vibe. They have grown accustomed to Chloe's dramatic screams, even though it often harshes their morning Tai Chi. Zara gently knocks on the door and Chloe swings it open. "MY ARMPITS ARE DARRRK!" screams Chloe. Tyler and Zara exchange quick glances at each other. While they don't understand Chloe's extreme reaction to something so hidden, they can relate to her emotions when it comes to insecurities getting in the way of an exciting night--(remember Tyler's date or when Zara met Nikita Dragun?). Tyler already knew that Chloe had to try Coco Cloud Whipped Shave Butter--it saved his life the other day! He slips his jar to her and winks, "Coco Cloud is what you need to shave!" he tells her. Zara quickly interrupts, "Wait! I have a new body scrub for you, it's called Blueberry Kush and it's filled with CBD + blueberries. Use it before you shave with Coco Cloud, and you won't see any ingrowns whatsoever!" Chloe rolls her eyes-- "Ingrown hairs are NOT what I'm concerned about--it's this darkness! I need something to diminish all the discoloration on my pitties!" she yells as she points to her pitties. A lightbulb flashes in Zara's head. She knows exactly what Chloe needs. "Wait one sec!" she says as she zooms down the hallway, slides down the staircase railing and leaps into a trap door that goes straight down to her lab. 
In her lab, she grabs a recent article that she was reading regarding pomegranate extract. She tries to focus on the facts all the while listening to Chloe's cries from upstairs. According to the text, it can really help in minimizing hyperpigmentation. Thankfully, Zara has a fresh batch of pomegranate extract she synthesized this morning. She hears Tyler attempting to calm Chloe down with his organic chanting, but Chloe just isn't letting up. Zara knows the pomegranate needs a little more power, so she grabs a vial of vitamin B2, which aids in cell turnover and helps produce collagen. Zara spins these key ingredients with some other skin-nourishing elements in her pink test tube and BAM! She creates the life-changing product, Jelly Booster Pigment Treatment Body Potion. Pleased with the fact that she just created a product within fifteen minutes, Zara gleefully prances upstairs with the new Jelly Booster in her hands. She opens the door to see Tyler helping Chloe shave her pits, because she's busy drowning herself in a bottle of tears. "I used the Blueberry Kush Scrub like you said, and now I'm shaving for her. She's really having a moment." says Tyler. The two friends pull Chloe out of the shower and dry her off. Zara then grabs her new Jelly Booster, and squirts a few droppers on each armpit. "OK--that should do the trick! How about you go to bed and we can talk in the morning." Zara says to Chloe, who then crawls into bed and asks the two friends to leave while she sobs herself to sleep. They do, and they pray for an easier morning. 
It is 8AM, and Chloe stretches her arms over her head. She feels the morning air on her skin, the sun shining on her plush duvet, and is automatically in a really good mood. She goes to her mirror and begins to run her hands through her hair, totally forgetting about what happened yesterday until she sees her soft, supple, gleaming armpits. Not a bit of discoloration in sight! She screams with glee at the top of her lungs so loud that Tyler & Zara burst through the doors. "IT'S OKAY! It could take more than one use!" explains Zara, who was expecting retaliation from Chloe. However, rather than being met with a martini glass being thrown at her face like she expected, Zara is met with a huge grin from Chloe, who sprints over and throws her arms around Zara's neck. "My pitties...they are so bright! Whatever you did, it really worked!" shouts Chloe. She runs into her closet, slips her Dolce & Gabbana dress on, and starts skipping around her room. The three friends let out a satisfying sigh together, and that is how the Bright Pitties Bundle was formed. The trio of products formulated to tackle ingrown hairs, razor burn, and discoloration. 
That's the adventure for this round, you Truly babes! Stay tuned for much much more!
Share
---