Got a Spare $20 Bucks? Spend it on these Beauty Products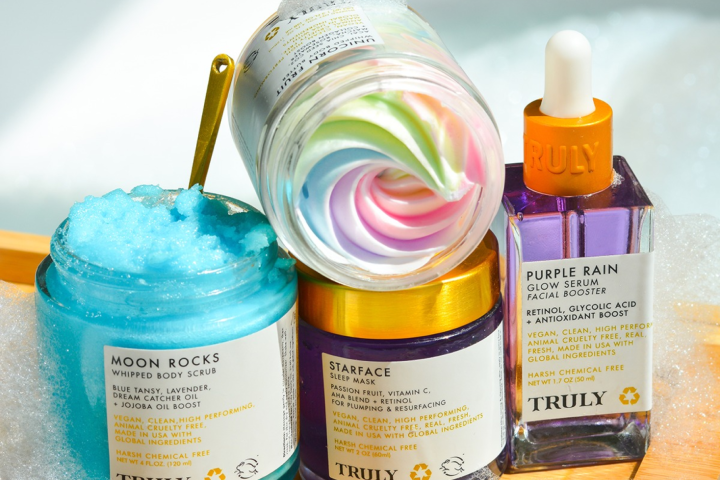 Strapped for cash this month? Don't worry, you can still get your hands on some fab haircare and skincare products. After all, you deserve a treat after the hard week you've had. 
Here are some of the best beauty products to buy for $20 or less. 
Starkisser Lip Plumping Mask
Glittery, gorgeous, and well within your price range, Starkisser Lip Plumping Mask is therapy for your pout. Made with hyaluronic acid to deliver intense hydration to dry, chapped lips, and aloe to soothe and smooth, this power packed blend will perk up your pout with nourishing moisture while minimizing fine lines. It's also packed with plumping peppermint to stimulate circulation in your lips and temporarily swell them. 
Star Fruit Hydrate + Shine Hair Mask
If your conditioner isn't doing enough for your dry, dull strands, try investing in a shine-enhancing hair mask like our Star Fruit formula.
Star Fruit Hydrate & Shine Hair Mask restores essential hydration and adds shine to otherwise lackluster hair. It also strengthens strands to prevent future dryness and breakage. Coconut oil, vitamin E, and chamomile work in harmony in this formula to hydrate hair, improve scalp health, and boost collagen to stimulate hair growth. Plus, it's perfect for on-the-go hydration since it's 100% travel-friendly.
#Heart Your Imperfections Blemish Patches
Is your mask making you break out? Treat random breakouts with these fast-acting, heart-shaped pimple patches. As you probably already know, spot treatments have never been the most glamorous of beauty products. That's why we created a product to make having spots a cooler and chicer experience.
But don't let their playful appearance undermine your opinion of them. These pink heart-shaped patches utilize the power of hydrocolloid, a well-known moisture retentive, to draw out impurities from deep within the skin and speed up the healing process of freshly popped zits.
Moon Jelly Adaptogenic Body Cleanser
Has it been a hard month? According to health experts, a great way to alleviate stress is by focusing on self-care. And the best product to do it with is our de-stressing body cleanser. 
Lather up your body in a blend of super herbs like ahwagandha and chamomile that'll help the skin cope with environmental stressors like UV rays, pollution, lack of sleep, and daily stress. Besides cleansing and calming the skin, this formula can also soothe muscle aches and pains while improving your quality of sleep. 
Moon Rocks Whipped Body Scrub
To get your skin feeling and looking smooth, soft, and glowy again, treat yourself to a full-body exfoliating session. 
Moon Rocks Body Scrub is a fluffy, lightly whipped sugar scrub enriched with a nourishing blend of hydrating coconut oil, brightening lavender, and protective vitamin E to buff, smooth, and brighten up dull, dry skin. And that electric blue tint? That would be the formula's ultra moisturizing blue tansy. It's suitable for all skin types, including sensitive skin.
You can also mix a little with your regular body wash for lighter exfoliation. 
Starface Jelly Sleep Mask
An AHA-powered face mask infused with retinol, vitamin C, and passion fruit to speed cell turnover, exfoliate the skin, and erase fine lines and wrinkles. Wear this overnight face mask while you sleep to wake up with glowing skin that looks plumped and renewed.
Whether you've got oily skin, dry skin, or combination skin, this formula works for all. And unlike sheet masks which are known to be bad for the environment, this jelly mask can be used time and time again for overnight rejuvenation. 
Coco Cloud Whipped Shave Butter
Treat yourself to a relaxing and luxurious shave session with this whipped coconut milk-infused shave butter. Besides softening hairs and leaving the skin smelling sweet and coconut-y, this shave butter can help to combat ingrowns and leave you with the silkiest shave of your dreams.
It's also infused with nourishing argan oil, vitamin E, vanilla, and white tea to soften and smooth your hair and skin. With its affordable price tag and gorgeous fluffy texture, you'll have a lot of fun using this shave cream in your shaving routine. Plus, it can help prevent all those shave-related nasties like dryness, irritation, and ingrowns.
Unicorn Fruit Whipped Body Butter
Truly's iconic bestseller...Unicorn Fruit Body Butter is a fluffy, deeply conditioning multi-colored body moisturizer packed with a blend of skin-repairing ingredients such as acai, shea butter, matcha, vegan collagen and rose. These ingredients work together to firm, smooth, and plump out the top layer of skin for a youthful, glowing complexion from head to toe.
While it's technically a body lotion, UF is a marvellous multitasker which can also be used as a hand cream, lip balm, under eye cream, and conditioner. Plus, it smells like heaven!
"Pour le Visage" Face Towel
This soft cotton face towel is gentle on the skin, yet powerful enough to clear blemish-causing dirt, oil, dead skin cells, leftover makeup, and sunscreen. It can be used dry for gentle exfoliation or wet with your regular daily face wash for a deeper exfoliation.
It's also perfect for gently removing heavy makeup like mascara, eyeliner, concealer, matte foundation, highlighter, heavily pigmented lipstick, and all the rest. Think of it as your gentle makeup remover to make coming home after a night out much easier. Unlike other makeup erasers, you won't have to spend an hour or more taking off all your makeup. Plus, it'll leave your skin tone looking extra bright and glowy! Finish with face cream, SPF, and eye cream to treat dark circles. 
GLOAT Big Juicy Lip Oil
Hydrate and soothe your lips with this Big Juicy Lip Oil. Made with nourishing blend of hydrating hyaluronic acid and soothing green tea, this cutting-edge formula leaves lips instantly prepped, hydrated, and naturally juicy! Plus, it's the perfect priming base before applying lipstick.
FYI: our beauty brand is committed to providing high-quality clean, vegan, and cruelty-free skin, hair, and styling products at an affordable price so that we're accessible to all. 
You will also find our products sold on retailers such as Amazon, Ulta, Walmart, and Sephora. 
Share
---