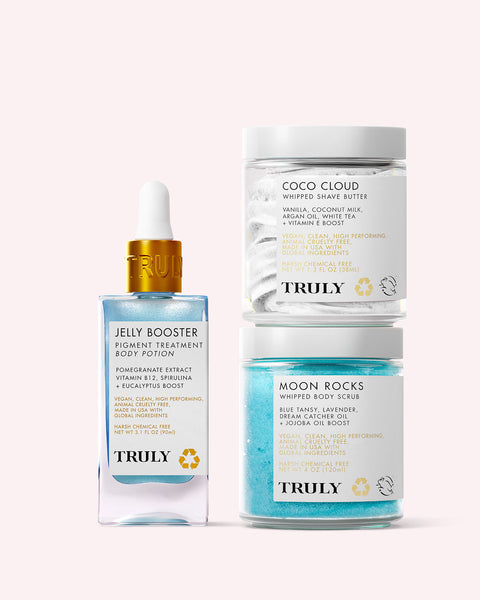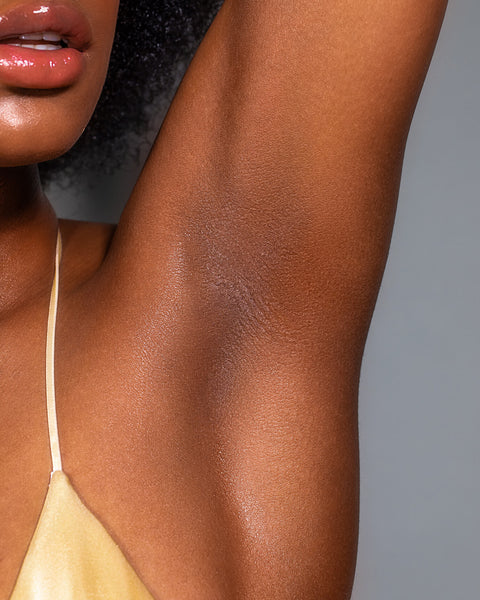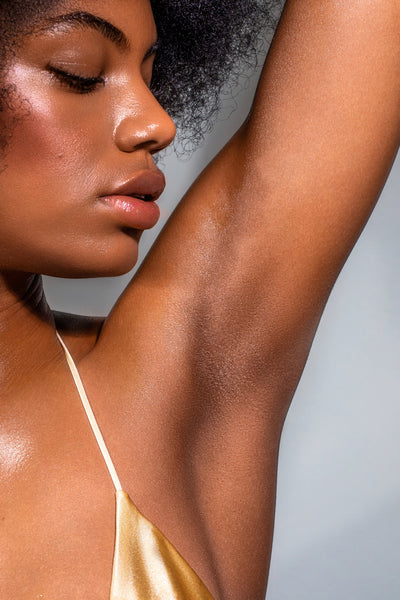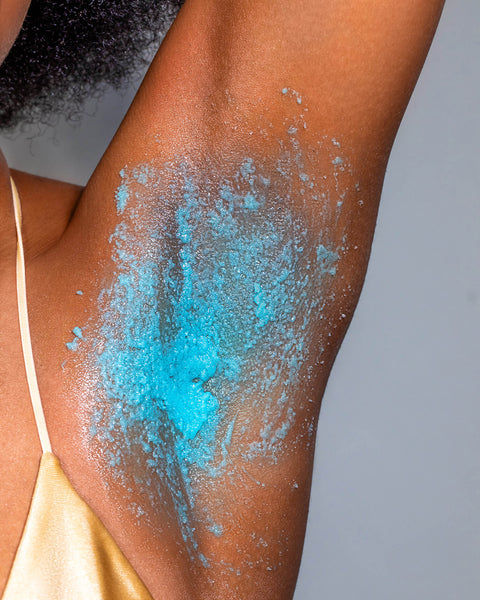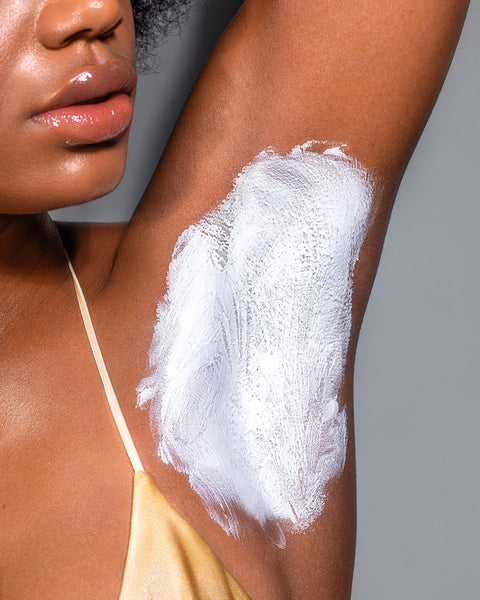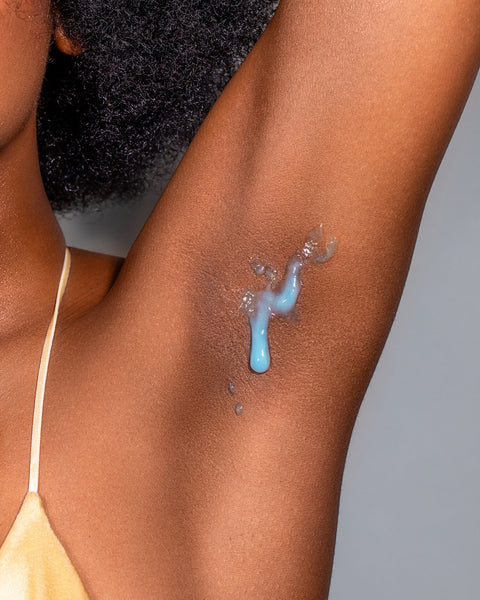 Glowing Pit Routine
>Good to Know:
Resurfacing
Hydrating
Anti-Hyperpigmentation
Diminish dark underarms with this exfoliating, hydrating, and smoothing trio that targets hyperpigmentation, scarring, and discoloration on the body.
This carefully crafted routine features antioxidant-rich ingredients like coconut milk, pomegranate extract + vitamin E to support cell function and deeply nurture skin to alleviate armpit discoloration once and for all.
What You'll Get:
🌙 Moon Rocks Whipped Body Scrub
🥥 Coco Cloud Whipped Luxury Shave Butter
💙 Jelly Booster Pigment Treatment Body Potion
WHY IT'S SPECIAL
Vitamin E has enough essential antioxidants to dole out your skin's daily dose of nourishment to support cell function and overall skin health.
We opted for a fluffy sugar exfoliant rather than harsh, non-biodegradable microplastics due to sugar being environmentally friendly, naturally brightening, gentle enough for daily use, and sensitive skin friendly.
What Makes this Bundle SO Good?
This three step dark underarms treatment harnesses the power of natural, antioxidant-rich ingredients to fade discoloration and glow up your pits. Since poor shaving habits are the leading cause of hyperpigmentation, the kit features an intensely soothing and conditioning shave butter to cushion the skin against your razor for a smooth, discoloration-free result.
Essential Ingredients:
Coconut Milk 🥥
Pomegranate Extract 💗
Blue Tansy 🔷
How to Use
Moon Rocks Whipped Body Scrub: In the shower, massage a handful of scrub into the skin, working in gentle circles to buff. Rinse off, and pat dry.
Coco Cloud Whipped Luxury Shave Butter: Using warm water, lather up the shaving cream. Shave in the direction of hair growth, rinsing the blades between each glide, and rinse.
Jelly Booster Pigment Treatment Body Potion: Apply 4-5 drops to affected areas. Let it absorb before getting dressed.
What it Targets
Brightens
Buffs away dead skin and dullness for brighter underarms.
Promotes a Skin-Healthy Shave
Softens skin + hair follicles for a smooth and irritation-free shave.
Treats Discoloration
Stimulates cell regeneration to even out skin + minimize dark underarms.
Subscribe & Save 10%
Keep your pitties glowing all year round! Subscribe now, and we'll deliver this kit straight to your door each month so you never run out again. Plus, you'll get 10% off every order. No commitment. No stress. Pause or cancel anytime!
Stay updated on our HOTTEST deals, captivating content, and more!