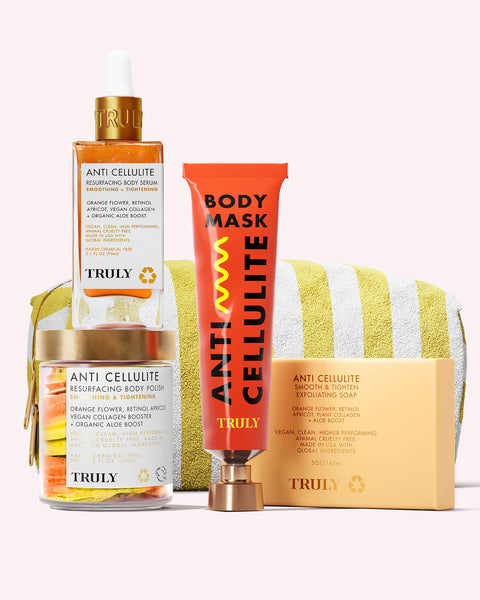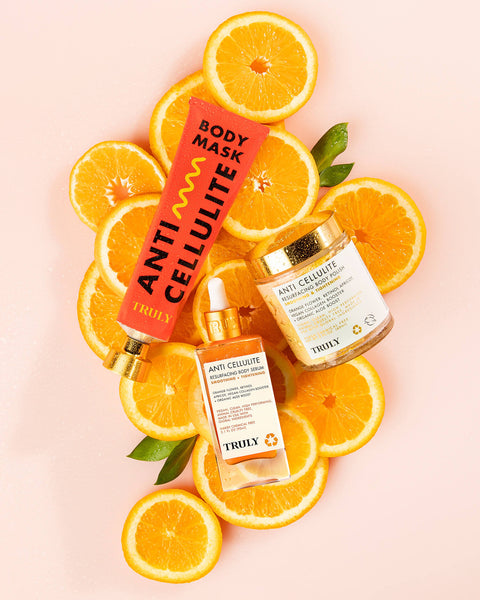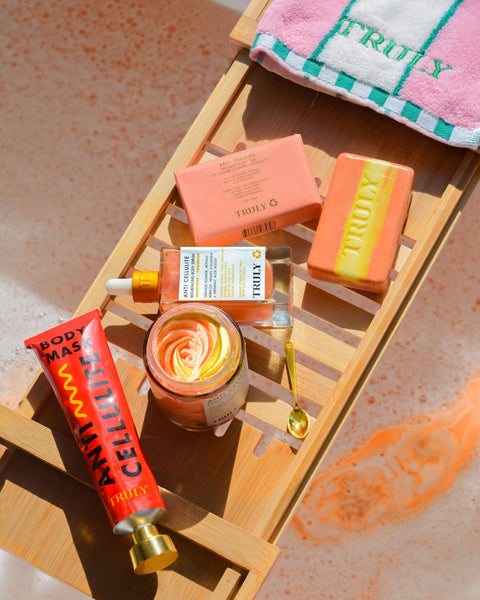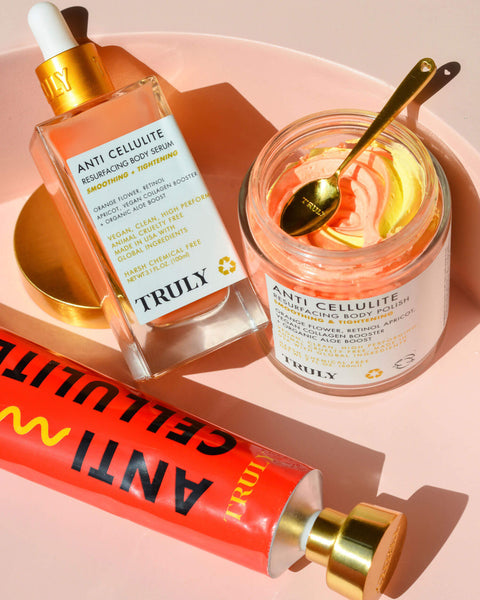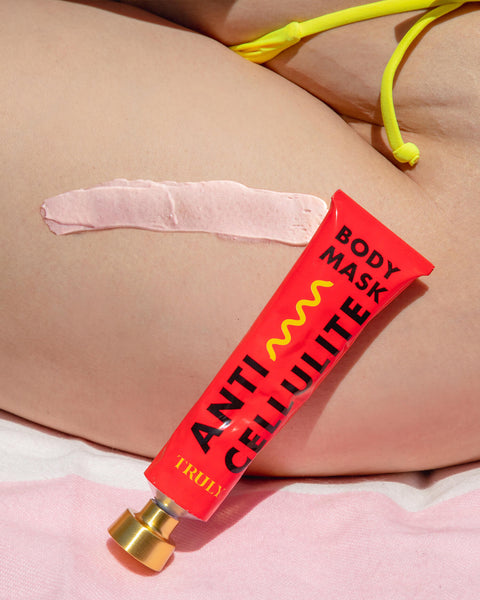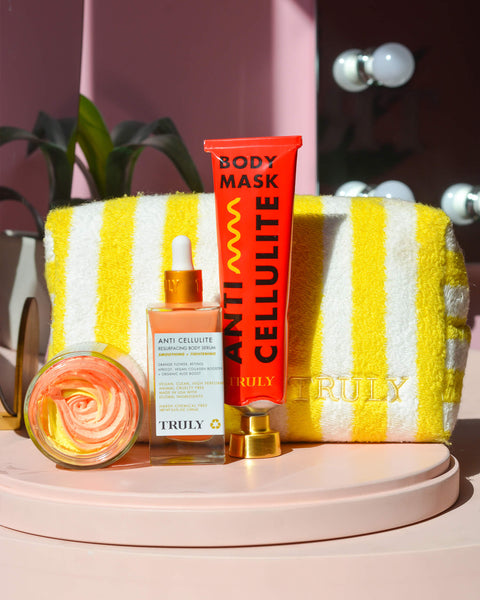 Anti-Cellulite Set
>Good to Know:
Resurfacing
Tightening
Brightening
Vegan
Cruelty-Free
A complete routine for reducing the appearance of dimply skin! Our Anti-Cellulite Kit features a polish, mask, and serum packed with a blend of lipolytic, decongesting, and collagen-boosting active ingredients to manifest your smoothest butt, stomach, and thighs. And inspire you to pull on those short shorts this summer!
Alongside its skin refining ingredients, the 3-step routine harnesses the power of exfoliation and massage, blood circulation and lymphatic drainage to reduce the appearance of cellulite.
Psst…this kit only works with consistent use. That's why we've packed it all up into one super cute yellow and white bag – as a little reminder to check-in with your skin!
What You'll Get:
🧡 Anti-Cellulite Body Polish
🧡 Anti-Cellulite Body Mask
🧡 Anti-Cellulite Body Serum
🧡 Luxury Terry Case
What Makes this Bundle SO Good?
Anti-Cellulite Kit targets the root cause of cellulite – the buildup of fat underneath the skin. Active ingredients such as retinol, orange flower, apricot, aloe, and vegan collagen work together to resurface, hydrate and rebuild collagen to make dimply skin appear less visible.
All three products are designed to be massaged into skin, a process that increases circulation and removes stagnant fluids, giving skin a significantly smoother appearance.
With its yellow and orange color palette (a nod to the set's fruity residents, apricot + orange flower), we can almost smell the ZESTY freshness from here! 🍊🍑 Can you smell it too?!?
Essential Ingredients:
Orange Flower ✨
Retinol 🔥
Bundle Full Ingredients:
Anti Cellulite Polish
Anti Cellulite Serum
Anti Cellulite Mask
How to Use
Anti-Cellulite Polish: In the shower or bath, scoop out a palmful of polish, mix with a few drops of water, and massage into your skin. Let it sit for a couple of minutes (for complete ingredient activation!), then rinse thoroughly and pat skin dry. Pro-tip: Spend a few minutes massaging the polish into affected areas to stimulate circulation and lymphatic drainage.
Anti-Cellulite Serum: Apply onto clean, dry skin and massage until it's fully absorbed. Pro-tip: Spend a few minutes massaging the polish into affected areas for extra stimulation.
Anti-Cellulite Mask: Slather a generous amount of the mask onto cellulite-affected areas. Do not rinse.
What it Targets
🔶 Healthy Lymphatic System
A combination of massage and decongesting ingredients encourages the movement of fluids and fats around the body.
🔶 Reduces the Appearance of Cellulite
Leaves skin noticeably smoother, firmer, and less dimply.
🔶 Brightens + Hydrates
Injects skin with a juicy boost of hydration, leaving skin beaming!
Subscribe & Save 10%
The secret to treating cellulite is staying consistent! We can help you stick to this cellulite-fighting routine by delivering a bundle straight to your door each month. To sweeten the deal, we're offering a 10% discount on every order. Available only to subscribers!
P.S. You can pause or cancel anytime thanks to our no-commitment policy! ❤️
WHAT ARE PEOPLE SAYING ABOUT ANTI-CELLULITE TRIO
Anti-Cellulite Trio
"The new Anti-Cellulite Trio is great! The products have a flowery-citrus smell and make my skin feel tighter. The polish feels very smooth on my skin and the mask is very hydrating. The serum moisturizes my skin even more and gives me a beautiful glow. I will definitely be using this trio all summer long to ensure I look my best! I will be recommending these products to my friends and family, very big fan."

Rubi Pena
IG:
@relizena__
Anti-Cellulite Trio
"The Anti-Cellulite Trio is hands down my favorite on the market! Not only do the products smell amazing, but they also go on smooth and make your skin feel so hydrated. This is a must-have product in the summer for your skin! If you're going to a pool party and apply this to your legs, you will literally look like JLO. So fabulous!"

Natalya Castro
TikTok:
@natalyaalisia
IG:
@natalyaalisia
Anti-Cellulite Trio
"I've always been a huge fan of Truly products and these definitely don't disappoint! They smell so amazing and it's always such a self-care treat to add Truly products into my body care routine. My skin feels so radiant! "

Kirra Dickinson
TikTok:
@kirra.mov
IG:
@kirra.mov
Stay updated on our HOTTEST deals, captivating content, and more!